Sinopharm steps up efforts in developing vaccines for COVID-19
Share - WeChat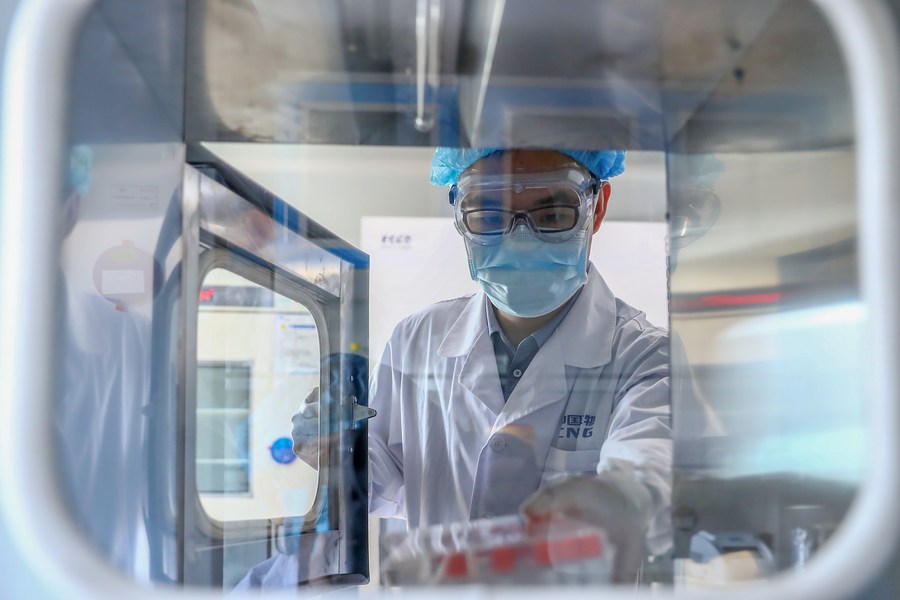 Sinopharm Group is speeding up development of a candidate vaccine for the novel coronavirus that causes COVID-19, with more milestones having been achieved by the Chinese State-owned pharmaceutical giant ahead of hoped-for mass production.
According to a statement from China National Biotech Group Co Ltd, Sinopharm's vaccine and bioscience unit, Phase-1 and Phase-2 clinical trials of its inactivated vaccine have shown a 100 percent antibody-positive conversion rate, demonstrating good performance in safety and effectiveness on volunteers, with no subjects showing serious adverse reactions.
"There are three clinical trial phases and a total of 1,120 volunteers have been vaccinated during the Phase-1 and Phase-2 clinical trials. All of the subjects have proved to have produced a high-concentration of antibodies," the company said.
The group's inactivated vaccine is among the world's first batch to acquire clinical trial approval, and the results collected are the world's first clinical data on safety and effectiveness after two doses of vaccination, offering scientific and measurable support for epidemic prevention and control and emergency use, industry insiders said.
Although the vaccine is inactivated, the antigenic compound it contains can stimulate production of antibodies in humans.
"The results of the Phase-1 and Phase-2 clinical trials of the inactivated vaccine are encouraging," said Chen Qiaoshan, a medical analyst at Beijing-based market consultancy Analysys. "However, it still requires much more effort in related research and development as the Phase-3 clinical trials are critical."
Hang Yuting, an editor at healthcare new media platform Healthcare Scientists, said that normally there are three phases of clinical trials for vaccines. Phase-1 values safety with the clinical trial scale relatively small. Phase-2 explores the vaccine procedure and dose while evaluating safety and efficacy. The third phase is the key to assessing vaccine efficacy, and requires large-scale trials, Hang said.
With the virus outbreak still ongoing, the research and development period of the vaccine will be shorter than under normal conditions, and it is estimated that people can access the preventive vaccine as early as in this fall. Healthcare experts in countries and regions around the world are worried that the pandemic will see a new peak in fall and winter. Therefore, they are putting great emphasis on vaccine R&D and are working at full capacity, she added.
CNBG said that once three trials for the inactivated vaccine are completed, the product should hit the market by the end of this year or early 2021.
"The world is racing to develop a COVID-19 vaccine, but this is not a competition between countries, but rather a race between humans and the virus," said Yang Xiaoming, president of CNBG.
Wu Gangliang, a researcher at the China Enterprise Reform and Development Society, said: "SOEs play a fundamental role in China's economic development. They also contributed greatly in the fight against the pandemic. SOEs like CNBG have large-scale assets, strong production capacity to produce essential materials. These advantages enable SOEs to guarantee production during the special period."
On Feb 1, Sinopharm launched the "2019-nCov Inactivated Vaccine" project and researchers began working on the vaccine. Thirteen days later, the research team succeeded in making purified antigens. On Feb 16, immunological studies in animals including rats, mice and rhesus monkeys were launched to verify vaccine efficacy.
On Feb 28, a level-3 virus seed bank was established and batch production of the vaccine for clinical trial registration started.
On April 12, the inactivated vaccine was approved for clinical trials by the National Medical Products Administration, being the first inactivated vaccine worldwide to reach such a developed approval stage.
CNBG launched Phase-2 human trials of its first inactivated vaccine on April 24. The vaccine was co-developed by the Wuhan Institute of Biological Products and the Wuhan Institute of Virology under the Chinese Academy of Sciences.