Rock climbers rescale heights of satisfaction as tourists return
Share - WeChat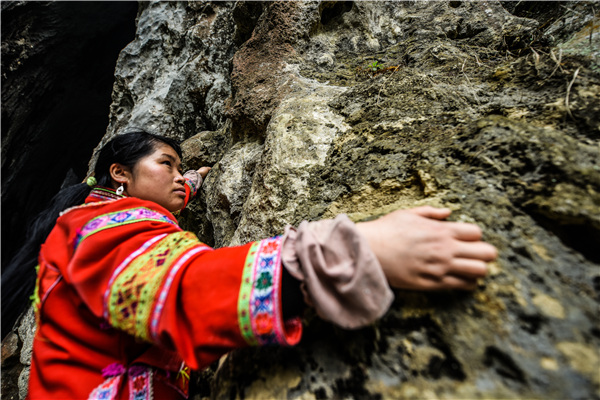 This year was the first time in more than a decade that 40-year-old Luo Dengping, from the Miao ethnic group in Guizhou province, had not rock climbed for tourists.
"We did not perform from February to April, because of the COVID-19 pandemic and some reconstruction work in this scenic area," Luo says.
Luo lives in a small village located at the gate of the Getu River Scenic Spot. She works there and her job is to perform rock climbing for tourists.
To the Miao people in this area, someone who is good at rock climbing is known as a "spider-man" or "spider-woman". It was a tradition that when the Miao people's ancestors died, their coffins were carried and placed onto cliffs or rock walls in caves and the people who did the work passed on the climbing skills to the next generation.
Luo's father is an excellent climber who taught Luo the skills required. "When I was a child, I was obsessed with this sport. Every time I saw my father practice it, I begged him to teach me, but he refused, until he once found that I climbed up a rock wall sneakily following his steps," Luo says.
"It's risky. We climb just with our hands and that is why my father was reluctant to teach me at the beginning," Luo adds. "This sport needs courage, and every time we climb, we must assess the surroundings and our body condition."
Climb according to one's ability while being bold and careful is the key piece of advice Luo learned from her father. She gradually turned professional and was hired as a spider-woman by the local authority.
In addition to Luo, five spider-men were hired. They perform in a cave where tens of thousands of swallows nest. Firstly, they need to row a bamboo raft into the cave. Then they climb the rock walls up to a height of around 100 meters. After that, they return to the starting point. The whole process takes no more than 20 minutes.
"I feel happy when I see people enjoy the process," Luo says. She receives a salary of $420 per month.
But things changed after the pandemic. The scenic spot postponed reopening for almost a month, and the reconstruction work cut off access to the cave. It lasted for three months.
"When you get used to performing for the tourists, you feel uncomfortable not doing it for three months," says Huang Xiaobao, a 58-year-old spiderman, adding that, in order to keep in shape, they occasionally practiced rock climbing after finishing their temporary cleaning work.
"I am getting old and I hope to see more people participate in it," Huang adds. "Life is unpredictable just like this pandemic, what people should do is to take time to do what they like."
Li Wensong, deputy general manager of the company running the scenic spot, says that the area will attract more tourists after the reconstruction work is finished, which will give rise to a surge in interest in rock climbing.
"In the end, the pandemic will disappear. I am looking forward to seeing the sport become more popular along with the development of this scenic spot," Luo says.