Japanese director documents post-epidemic Wuhan
Share - WeChat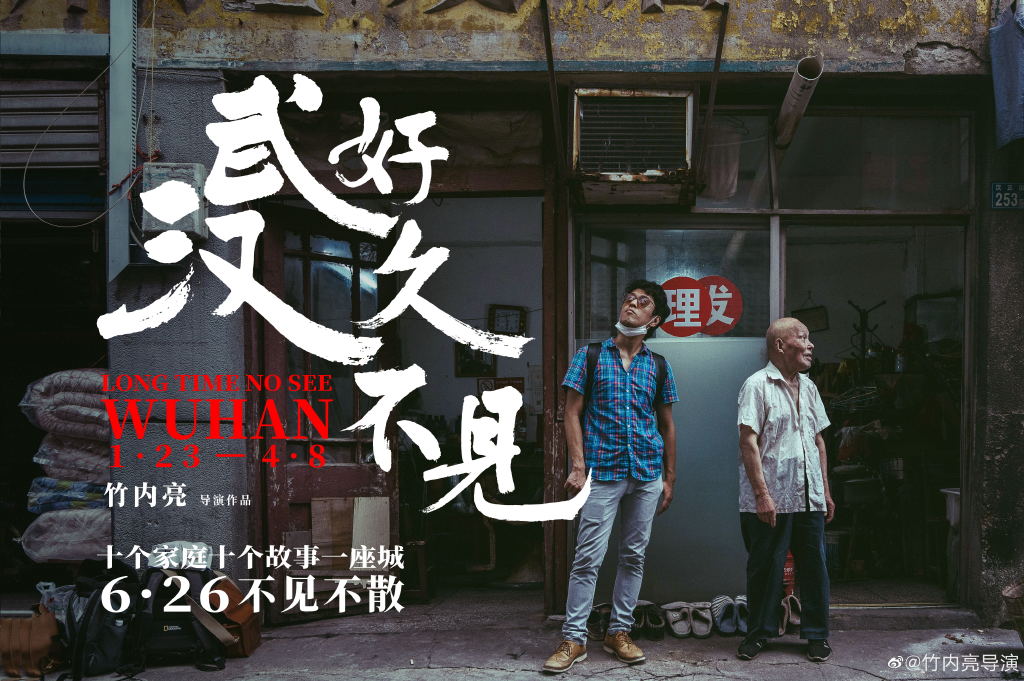 Three years after he visited Wuhan last time, Japanese director Ryo Takeuchi decided to come back for a film.
He wanted to present how life in the megacity -- previously hit hard by the COVID-19 epidemic -- is like now.
His film Long Time No See Wuhan has become the latest hit on the internet, receiving an amazing array of responses.
On May 15, Takeuchi posted a tweet on Weibo, the Chinese version of Twitter, to recruit some Wuhan dwellers for a documentary.
Over 100 volunteered to participate in the shooting, and Takeuchi finally chose 10 of them -- including a restaurant owner, nurse, construction worker, junior middle school teacher, a pair of lovers and people who lost their loved ones.
His camera began rolling on June 1. He took a bullet train from Nanjing, capital of East China's Jiangsu province, and headed for Wuhan over 540 km away.
He said he was quite surprised to see the train fully loaded, with the only difference being that the passengers were wearing masks and an additional standardized procedure was required to prove that everyone was healthy.
The first interviewee was a regular customer to the Huanan Seafood Wholesale Market, one of the first places where infections of COVID-19 were identified in the city. The husky, middle-aged man greeted the crew by saying "my COVID-19 test came back negative."
The man, Lai Yun, happened to have deep links with Japan. He studied in Japan for nine years and worked as a translator at a Japanese company. He also runs an izakaya, which made him a frequent visitor to the now-closed seafood market. His restaurant has remained shut down since Jan 23 when Wuhan was put under a lockdown to curb the spread of the virus and reopened the second day after they met.
"I was sad indeed. Almost half of the year has passed and we've had zero income..." said Lai.
Lai lowered the food prices on the menu to draw customers back. The price of a highball has been almost halved to 25 yuan (about $3.5) -- the exact cost price after repeated calculation. "I've devoted so much to this restaurant, and I just hope that this place could stay open," he said.
He was delighted to see many familiar faces the next day. But the joy did not last long -- his only chef resigned after a pay cut.
"I hope that the restaurant can survive this year. Maybe we will start to make money again next year," he said. Despite the frustration, Lai remained hopeful and persistent.
Another interviewee, Gong Shengnan, was a frontline nurse.
The lively young woman made her debut in the video with a freestyle dance in a white baggy T-shirt and black shorts. Behind her was the Yellow Crane Tower -- a signature scenic spot in Wuhan.
Gong said their nursing team spent quite an amount of time comforting the patients when Wuhan was in a life-and-death battle against COVID-19. "We would dance and sing with patients with mild symptoms, which really helped," she recalled.
The young woman learned to ride a bike when the city was put under lockdown as the public transportation system was suspended. She burst into tears in front of the camera when Takeuchi brought up the topic of lives lost in the wards.
"It's a heavy topic," said the outgoing woman. "Sometimes it's very emotional. When I saw the news that there was a long line in front of the funeral home when the families (of the deceased) came to pick up the belongings of their relatives, it made me really sad," she said choking back sobs. "We're the lucky ones. But some families are in a lot of pain."
Wuhan had reported 50,340 confirmed COVID-19 cases as of June 27, with 46,471 having been cured and discharged from hospitals. A total of 3,869 people died of the disease.
China did its best to support Wuhan. More than 42,000 medics were dispatched to Hubei Province, of which over 30,000 were in Wuhan, the provincial capital. Two makeshift hospitals -- Huoshenshan and Leishenshan with a total of 2,600 beds -- were put into use in less than two weeks respectively in early February, a marvel that astonished many including Takeuchi.
"I can't believe that such a huge project could be finished in about 10 days," Takeuchi said standing in front of the Leishenshan Hospital.
There he met Li Jie, a construction worker of the hospital. "I stayed up for three nights and four days. There was no other choice," said Li, who claimed that approximately 7,000 to 8,000 workers participated in the project. "It usually takes at least six months to build such a hospital," he added.
The documentary has been viewed more than 16 million times since it was uploaded on June 26 and received a flood of comments. Many netizens said the film is an objective narration of how Wuhan people maintained hope in a morass with no exaggerated sensational gesture.
"(Before coming), I wanted to show the world what it's really like in Wuhan. However, I was a little scared of the uncertainty. We started our shooting with those complicated and contradictory feelings. But after the shooting, I just want to say, I definitely want to visit Wuhan again! Later this year, I'm going back," Takeuchi said at the end.