Zhangbei grid starts operations
Share - WeChat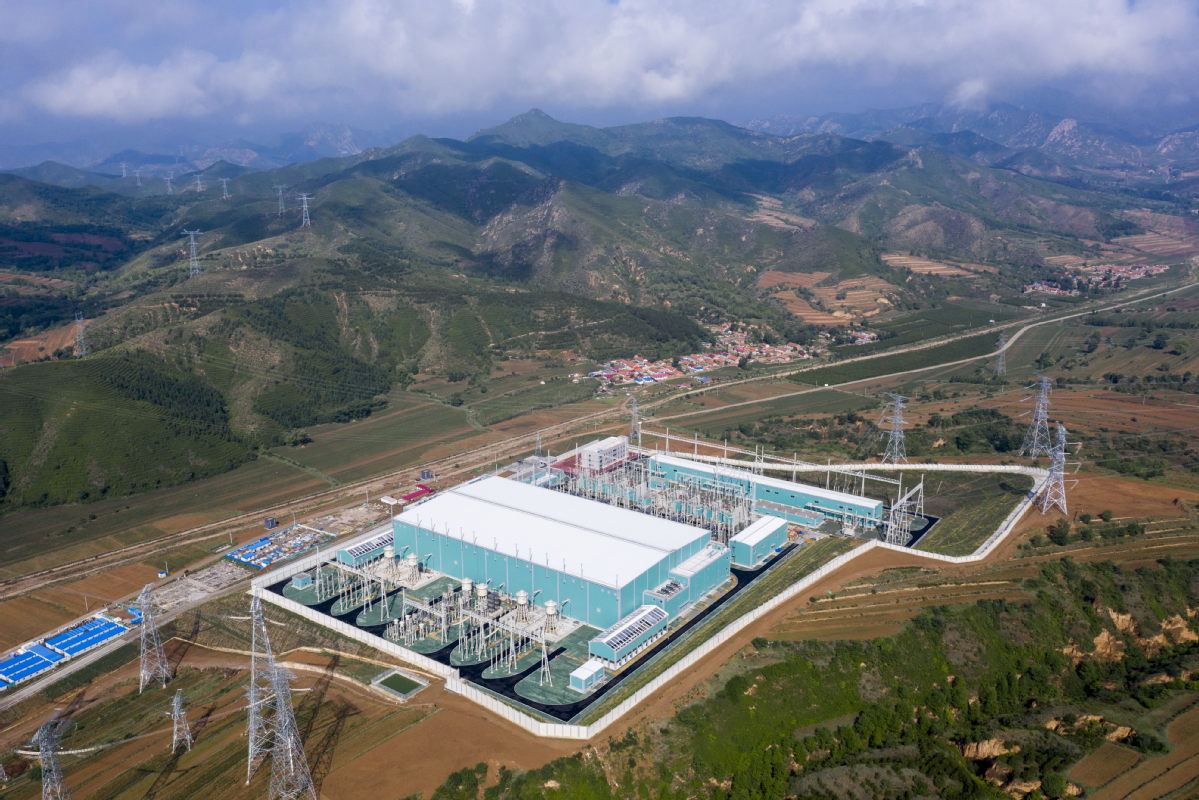 Flexible direct current power project to boost clean energy supply in area
The Zhangbei flexible direct current (DC) power grid was put into operation on Monday, a move which industry insiders believe will play a major role in supplying Beijing with cleaner electricity generated by renewable energy while making Beijing 2022 the first Winter Olympic Games in history to exclusively use green energy sources.
With a total investment of up to 12.5 billion yuan ($1.77 billion), the transmission line is the world's first renewable energy-based flexible direct current power transmission system. It consists of four convertor stations in Zhangbei and Kangbao in Zhangjiakou, Fengning in Chengde and Beijing.
It will effectively meet all clean energy-based power demands of the Winter Olympic venues and is also capable of transmitting about 14.1 billion kWh of power to Beijing annually.
That would be equal to the power produced by about 4.9 million metric tons of standard coal while reducing emissions of carbon dioxide by 12.8 million tons, said State Grid Corp of China, the operator of the project.
The system's versatility means flexible operation control, high-level intelligence and a more stable power system. The system represents cutting-edge technology in the power grid field, the company said.
Wei Hanyang, a power market analyst with Bloomberg New Energy Finance, said the flexible power grid ensures more stable delivery of power and a steady input of generation.
"The Zhangbei project will become another key channel for the power grid to deliver renewable energy to metropolitan areas and alleviate the issue of wind curtailment," he said.
"It may open up new opportunities for deregulated sales of clean power in the northern parts of Hebei province as well."
In 2017, China won the tender of exporting the flexible DC technology to the United Kingdom to connect a remote island to the north of Scotland.
While that project runs on a lower voltage, it also requires power storage facilities similar to the ones adopted by the Zhangbei flexible DC project. State Grid is also building up its expertise and brand name in flexible DC in both the domestic and global markets, Wei said.
Approved by the National Development and Reform Commission in 2017, the project started construction in February 2018.
According to the State Grid Corp of China, Zhangjiakou, Hebei province, is the country's renewable energy demonstration zone and home to plenty of clean energy projects. The area has extensive access to wind and solar power whose installed capacity will top 20 million kilowatts in 2020.
China saw its installed capacity of renewable energy grow 9 percent year-on-year to 794 million kilowatts by the end of last year. Wind and solar farms' capacity rose by 14 percent and 17.3 percent year-on-year, respectively, the National Energy Administration said.
In 2019, the country generated 2.04 trillion kWh of electricity from renewable energy sources. That level accounted for 27.9 percent of total electricity output, up 1.2 percentage points on a year-on-year level.