State-owned firms' May profits rise 251.1 percent
Share - WeChat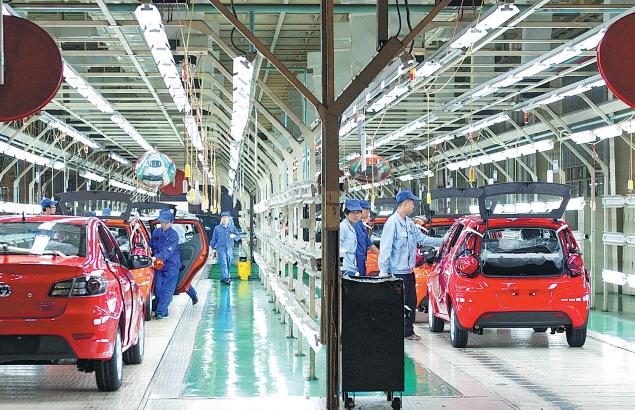 The May profits of China's State-owned enterprises rebounded strongly from a month earlier, rising 251.1 percent, adding to the signs of economic recovery in the year's second quarter, the Ministry of Finance said on Monday.
Perhaps even more impressive, the total profits of SOEs in May represented 94.5 percent of the profits recorded a year earlier, in May 2019, the ministry said.
In addition, major indicators of SOEs' business activities from January to May showed narrower declines from a year earlier, which also were signs of a remarkable economic recovery, according to a statement released on the ministry's website.
In the first five months, the gross revenue of SOEs reached 21.84 trillion yuan ($3.09 trillion), dropping by 7.7 percent year-on-year, compared with the 9.2 percent drop during the January-to-April period, the official data showed.
Economists said the improvement was mainly from the industrial sector, driven by higher industrial production growth since the second quarter and a drop in the prices of raw materials.
Chongqing Changan Automobile Co, one of China's main automakers by market share, saw its export volume jump 11 percent on a yearly basis between January and May to 21,500 units, including sedans and sport utility vehicles. The company is a subsidiary of China North Industries Group Corp, the country's largest manufacturer of land armaments by production volume.
The year-on-year sales of Changan Auto soared 32 percent to 159,557 units in April and 54.3 percent to 174,012 units in May.
Shi Haifeng, general manager of Changan Auto's overseas business unit, said full work resumption and new vehicle launches by the company, and new governmental measures to stimulate auto consumption as well as the rebound in consumer confidence were contributing factors to its sales and export growth over the past two months.
"Chinese brands have made great strides in improving car quality and after-sales service, sometimes even outperforming certain global brands," he said, adding that many of its exported vehicles were shipped from Chongqing to the Port of Shanghai via inland river transportation.
To minimize the negative impact of the COVID-19 pandemic, the State-owned automaker has enhanced contact with domestic and foreign suppliers to coordinate the delivery time of various components to ensure normal operations and timely delivery.
Wang Jun, vice-president of Beijing-headquartered China Railway Rolling Stock Corp, the largest rolling stock manufacturer by production volume in the world, said the group will continue to enrich its industrial chain and diversify its product categories to further compete with its foreign rivals in global markets this year.
CRRC will vigorously develop new growth points from urban infrastructure projects, strategic emerging industries and modern service businesses to remain competitive, he added.
In addition to deploying more resources in the research and development of high-speed maglev trains traveling at speeds of 600 kilometers per hour in China, the centrally administrated State-owned enterprise shipped a fleet of tourist coaches that are operational in high temperatures to its clients in Saudi Arabia last month.
As China aims to build a number of world-class, role-model SOEs that lead the way in high-quality development, it would be economically beneficial for more companies of this kind to participate in mixed-ownership reform to bring private capital into SOEs, said Lin Wei, a Global Strategy Group partner at KPMG China.
The reform will not only create more commercial vitality and expand SOEs' sales channels in overseas markets, but also introduce a market-oriented remuneration system to better reward outstanding performance and incentivize innovation, Lin said.