Relics stolen from Tianlong Mountain grottoes set for digital comeback
Share - WeChat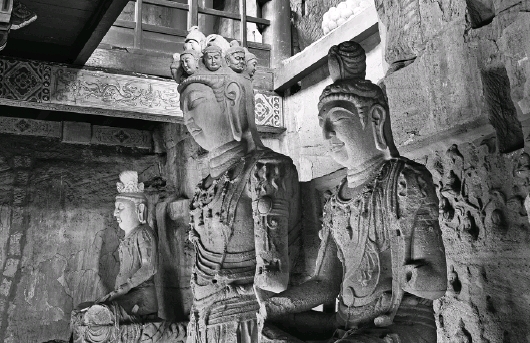 The Buddha statues, embossments and frescos in the grottoes of Tianlong Mountain in Taiyuan, Shanxi province, have been in the care of Yu Hao for 23 years now.
That's no mean task. There are about 500 Buddha statues, 1,144 embossments and many frescos in the 25 grottoes dating back to the period from the East Wei (534-550) to the Tang (618-907) dynasties, when Buddhism came and flourished in China, on a cliff of the 1,700 meter-high mountain.
In the early days of his career, after a road was built to the cliff, the main job of Yu and his colleagues at the Tianlong Mountain Grottoes Museum was to protect the cultural relics from getting damaged by extreme weather and/or tourists.
"Back then, nobody wanted to work here because life on the mountains was tough," said Bai Jianjun, director of the office of the museum. "Many employees asked for transfers to other places. Yu is among the few who has been working here for so long."
And sometimes, during bad weather, Yu and his colleagues end up spending several weeks in a row up there, enough time for them to develop a sense of belonging.
"It is more important to make sure the grottoes are in safe hands and fit to be passed on to future generations," Yu said.
The grottoes suffered artificial damage in the 1920s and 1930s, when they were ransacked by relic dealers from foreign countries. About 162 Buddha statues were stolen from the grottoes; 127 of those pieces surfaced later in 35 museums and some with private collectors in 10 countries, including Japan, the United States and the United Kingdom.
"In 1924 and 1926, Sadajiro Yamanaka, an 'art dealer' from Osaka, Japan, arrived here for some 'archaeological investigation'," says Yu. "In 1928, he sold more than 60 pieces of cultural relics from the grottoes at an auction in Osaka."
After Yu was promoted as museum curator in 2013, he and his colleagues focused on restoring the stolen statues-using digital technology.
Most Popular