UK abandons 2-meter social distance rule
Share - WeChat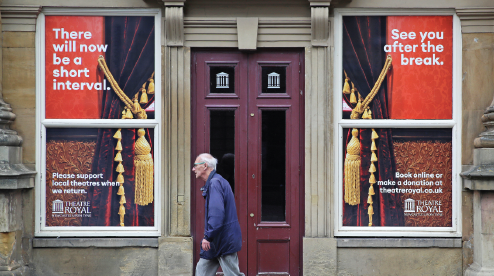 British Prime Minister Boris Johnson on Tuesday announced the United Kingdom's biggest single leap toward normality since the novel coronavirus lockdown began.
From July 4, cinemas, museums and galleries in England closed since the middle of March will be able to reopen in England with safety measures in place.
From the same date, England's 2-meter social distancing rule will be reduced to 1-meter to enable pubs, restaurants and hotels to reopen. Campsites, theme parks and places of worship will also be able to reopen. But some venues such as nightclubs, gyms and swimming pools will remain closed.
The other nations of the UK-Scotland, Wales and Northern Ireland-are yet to announce any plans to change the 2-meter distance rule.
Johnson expressed caution that not all the restrictions could be removed at once, adding that "difficult judgments" must be made, with every step measured "against the evidence".
According to experts, Johnson said, the risk from "one meter plus "is broadly similar to the risk from two meters once the "mitigating factors" are taken into account.
Addressing Parliament, he said: "Our principle is to trust the British public to use their common sense in the full knowledge of the risks, remembering that the more we open up, the more vigilant we will need to be.
"From now on, we will ask people to follow guidance instead of legislation. There is only one certainty: the fewer social contacts you have, the safer you will be.
"We will continue to monitor the data, and our ever-more effective test and trace system. As we have seen in other countries, there will be flare-ups, for which local measures will be needed, and we will not hesitate to apply the brakes, and reintroduce restrictions, even at national level if required.
"Today, we can say that our long national hibernation is beginning to come to an end, and life is returning to our streets and our shops, the bustle is starting to come back, and a new but cautious optimism is palpable."
In the last of the government's daily news briefings, Johnson reiterated the message for the public to remain alert and the warning that the easing of the lockdown was "reversible".
There were 280 more fatalities recorded on Tuesday, bringing the total to have died in the UK after testing positive for the virus to 42,927, according to government figures.
The number of infections has fallen dramatically in the UK, but is still significantly higher than other countries, and many experts, including David King, former government chief scientific adviser, have voiced concern that restrictions are being eased too quickly.
Meanwhile, the effect of the virus outbreak on children has been highlighted by an impact study published by the British charity, the Childhood Trust.
It said children are developing serious mental health conditions including post-traumatic stress disorder, or PTSD.
The crisis is affecting children "adversely and disproportionately "according to the charity's research.
As well as anxiety about their loved ones' health, many children are facing social isolation and hunger, it said.
It said that some children from deprived backgrounds are extremely vulnerable, with a lack of internet access setting the disadvantaged back. It means these children cannot take part in virtual lessons at home and are falling behind their more affluent peers.
It added that these children are similarly cut off from online therapy or GP appointments and that vulnerable children are also unable to see their teachers, who are trained to spot signs of abuse or neglect.
The report's authors stressed this "inequality" must be "accounted for immediately" to avoid long-term consequences.
It pointed out that residents of deprived communities are often frontline workers such as delivery drivers and social care staff, and many of their children are worried for their parents' health, particularly if the adults "transfer" their anxieties on to them.
The report found that youngsters are experiencing "vivid nightmares", a potential warning sign of the PTSD condition.
Daily headlines of rising death tolls, with more than 470,000 fatalities confirmed worldwide, are also said to be making young people anxious.
"These kids have seen all of that and internalized it," said Laurence Guinness, chief executive of the charity.
One 11-year-old boy said in the report: "Since there's been a lot of deaths, it to me seems like it's going to end humanity soon."
One 10-year-old girl said she "screams into the phone" when friends call to check up on her because she is "so stressed".
Experts worldwide had previously said the pandemic could have a "profound" and "pervasive" impact on mental health, AFP reported.
Maria Loades, a clinical psychologist from the University of Bath, warned in the report that lockdown is "likely to increase the risk of depression and probable anxiety, as well as possible post-traumatic stress".
Galiema Amien-Cloete, a primary school head teacher from London, told the BBC she is seeing parental anxieties being transferred on to children.
She also said the lack of a routine, contact with friends and regular education can be "like a bereavement" for a child. The UK government shut schools and nurseries on March 20, and only certain age groups have returned so far.