BMW project teaching traffic safety to children
Share - WeChat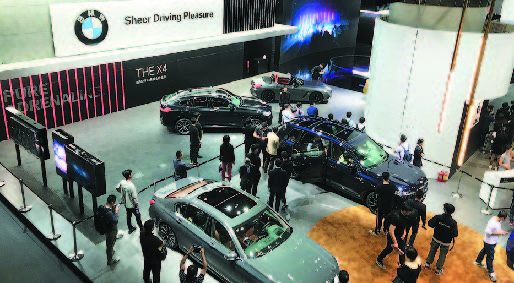 German premium carmaker BMW held a traffic safety seminar and launched an online education project for children earlier this month, as part of its corporate responsibility efforts.
At the event, BMW called on its car and motorcycle owners, dealers, employees and the public to observe traffic regulations and to always wear a seat belt when in a car or a helmet when riding a motorcycle.
"Undertaking corporate social responsibility is nothing like a show. It is practical efforts made to find out, study and solve social problems," said Yang Meihong, vice-president of BMW Brilliance Automotive.
Liu Chunyu, an official with the Ministry of Public Security's Traffic Management Bureau, took part in the event. Liu said: "As road traffic safety is a systematic project, we hope that more enterprises and public benefit forces can play their part to create a safer traffic environment through cross-border cooperation and joint efforts."
At the event on June 1, which is also Children's Day, BMW launched an online traffic safety education platform for children. It marks an innovation in one of its longstanding corporate social responsibility programs; the BMW Children's Traffic Safety Education Program.
Shifting this year's program from offline to online also met the requirements of COVID-19 pandemic prevention and control, according to BMW.
Yang said despite the business challenges, companies play an important role in society and they should work together and try to extend their hands to those in need.
Under the guidance of the MPS's Traffic Management Bureau, the online traffic safety education platform offers a series of education modules, including games, augmented reality exhibition halls, online classrooms and education videos.
So far, the carmaker has established a "three-dimensional" traffic safety education system for children. In schools, teachers and BMW volunteers work with local traffic police to teach students about traffic safety. Launched in 2005, the program aims to help children aged 4-9 learn more about traffic safety and gradually enhance their awareness for self-protection.
It makes use of innovative educational approaches including situational teaching, role-play and interactive lessons.
At BMW showrooms, dealers have invited customers to participate in its voluntary service program, BMW Children's Traffic Safety Ambassador, a follow-up commitment to enhance children's traffic safety education.
Parents can access BMW's online traffic safety education resources to help improve their children's traffic safety awareness.