Rising to the challenge
Share - WeChat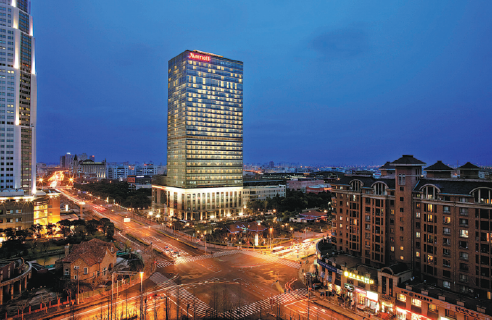 Shanghai Marriott Hotel Pudong East, located in the Jinqiao area of Pudong district, Shanghai, has long been a favorite of business travelers.
But because of the COVID-19 pandemic, the hotel has seen a decrease in business guests over the past few months. It is only recently, as the situation in the country has been brought under control that travel restrictions have been gradually loosened and guest numbers have begun recovering.
"It's good to see that everything is gradually getting back to normal, although it may take some more time until we see a full recovery," said Danny Parnack, general manager of the hotel.
"But we have made tremendous efforts to adapt to the situation and we have seen many good results," he said.
He said that because of the pandemic, the hotel is exploring new markets and attempting to expand its customer groups.
Local families and city residents have become the hotel's new target customers and the hotel has launched a series of initiatives to attract more local guests. One of them is a Disney package, which includes a free extra bed-and-breakfast for each family.
On weekends and during public holidays it also offers free shuttle buses to the Shanghai Disney Resort, which is just a 20-minute drive away.
"This package has received very good feedback and become popular among local families," Parnack said."We are also have other initiatives to attract local customers."
In May, the hotel began offering daily rentals and short-term leasing options for its residential apartments, which has been popular with local travelers and families. Parnack said the hotel plans to continue this service and will roll out other packages to attract more local guests.
Parnack emphasized the hotel is fully focused on ensuring guests and staff have full confidence in its safety and hygiene regimes.
"We need to be constantly aware of a possible second wave of the pandemic," he said. "So we need to pay attention to every detail so as to ensure the safety of guests and employees."
Marriott has launched a Global Cleanliness Program to meet the new health and safety challenges of the COVID-19 pandemic, and Parnack said the hotel has implemented a Cleanliness Council consisting of senior members of the hotel management to oversee all the newly implemented initiatives, processes and policies.
In addition to requiring all of its staff and guests to wear masks and take temperature tests, the hotel has increased the frequency of cleaning highly touched areas in guest rooms, function rooms and public spaces. We will also add room amenities such as disinfecting wipes for all guest rooms and disinfecting sprays are also available for guests.
Parnack said the hotel's app also provides reassurance and distancing options for guests, offering an option for pre-arrival check-in, which helps to significantly reduce the time spent at the front desk. It also allows guests to quickly access their room without using the traditional key-cards, and has a chat function that allows guests to engage with members of the hotel team.
The seating capacity of the hotel's food and beverage outlets is also strictly controlled in order to provide sufficient space for the social distancing of diners. And to meet the needs of people that have to stay at home but want to enjoy the cuisine of the hotel's restaurants, the hotel has begun working with food delivery service platform Eleme to offer takeouts.
"This has proved very successful,"Parnack said. With more people returning to work, he predicts an increased demand for the takeout service. We need to keep evolving and recognize the new consumer trends," Parnack said. "It's a difficult time. but it is also creating new opportunities."
He said he considers China one of the most exciting markets he has ever worked in; incredibly dynamic and versatile, always reinventing itself."After such challenging times, China's hospitality sector and its fantastic people will come out stronger, reaching new levels of service quality,"