California now requires face coverings statewide
Share - WeChat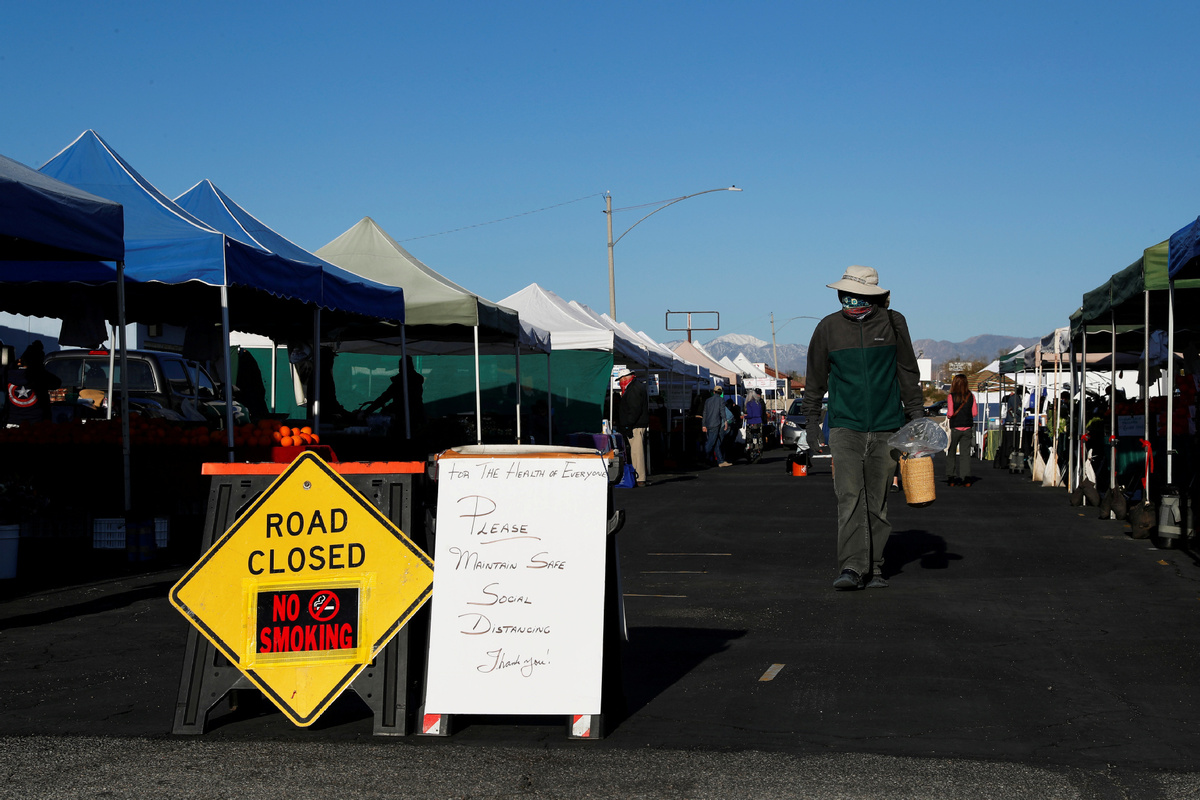 California Governor Gavin Newsom signed an order Thursday requiring the state's roughly 40 million residents to wear face coverings in most public settings, particularly indoors.
Newsom embraced the strict measure the same day the state reported a record-high number of new daily coronavirus infections: 4,084. Most of California's new cases - 2,115 - are in Los Angeles County, the state's most populous.
The order applies to all Californians in indoor spaces, healthcare settings, on public transportation and ride-share vehicles and at workplaces that are visited by the public or where food is prepared for sale or distribution. Masks also will be required outdoors when people cannot maintain a distance of 6 feet from each other.
"Simply put, we are seeing too many people with faces uncovered — putting at risk the real progress we have made in fighting the disease," Newsom said in a statement.
"Science shows that face coverings and masks work," the statement said. "They are critical to keeping those who are around you safe, keeping businesses open and restarting our economy."
But in Nebraska, Republican Governor Pete Ricketts told local governments they won't receive any of the $100 million in COVID-19 federal funding if they make their "customers" wear masks in courthouses and other local administrative offices, the Omaha World-Herald newspaper reported.
The warning is at odds with Ricketts' usual message of encouraging people to wear masks to slow the spread of the virus.
The governor said local officials can encourage mask-wearing in government buildings, but he "does not believe that failure to wear a mask should be the basis for denying taxpayers' services", a spokesman for Ricketts said.
Novel coronavirus caseloads continue to surge across the South and West. Arizona announced 2,519 new cases Thursday morning, and Florida announced 3,207. Both figures represent new one-day highs.
Coronavirus hospitalizations in Arizona have doubled since Memorial Day, with health officials saying that inpatient beds across the state are at 85 percent capacity.
New York Governor Andrew Cuomo said Thursday that he's considering imposing a quarantine on travelers arriving in the state from places like Florida.
"I haven't made a decision yet, but I have had experts advise me of that. It is a real concern," Cuomo said when asked about whether he would consider imposing some sort of quarantine measure or taking health precautions at airports where travel has increased.
"It could happen, and it's something I'm considering," Cuomo said.
He reminded reporters about other states, including Florida, that issued a mandatory quarantine on New Yorkers entering their states a few months ago.
"If you went to Florida, you had to quarantine for two weeks because they were afraid that New Yorkers were bringing the virus to their state. Fast forward 100 days — now we're afraid they're bringing the virus to our state," Cuomo said.
In an interview published Thursday, US President Donald Trump repeated his assertion that coronavirus testing is "overrated" and said he wouldn't seek widespread screenings if there is a nationwide spike.
"I personally think testing is overrated, even though I created the greatest testing machine in history," he told The Wall Street Journal. He added that expanded testing led to a rise in confirmed coronavirus cases that "in many ways, it makes us look bad".
The president and Vice-President Mike Pence and other administration officials have been saying that increased testing is causing the rise in daily confirmed cases in several states.
"If we stop testing right now, we'd have very few cases, if any," Trump said Monday.
Asked about that statement, White House press secretary Kayleigh McEnany said it was "entirely logical" because "countries that don't do as much testing don't identify the same number of cases".
But White House officials later clarified that Trump meant there would be fewer confirmed cases if testing were suspended.
While the climb in the number of administered coronavirus tests could lead to an increase in the number of positive cases, hospitalization numbers also have been rising.