Turkey steps up measures against COVID-19 amid resurgence of cases
Share - WeChat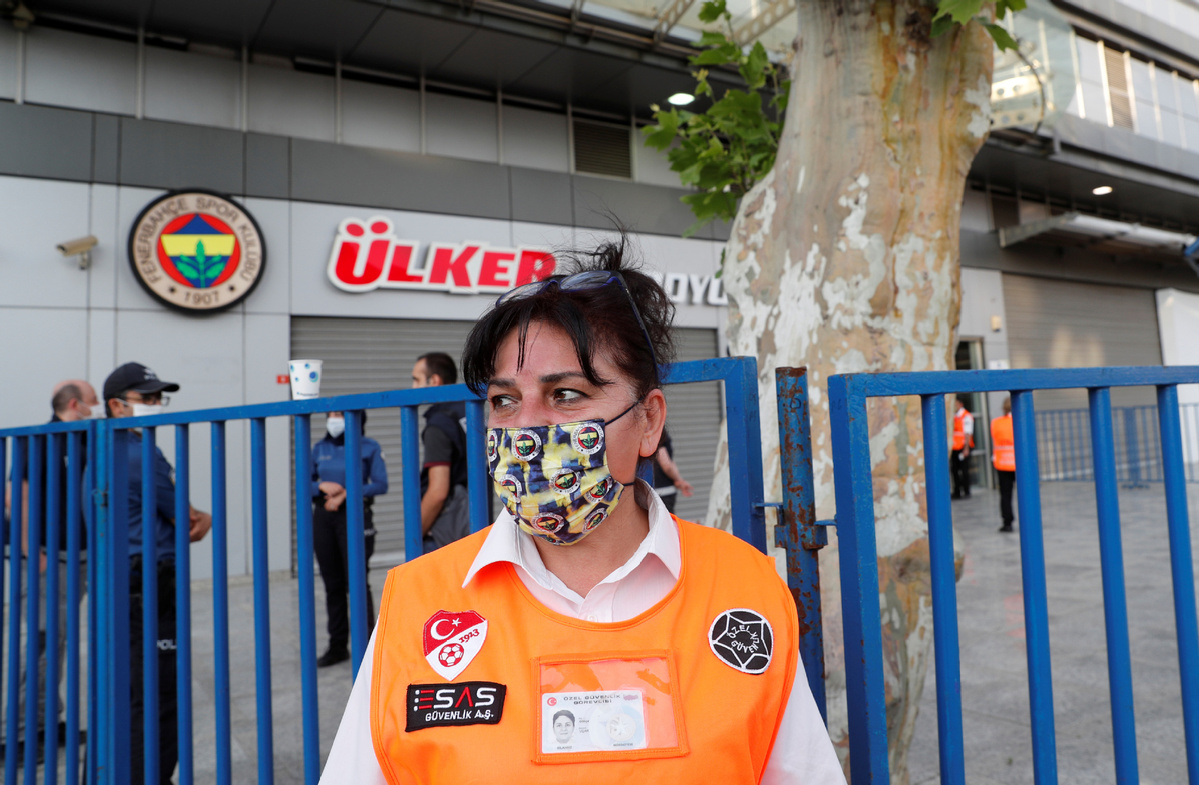 ANKARA - For the seventh day in a row, Turkey has recorded a spike in the number of coronavirus infections following the easing of restrictions.
The government has tightened measures to push for the mandatory wearing of masks amid doctors' warnings for vigilance.
Health Minister Fahrettin Koca confirmed Thursday evening 1,304 new cases of the novel coronavirus for the past 24 hours, bringing the total tally to over 184,000.
The country's death toll from the virus rose to 4,882 with 21 more fatalities in a day while the number of patients in intensive care continued to increase as well.
Koca said the spike in new infections is within "the expected limits," but urged the public not to neglect social distancing rules.
"To keep the limit is within your hands ... It's in the hands of those who don't go out without a mask and respect social distancing," he added.
Speaking to reporters following a meeting of the Scientific Advisory Board late Wednesday, Koca said the country has no plans to declare new stay-at-home orders to keep the numbers in check, but will expand the mandatory wearing of face masks to more provinces across the country.
Turkey has witnessed a worrying jump in infections since June 12, after cafes, restaurants, gyms, parks and beaches were reopened on June 1. Curfews for senior and young citizens and intercity travel restrictions were also lifted to restart the vulnerable economy.
In separate statements Wednesday evening, governments of Istanbul, Ankara and Bursa, Turkey's major metropolises with some 24 million population, have made it mandatory to wear face masks in public, as part of measures to curb the spread of the virus.
Those who contravene the order will be fined 3,150 liras (460 U.S. dollars).
Experts attributed the rise in the number of new infections to large gatherings such as funerals, parties to send off new military conscripts, a well-known tradition in the country, and weddings.
New cases are particularly widespread in rural areas in central and eastern Anatolia where people ignored social distancing precautions, local press reported.
"We all have to be extra careful when we are with other people, the virus is still there and is dangerous. This is not the time to drop our guard after all the hard work that has been displayed to fight the virus," Gule Cinar, a virologist from Ankara told Xinhua.
She said that there was an increase in infection numbers in some districts of the capital, but this could easily have been avoided with hygiene, masks and distancing rules.
"We have an increase in people in intensive care units and we are in need of ventilators. Unfortunately, the normalization process has been misunderstood by our people, normalization is not a return to the past but a new normal," professor Tevfik Ozlu, a member from the Coronavirus Advisory Board, told NTV broadcaster.
"Everyone should wear their masks in a proper way and abide by distancing rules. Some people think that they will not get the virus and refuse to wear masks. This mandatory order should be strictly enforced by the police," he said.
He added that the authorities could reimpose lockdowns in some provinces, depending on new infection data in the coming days.
In Ankara's residential and commercial Esat district, Xinhua correspondent saw that police and municipal employees were making sure that citizens on the street are wearing masks. An overwhelming majority of people roaming the streets were wearing masks.
"It is a measure that is for our benefit, so I don't understand why people are not using this simple guard to fend off the virus," Efkan Avci, a shopkeeper told Xinhua.
He said that it's a citizen's duty to wear a mask without police check. "There has been an apparent increase in the number of people wearing masks today compared with yesterday, which is good," he added.
Late on Thursday, Turkey decided to impose partial curfews over the weekends due to the upcoming admission exams of high school and university students.
The curfew aims to prevent large crowds on the street when students go to the exams.