Shoppers throng online platforms for deals
Share - WeChat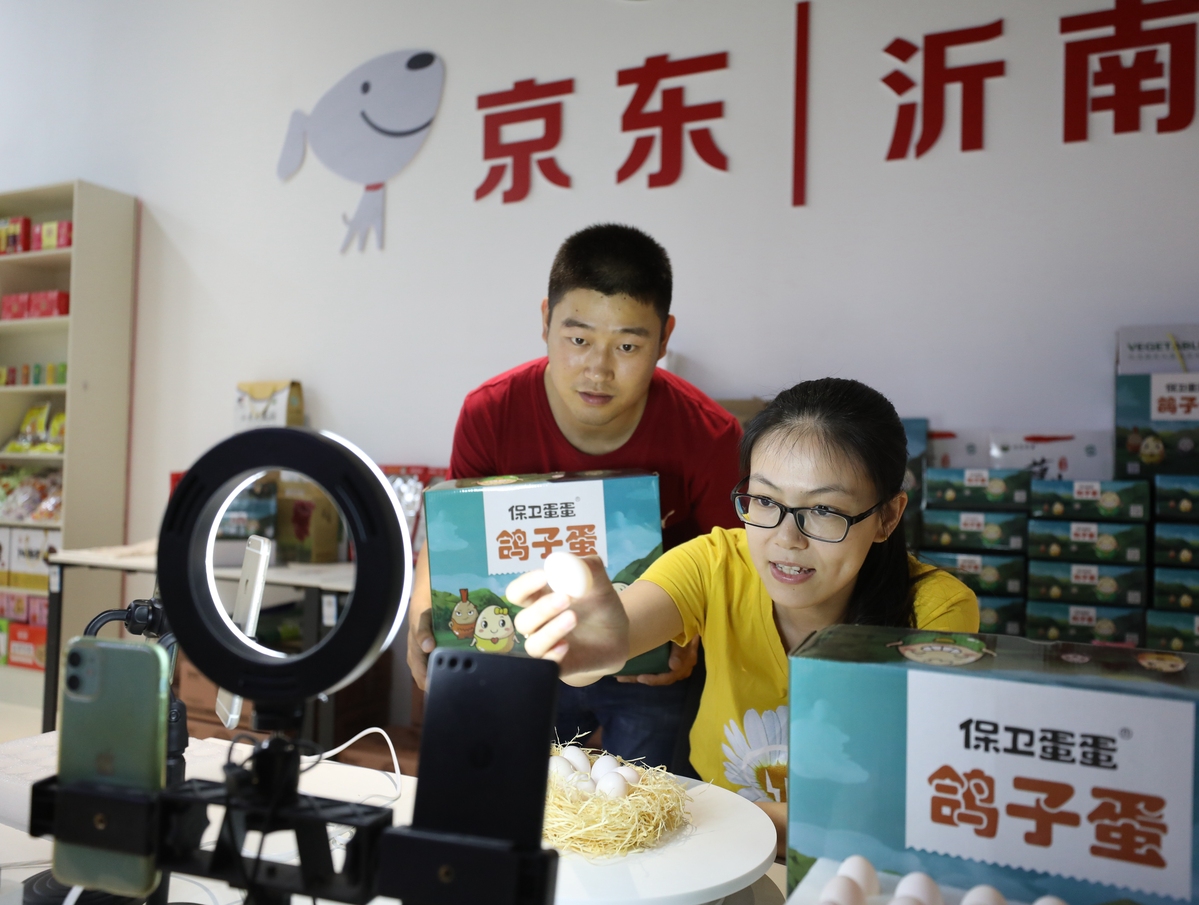 Consumer enthusiasm for online shopping was visible once again during this year's June 18 shopping carnival, as major e-commerce players drummed up promotions to boost consumption recovery and shore up an economy hit hard by the novel coronavirus pandemic.
JD, which initiated the midyear promotional event that officially kicked off on June 1, said its sales reached a staggering 239.2 billion yuan ($33.8 billion) by 2 pm on Thursday, exceeding the 201.5 billion yuan a year ago. The figure continued to climb through the rest of the day.
The company said sales on JD Super-its online supermarket-increased 500 percent in the first 10 minutes on June 18, compared with the same period last year, with more than 2,000 brands seeing their transaction volume jump 100 percent year-on-year.
Sales of televisions surpassed 100 million yuan in just 31 seconds, while air conditioners worth more than 500 million yuan were sold in two minutes. Refrigerator and washing machine sales surpassed 500 million yuan in just three minutes.
There was also a rapid growth in the number of young users from third-to sixth-tier cities during this year's June 18 shopping gala promotion, while middle-aged and elderly users in higher-tier cities also increased dramatically, fueled by the online consumption of fresh products, according to JD.
The Beijing-based firm also conducted a secondary listing on the Hong Kong bourse on Thursday, with a plan to raise about HK$29.8 billion ($3.8 billion) for investments in key supply chain-based technology initiatives to further enhance customer experiences and improve operating efficiency.
Its shares were traded at about HK$239, up 5.75 percent from the initial offer price of HK$226.
Alibaba Group's Tmall platform saw transaction volume double on a yearly basis in the first hour of June 18, indicating strong consumption momentum.
Tmall said this year's midyear campaign features the large-scale adoption of digital technologies, such as livestreaming, 3D-backed online shopping, virtual shoe tryons using augmented reality, and one-hour delivery service, among others.
The platform said the annual campaign is no longer a discount gala but a pilot zone testing new digital commercial infrastructure.
Wang Wei, director at the market economy research institute of the Development Research Center of the State Council, said the June 18 retail festival plays a pivotal role in unleashing consumers' purchasing potential as the COVID-19 epidemic is increasingly brought under better control.
Wang said that the spending spree will boost production, manufacturing, logistics and various other industries and is helpful for restoring the country's economic growth.
Suning, another retail giant, said omnichannel sales surged 132 percent on a yearly basis within the first hour on June 18, with leading brands such as Apple, Midea, Gree, Haier, Huawei and Xiaomi crossing the 100 million yuan revenue threshold.
"This year's June 18 campaign is the first national online promotion event since the pandemic erupted. More and more consumers are keen on online purchases since the COVID-19 outbreak, which has cultivated more online shoppers and reshaped the shopping habits of consumers," said Barbara Shi, vice-president of e-commerce research at market research firm Nielsen China.
Consumer passion for online consumption has been sparked again, considering the array of coupons, and discounts offered by online merchants, she said, adding more enterprises will beef up efforts in digital transformation and provide more products and services at e-commerce sites and online-to-offline or O2O platforms.