Putting pizza inside a Chinese bun
Share - WeChat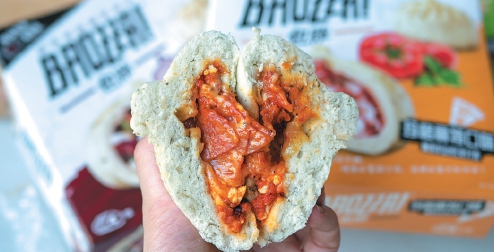 Two Americans have invented the 'baozza', turning toppings into baozi fillings. And the mass-produced fusion food is proving a hit in China, Li Yingxue reports.
Hot Pockets, move over. There's a new game in town-well, at least in China. It's not quite a pizza. And it's not quite a baozi (steamed stuffed bun).
Introducing the "baozza", the brainchild of two Americans, in which Italian pizza toppings stuff otherwise Chinese-style buns.
One problem has been the explosions, caused when the zesty tomato-based sauce heats up.
"I've probably had thousands of baozza explode," baozza brand co-founder Loren Heinold recalls.
The 40-year-old Kentucky native and Harvard graduate and his business partner, Alex Cree, were both investment bankers before they started making baozza in China in 2016.
They spent a long time on research and development. The positive feedback they received at food festivals they participated in encouraged them to mass produce frozen baozza.
They can be purchased at physical supermarket chains and on major Chinese online-shopping platform Taobao.
Sales increased during the COVID-19 outbreak, giving the entrepreneurs greater confidence in longer-term demand.
"It only needs 90 seconds to heat in the microwave, which is quite convenient for people who are staying at home," Heinold says.
Consultant Lei Yiyang recalls first trying baozza at a pizza festival a couple of years ago. She was impressed.
The 36-year-old bought some for her 5-year-old son when she noticed they were for sale online.
"My son loves baozza, especially the margherita flavor, which tastes like his favorite tomato-sauce pizza. When you take one baozza out of the microwave, the whole rooms smells like pizza," Lei says.