Returning on a high note
Share - WeChat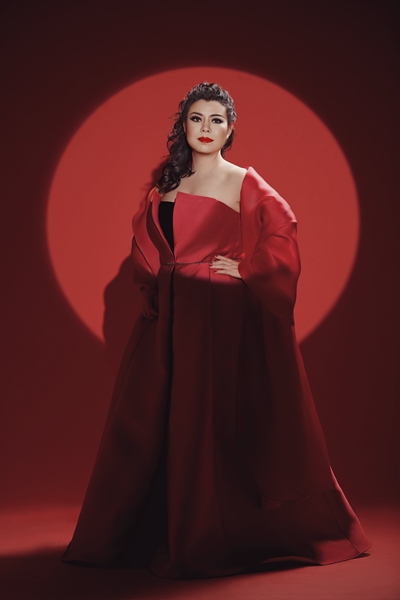 Chinese soprano, He Hui, is relishing the thought of taking to the stage once again, as the pandemic-enforced lockdown comes to an end in Italy, Chen Nan reports.
When Soprano He Hui takes to the stage at the Basilica di San Zeno, a landmark Catholic church in Verona, northern Italy, on Monday, it will be both her, and Italy's, first live show since the coronavirus outbreak resulted in a near global lockdown. The audience will be limited to just 120 people for the show at the church.
Accompanied by a string quartet, Quartetto di Verona, and pianist Robert Corliano, the soprano will perform classic arias, including Sola perduta abbandonata (Alone, Lost, Abandoned in This Desolate Land) from the opera Manon Lescaut by Giacomo Puccini, In questa reggia (In This Palace) from the opera Turandot by Puccini and Ave Maria from the opera, Otello, by Giuseppe Verdi.
According to He, both the string quartet and the pianist have performed with her before, when she launched a tour in China two years ago to celebrate the 20th anniversary of her career as a soprano.
She also chose a Chinese song, Pamir My Beautiful Hometown, as the song to close the concert, which she dedicates to her home country. The soprano, who is in her mid 40s, gave her last show before the coronavirus lockdown in Rome on Jan 21.
"I used to have a hectic schedule of touring worldwide, performing from one theater to another. Opera has been a great part of my life and giving performances has become my lifestyle. For the first time, I had no live shows in five months, which was a hard time for me," says He. "I cannot wait to meet my musician friends, perform onstage and share music with real audiences."
Born in Ankang, Shaanxi province, she became interested in opera after hearing a CD of La Boheme for the first time at the age of 18, which prompted her to become a singer, even though she couldn't understand Italian. She graduated from the Xi'an Conservatory of Music and made her debut as the titular character in a 1998 production of Aida which marked the opening of the Shanghai Grand Theater.
Most Popular