Foreign filmmakers can show real story
Share - WeChat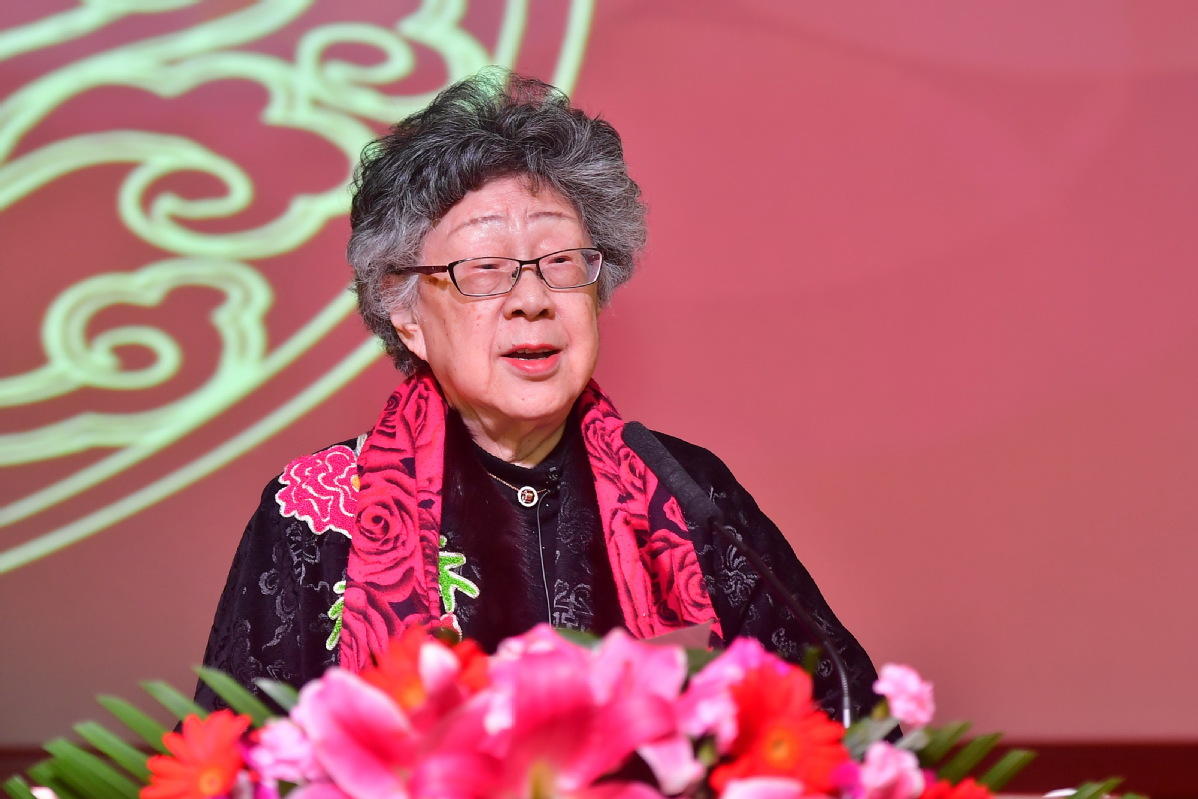 Despite her years, Huang Huilin, 86, a professor at Beijing Normal University and president of the Academy for International Communication of Chinese Culture, keeps bringing new energy and a fresh approach to promote her cause.
One of her initiatives, "Looking China Youth Film Project", a program that aims to record the life, prosperity, antiquity and fashion of China through the unique perspectives of young foreign filmmakers, has become the academy's signature event in an attempt to strengthen cross-cultural communication between Chinese and young foreigners.
Huang says although we have entered the era of globalization, the image of China portrayed by foreign news, books, movies and music is a far cry from the real China. Her team wants to change it, so they came up with the idea of inviting international youth to observe China from their own perspective with their own lens.
The creative practice has been successfully held for nine years. The young foreign filmmakers are helped by Chinese volunteers on a one-on-one basis. Each person completes a 10-minute Chinese cultural short documentary. As of 2019, the project had organized 610 young people from 60 countries, including the United States, Canada, the United Kingdom and France.
"Chinese culture is multifaceted. We focus on each aspect every year. For example, in 2014, our theme was the city, and its people and culture. In 2015, we fixed our eyes on the Chinese devotion to their country and for a better life. In 2016, it was about ethnic charms. The green ecological culture in 2018 piqued our interest. In the first few years, the project could only attract a small number of foreign talents, and most of them were filming in big cities such as Beijing. By now, their works almost cover the country," Huang says.
The annual theme of the project last year was "Moments, Seasons and Times". In the Zi Han chapter of the Analects of Confucius, Confucius, standing on the river bank, lamented: thus things pass like this river, flowing unceasingly, day and night. There is a similar Western proverb: All that passes is like a river. In a deeper sense, the theme is to try to make these foreign youths understand the Chinese dealing with culture and life, ecology and nature, that is, the relationship between people, nature and the world, according to the professor.
At the end of 2019, the project came to an agreement with EDI Media to land the Looking China works on the five most influential local Chinese-English bilingual TV networks in the US set up by iCiTi TV and the US mainstream news station CBS' franchise multimedia official website (KCFJ570.com).
Among them, iCiTi TV broadcasts Looking China films 24 hours a day through satellite channels, wireless channels, cable channels, IPTV and new media mobile phone terminals, covering more than 35 million viewers worldwide.
James Su, president of EDI Media, said as a media that has served the US multicultural market for more than 30 years, they have participated in many international projects regarding cultural exchanges, and a project like "Looking China" that combines youth culture and media integration is helping them turn to a wider range of innovative alternatives.
According to EDI Media, after the project landed in North America in January over the past six months, it has gained a warm feedback and a good reputation, which has become another successful case of Chinese culture "going out".
From the feedback of the audience, they pay more attention to the theme of environmental protection and traditional art, such as Big Scissors Small Scissors. It is filmed in Inner Mongolia in 2019, in which young South Korean director Seenae Choi delves into the daily life of female paper-cutters and interviews two grand artists who are inspired to promote this particular traditional culture.
Israeli director Or Itzhak Ben Zrihen traces, in his film Eye In The Wild, the footsteps of Ge Yuxiu, a photographer and wildlife preserver who puts much of his effort at the lakeside of Qinghai Lake to capture the best moments of Tibetan antelopes.
Connection is a documentary about the bridges in Chongqing, directed and filmed by Russian young director Alisa Pashkova. In Chongqing, the "Bridge and Tunnel Capital", bridges connect the development of the city, and facilitate people's travel, and serve as the inherited combining force for people's livelihood.
"Connection highlights the cultural gap between older generation and new generation by focusing on the relationship between bridges and urban development," Pashkova says.
Li Shechao, honorary chairman of the Overseas Chinese Federation of Southern California, says the microfilms render a true image of current Chinese society.
Fullerton City Council Member in California Bruce Whitaker gave a positive review of the project.
"Looking China builds a bridge of vitality and hope for young people from all over the world, and presents a wonderful Chinese culture to the local audience in the United States," he says.
Mayor John Kennedy of Pasadena, also in California, believes the microfilms provide a new perspective on China. "I have seen most of the film and television works themed in ancient China, but very few, like these microfilms, tell the stories and emotion of the contemporary Chinese ordinary people."
Huang says that "2020 is critical for China's poverty alleviation policy, and our theme this year will divert to the vast rural region".
"However, in view of the epidemic, this year's Looking China series no longer invites foreign youths to film in China. Instead, two themes have been set up. First, 20 foreign talents who had won awards in the past years are invited to make films remotely about China's countryside. Foreign youths who are now studying or working in China can apply for another 60 spots, in which 40 will be assigned to international students in China, and for the rest 20, we have reached an agreement with Bilibili the online video streaming site. They will select the best quality films from the website's foreign uploaders."
In addition to the Looking China project, the academy has also produced a series of widely acclaimed cultural works: the novel Legendary Family of Red Army; and Nine Days, a documentary about Deng Xiaoping's visit to the US in 1979.
zhanglei@chinadaily.com.cn
Most Popular