A story of two pandemics – smoking and COVID-19
Share - WeChat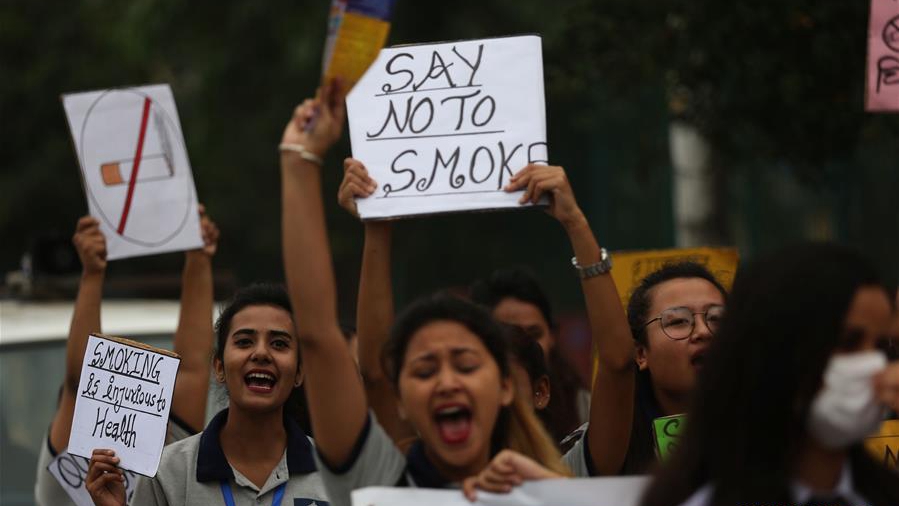 As researchers study the cause and effect of the novel coronavirus pandemic, medical experts warn that tobacco users stand a higher risk of contracting the virus, as compared to non-smokers.
Recent studies by the World Health Organization (WHO) show increased vulnerability of smokers to infection by COVID-19. According to a review of tobacco use convened by the global health body on April 20 this year, smokers are more likely to develop severe disease with COVID-19 in comparison to non-smokers.
The study warns that smokers are likely to be more vulnerable to COVID-19 through contact of fingers and lips with contaminated cigarettes. Further, communal smoking involving sharing of cigarettes and mouth pieces can facilitate the transmission of the virus.
Also, just like "big tobacco" seeks to manipulate young minds into adopting smoking through misinformation, the WHO has warned against amplifying unproven claims that tobacco or nicotine could reduce the risk of COVID-19.
In a statement released on May 29, the WHO laments that the tobacco and nicotine industry has continued to promote products that limit people's ability to fight the new coronavirus, and recover from the disease.
This is one of the areas in focus as May 31 marks the 2020 World No Tobacco Day, of which the theme is "Protecting youth from industry manipulation and preventing them from tobacco and nicotine use."
The theme raises the red flag against the recruitment of a new generation of tobacco and nicotine users, through what the WHO terms as "deliberately employed strategic, aggressive and well-resourced tactics...aimed at replacing the millions of people who die each year from tobacco-attributable diseases with new consumers – youth."
Nine in 10 smokers of the world's 1 billion smokers pick up the habit before they are 18 years old, hooked by an annual 9-billion-U.S.-dollar global marketing campaign by big tobacco. Currently, there are over 40 million smokers aged between 13 and 15 years. And, in a growing global trend, 200 million smokers are now women, enticed by targeted marketing strategies.
More than 8 million people die from smoking every year, including over 1 million deaths from non-smokers exposed to second-hand smoke. These deaths occur mainly from smoking-related cancers, cardiac diseases, and, pulmonary and respiratory diseases. Moreover, a third of youth who are addicted to smoking will die prematurely from its adverse effects.
Smoking has always raised a lot of concern to health authorities worldwide. Indeed, the WHO Framework Convention on Tobacco Control (FCTC) was the first treaty the UN body negotiated under its leadership. The FCTC seeks to curb the "globalization of the tobacco epidemic" by addressing demand and supply factors that promote smoking.
The social and economic impact of smoking cannot be overemphasized. Smoking causes more than 500 billion U.S. dollars in economic damages every year, most of which emanates from the cost of healthcare expenses for treating tobacco related ailments, and the subsequent weakening of human productivity.
Both smoking and COVID-19 will have a great impact on the future of the youth. As the world co-opts young people in curbing further spread of the smoking epidemic, the same sensitization should place them in combating COVID-19. Sensitization must keep pace with the results of ongoing research on the link between tobacco use and COVID-19, both in the short and long terms.
One of the tobacco industry's major lines of defense is the argument that smoking is not the only cause of lifestyle diseases. They cite the case of serious illnesses like diabetes, high blood pressure and certain cancers that are caused by excessive sugar and fat intake. They say they are unfairly targeted, saying governments should also rein in consumer products which have been fingered as culprits that cause, for instance, obesity.
Ultimately, the point is that smoking kills. It is an addictive habit that needs equally aggressive and deliberate strategies to fight off. Maybe in the near future, we will have data that shows the percentage of deaths from COVID-19 that could have been exacerbated by tobacco use, compared to non-smokers.
In order to reduce, and ultimately eradicate the prevalence of smoking, health authorities should target the youth at the most appropriate channels. This includes reaching the youth by promoting alternative, ego-boosting healthy lifestyles, and giving them constant and sufficient information on the dangers of smoking through social media.
Anti-smoking lobbyists say authorities should work toward gradually criminalizing tobacco use. They also ask governments to enact and enforce legal measures toward a total cessation of advertising of cigarette and tobacco products in all media, including instituting punitive measures to those who sell cigarettes to minors.
Most Viewed in 24 Hours
China Views