US unemployment claims decline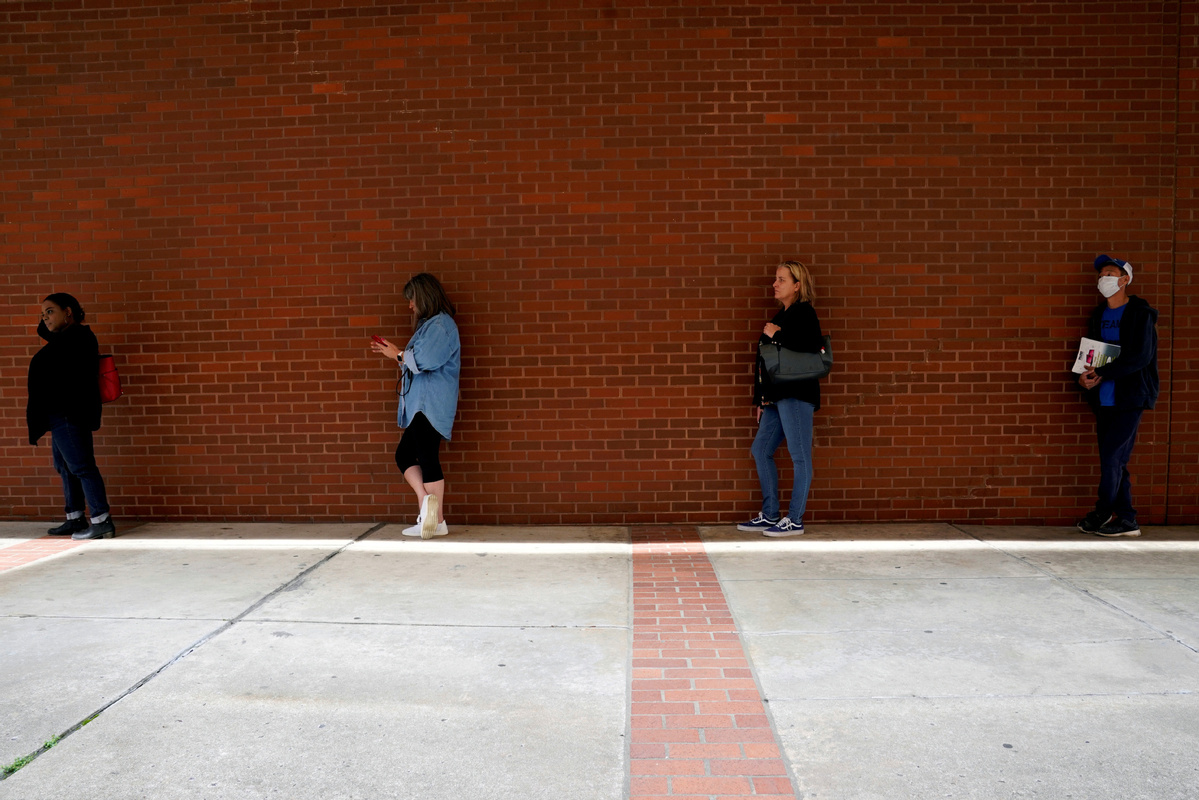 More than 2.1 million Americans filed for unemployment benefits for the first time last week, the eighth straight week of fewer unemployment applications but the 10th straight week that jobless claims have been in the millions because of the coronavirus.
The number filing for benefits the previous week was 2.4 million, the Labor Department said.
On Wall Street, the Dow Jones Industrial Average dropped in the final hour of trading on Thursday as President Donald Trump said he will hold a news conference regarding China.
The Dow fell 147.63 points, or 0.6 percent, to 25400.64, reversing course after two days of gains earlier this week.
Weekly totals for jobless claims have continued to fall since hitting a peak of 6.8 million in late March.
"I think we've hit the bottom, as far as layoffs," Marianne Wanamaker, a labor economist at the University of Tennessee told The Wall Street Journal. Some laid-off workers are being recalled to their jobs. "Auto factories and suppliers have called back workers and you're seeing states that shut down construction allowing those projects to restart," she added.
The total number of people who have sought unemployment assistance now stands at more than 40 million since the crisis began in mid-March.
Meanwhile, the number of workers receiving jobless benefits fell to 21.1 million in the week ended May 16, down 3.9 million from the prior week. It was the first decline in the number receiving benefits since February, but the level remains well above the record before this year—6.5 million in 2009—near the end of the last recession.
The Federal Reserve reported on Wednesday that that despite gradual reopenings in the states, most businesses are pessimistic about the pace of economic recovery and many are struggling to bring employees back to work.
The central bank cited health concerns among workers, limited childcare options and expanded unemployment benefits during the pandemic as the reasons for the difficulty.
There was some good news on the employment side on Thursday as Amazon Inc. said it plans to keep most of the US jobs it added to meet demand in March and April as housebound Americans turned to online deliveries.
Amazon said it will give 125,000 of 175,000 temporary workers the option to stay on full time, signaling that it expects the recent growth to continue. The company said the jobs will supplement its total US count, which it recently put at more than 500,000. Amazon's non-seasonal employee ranks include full-time and part-time positions.
The Commerce Department said Thursday that US gross domestic product — the value of all goods and services produced across the economy — fell at a downwardly revised 5.0 percent annual rate during the first three months of the year, adjusted for seasonality and inflation.
Also Thursday, the department said corporate profits declined sharply to start the year and orders for long-lasting durable goods, such as machinery and trucks, fell 17.2 percent in April from a month earlier.
The White House said it won't issue updated economic projections this summer because of uncertainty caused by the coronavirus pandemic, according to a senior administration official.
American and Delta airlines are planning to basically shrink because the COVID-19 pandemic brought air travel to a halt,
American will cut its management and administrative staff by 30 percent. The reduction amounts to more than 5,000 of American's roughly 17,000 management and support workers.
"We must plan for operating a smaller airline for the foreseeable future," Elise Eberwein, American's executive vice-president of people and global engagement, wrote in a letter to employees Wednesday.
The airline said it would accept volunteers to take buyouts through June 10 and make forced cuts if there aren't enough. Those decisions will be announced in July, and employees will remain on the payroll through Sept 30.
In recent months, about 39,000 employees at American have taken unpaid leave or retired early to help cut costs.
Delta had the same message for its employees on Wednesday.
"Delta will have to be a smaller airline as we adjust to reduced demand and the need for distancing and safety during travel," Delta CEO Ed Bastian, told employees in a memo. "A smaller Delta unfortunately means fewer people will be required."
The email didn't say how much of its work force the airline would trim.
Delta is offering an early retirement option and a general buyout package to most employees except for pilots, whose union is still in talks with management, Bastian said.