Construction on track for Indonesian high-speed rail
Share - WeChat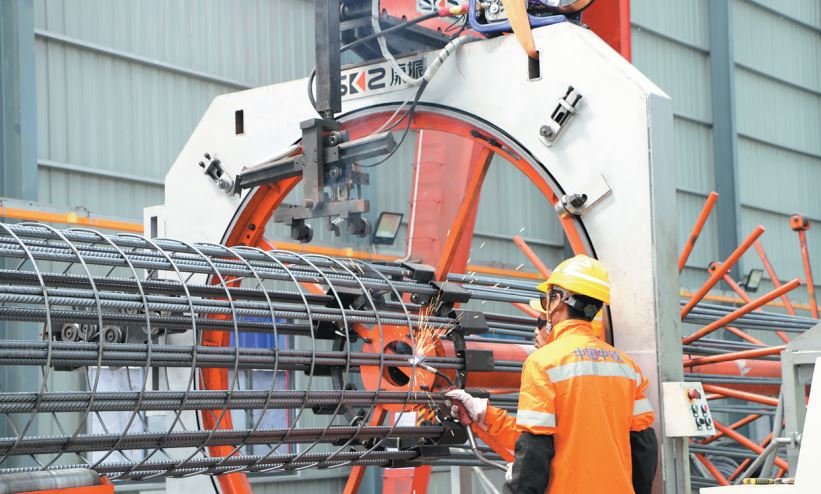 Big-ticket infrastructure project linking Jakarta to Bandung likely by next year
China Railway Group Ltd, known as CREC, the Beijing-headquartered State-owned construction contractor, plans to complete $537 million worth of construction works for the Jakarta-Bandung high-speed railway project in Indonesia this year, despite the COVID-19 outbreak, said its senior executives.
The 143-kilometer-long railroad is being constructed by PT Kereta Cepat Indonesia-China, a consortium involving Indonesia's State-owned companies, and China's centrally-administrated State-owned enterprises including China Railway Signal and Communication Co, China Railway Rolling Stock Corp and Power Construction Corporation of China.
CREC completed over $128 million of work for the project during the first four months of this year.
With construction expected to complete by the end of 2021, the Jakarta-Bandung high-speed railroad, with a designed speed of up to 350 km/h, is the first such railway in Indonesia, as well as China's first overseas high-speed rail project.
Under the contract signed in 2017, China will export its technical standards, surveys and designs, engineering construction, equipment manufacturing, materials supply, operation management and staff training for the project. The total contract value sealed by CREC is $1.37 billion.
After the project is completed, the travel time from Jakarta to Bandung will be shortened from over three hours to about 40 minutes.
The cooperative rail project under the tangible growth of the Belt and Road Initiative adopts the technically advanced CR400 trains, and takes local climate and customs into consideration in its design, said Ren Hongpeng, CREC's vice-president.
Though many parts of the world are making efforts to mitigate the effect caused by the novel coronavirus, Ren said no one from its workforce numbering more than 4,000 under this big-ticket project, including more than 3,000 Indonesian employees, has suspected or diagnosed case of COVID-19 so far this year.
They have made a number of breakthroughs in building tunnels, railway bridges and stations between January and April, he noted.
The project's management team set a goal of "zero infection" for all employees after the first confirmed case of COVID-19 was found in Indonesia in early March. The company raised disinfection level and frequency, and tightened disease prevention in working areas such as offices and construction sites. All personnel entering the work area must wear masks and pass through body temperature checkpoints.
"We have taken strict measures and made emergency response plans to prevent cases infected from outside the project," said Zhang Wei, CREC's chief representative for the Indonesian market.
Under its new moves, business trips to be taken within both Indonesia or to other countries have to be discussed and decided by the management team. Employees returning from high-risk areas must be strictly observed.
The future operation of this landmark project will not only enhance the partnership between China and Indonesia in line with the BRI development, but it is also the first high-speed railway in Southeast Asia, said Zhang, adding it will arouse more countries' interest. Many countries are keen to put their economic growth on a firmer footing through efficient transport systems and regional connectivity, he said.
To cut financial losses caused by the outbreak in other countries, many central SOEs have shifted work from their newly-signed overseas infrastructure and manufacturing projects back to plants in China to ensure activity can properly continue, said Zheng Donghua, deputy director of the research center at the State-owned Assets Supervision and Administration Commission of the State Council.
Central SOEs, especially manufacturers and infrastructure project contractors including CREC, China National Building Material Group Co and Metallurgical Corporation of China, have encouraged local employees and third parties in overseas markets to better allocate resources and continue projects in an orderly way.
Cooperation projects related to the BRI are generally running smoothly with no major delays amid the contagion, Zheng added.
Apart from expanding its global presence, CREC announced earlier this month that its subsidiaries such as China Railway Electrification Bureau (Group) Co and China Tiesiju Civil Engineering Group sealed 29 deals for airports, highways and forestry protection facility projects, as well as the transformation of shanty town areas with a total contract value of 37.16 billion yuan ($5.23 billion) in the domestic market over the past four and half months.
Supported by over 290,000 employees, CREC's business covers almost all fields of infrastructure, such as railways, highways, municipal facilities, housing and buildings, urban rail transit, water conservation, hydropower stations, airports and harbors. It has built a business network in more than 90 countries and regions around the world.
In addition to construction projects, the group is also able to produce and export machinery including rail track, shield and tunnel boring machines, bridge erecting equipment, cranes and catenary installation equipment for building electrified railways to the global markets.