CCCC sees overseas contract value surge
Share - WeChat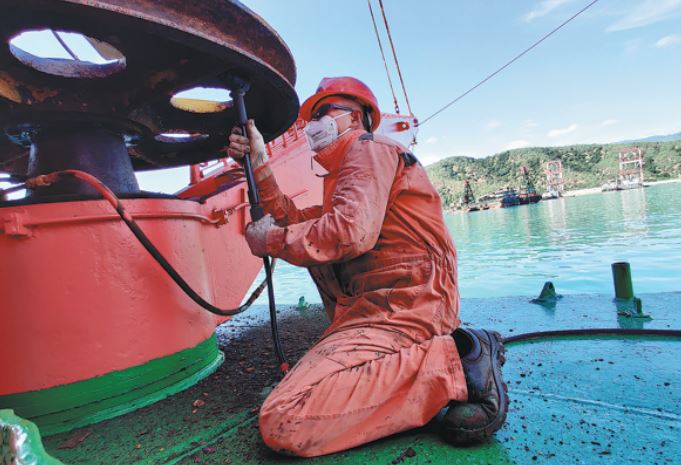 China Communications Construction Co Ltd, one of the country's largest infrastructure project providers by market share, saw its newly-signed contract value surge by 16 percent year-on-year in the overseas market during the first quarter of this year, said a senior executive.
With the effects of the COVID-19 pandemic declining in some countries, economies have begun to resume work, and global demand for various infrastructure projects will continue to grow in the second half of this year, said Sun Ziyu, vice-president of Beijing-headquartered CCCC.
There are more than 4,000 projects currently under construction by CCCC. Among them, nearly 1,000 projects are located in overseas markets with 1 trillion yuan ($140.61 billion) in contract value, Sun said. The majority of them have resumed operational and production.
Based on the current work rate, the group will achieve its annual production and operation goals in 2020, he added.
Sun said the main work on building a wharf for Asia Pulp & Paper Group-the Indonesian paper product manufacturer-was completed in South Sumatra, Indonesia, on May 10.
The project mainly comprises of the construction of a pier platform, two mooring piers, an approach bridge and support facilities. Once the project is completed, it will allow one 50,000-metric-ton freighter, one 30,000-ton freighter and four 7,600-ton freighters to dock simultaneously.
The project has faced many challenges since its launch, with production materials having to be transported to the construction site by sea, and the work area damaged by a monsoon, according to CCCC.
Under such circumstances, Sun said the project team had to study the local sea conditions, draw up a reasonable operation timetable, rationally allocate resources, and formulate a detailed epidemic prevention and control plan.
Elsewhere, a consortium formed by CCCC, Portuguese builder Mota-Engil SGPS SA and three Mexican companies won the bid for the Maya Railway Section I Project in Mexico in late April.
With a total length of 226 kilometers, the project comprises design, purchasing, construction and maintenance of earthwork, infrastructure building and rail facilities. The contract value of the project is about $740 million, with a 28-month design and construction period. The joint venture will also provide five years of maintenance for its Mexican client after the railroad opens.
Sun said the Maya railway project is a national strategic project promoted by the Mexican government in recent years. By winning this bid, CCCC has made a breakthrough in gaining government projects in Mexico, and further expanded its brand influence in the region.
Affected by the pandemic, CCCC's sales revenue declined 6.65 percent year-on-year to 95.44 billion yuan in the first quarter of this year. Supported by more than 140,000 employees, the centrally administered State-owned enterprise has entered markets in 150 countries and regions and runs over 60 subsidiaries, such as China Harbor Engineering Co and China Road and Bridge Corp.
After years of development abroad, China's central SOEs have gradually expanded their overseas projects from resource development and infrastructure construction to industrial cooperation and investment, especially in economies participating in the Belt and Road Initiative, said Zhang Yongjun, a researcher at the Beijing-based China Center for International Economic Exchanges.
For the next step, central SOEs should better study and flexibly use international rules, and improve their transnational management capacity, as well as raise their safety awareness and risk prevention capabilities, he added.
With COVID-19 prevention and control measures being carried out steadily and positively across China, most centrally administered State-owned enterprises reported better profitability since March, according to the State-owned Assets Supervision and Administration Commission.
In March, the operating revenue of central SOEs reached 2.2 trillion yuan, returning to the same level as January.