Wellington Koo: The man who stood up for China
Share - WeChat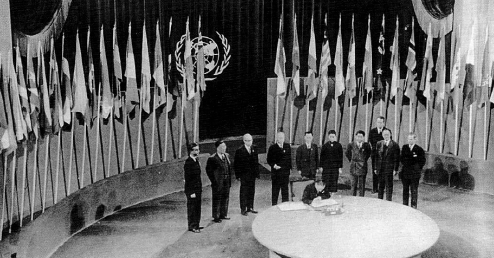 Editor's note: In June 1945, China joined the United Nations as one of its founding members. Almost 75 years later, China Daily looks back at the remarkable life of V.K. Wellington Koo, a man who tapped into the power of diplomacy in service of his beloved country.
Back in the very beginning of the 20th century, a teenage Chinese boy went to a barber's shop to have his queue braid cut. The barber, who agreed to take up the scissors only after having repeatedly confirmed with his young client about his bold decision, charged him double. The boy wrapped his queue in a ribbon and took it home to his mother, and the mother cried.
The boy was Koo Vi-kyuin (Gu Weijun), more famously known as V.K. Wellington Koo, viewed today by many as the first truly modern Chinese diplomat to have stepped onto the international stage representing the world's most populous country.
In retrospect, the cutting of the queue provided a potent metaphor for Koo's life, in which he tried very hard to break loose of the constraints imposed on him by family and tradition.
Right after his daring hair move, Koo went on to find himself a set of Western suits and sported them as he appeared in a family photo with his father and two elder brothers, standing symbolically away from the cheongsam-donning three.
However, one thing was never up for severing, and that is the tie between Koo and his country. In 1904, the 16-year-old boarded a ship for the United States, where he first entered the Cook Academy in New York and then Columbia University.
Shirley Young became Koo's stepdaughter when her mother, Juliana Yen Yu-ying (Yan Youyun) married Koo in 1959. Today, the 83-year-old is able to reconstruct her stepfather's Columbia years by looking into the school records, including test sheets.
"An international law student, Koo was extremely active in all extra-curriculum activities. These included joining the drama club, becoming the editor-in-chief of the University's Spectator Magazine, which is still in existence today, and leading Columbia's debate team against Harvard, Yale and Princeton," she said.
Nationwide revolution broke out in China in October 1911, resulting in the overthrowing of the Qing Dynasty early the next year. An empire no more-China was finally a republic.
In February 1912, a letter from the Chinese embassy in Washington landed on Koo's desk. It was an invitation to serve in the President's Office as his English secretary.
By late 1915, Koo was already appointed the Chinese minister to the US. He was only 27. The year before, he married Tang Paoyueh (Tang Baoyue), aka May Tang, daughter of veteran politician Tang Shaoyi, after obtaining a divorce from his first wife, the daughter of a family friend whom he agreed to marry only when his father went on a hunger strike.
The second marriage, a happy one, ended abruptly three years later, as Tang died in the influenza epidemic of 1918 in the US, having borne Koo a son and a daughter. Many years later, that daughter, Patricia Tsien, born one year before her mother's passing, would tell her own daughter, Ying-Ying Yuan, about going back to China with Koo at the age of 5, for her mother's burial 4 years after her death. Both Tsien and Yuan later became the guardians of Koo's legacy.
Most Popular