More than a medic
Share - WeChat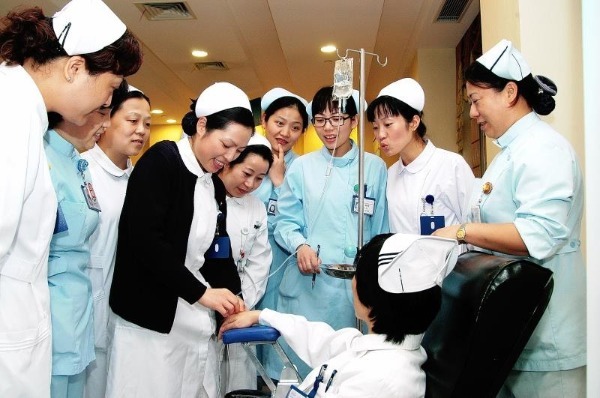 The dedication that Chinese medical workers have demonstrated in the fight against the novel coronavirus epidemic has gained them a new level of respect in society, says a leading nurse from a Shanghai hospital that dispatched 120 nurses to the front lines.
Some 28,600 nurses were sent to Hubei province, the Chinese region which was the most affected by the COVID-19 outbreak.
In a recent interview ahead of the annual International Nurses Day on May 12, Yang Yan, director of the nursing department at Shanghai Renji Hospital, praised these nurses, saying that their tireless efforts had contributed greatly to the 88.9 percent recovery rate for patients in critical condition.
Among the members of Yang's team, 108 were sent to Hubei while 18 were dispatched to the Shanghai Public Health Clinical Center, the designated hospital in Shanghai for the treatment of COVID-19 cases.
Yang says that nurses had showcased commendable professional skills, nursing abilities and the capacity to think critically during the outbreak. She also praised their handling of such procedures as respiratory-tract nursing and use of extracorporeal membrane oxygenation.
The ECMO device, she says, requires solid skills to operate as it can cause such complications as hemorrhages, thrombus, infections and impaired lung function if not used properly.
"Nurses have to be extraordinarily careful when treating such patients. Closely observing the patients' conditions every minute, nurses are like scouts who search for traces of complications inch-by-inch before reporting them to doctors so that swift treatment can be administered," says Yang, who has been a nurse for 18 years.
Besides medical care, nurses also played a critical role as companions for patients in isolation wards, Yang adds.
"The outbreak happened all of a sudden, and many of the infected patients were wrapped up in a mix of panic, helplessness, anxiety and depression," says the 41-year-old.
"During the days in the wards, patients might undergo changes in their own condition or even witness the deaths of fellow patients around them. Nurses became their only source of company when they were overwhelmed with fear. Nurses were like an emotional anchor for them."
Yang also praised the members of her team for serving as listening ears for patients and helping them to "walk out of darkness into hope and happiness again".

"One patient said upon his recovery, 'only those who haven't seen the nurses' eyes may believe the stars are brighter,'" she says.
To lift the spirits of the patients, Yang's team introduced "narrative nursing" in the hospital wards in Wuhan, setting up a wall where patients were encouraged to write down their stories and feelings during the epidemic.

The aim was to allow patients to find comfort in the words of others.
Nurses endured heavy workloads in Wuhan and Shanghai. They not only provided basic treatments but also had to help patients bathe and use the restroom. Nurses even helped patients who had been lying in their beds for over a month to wash their hair.
Yang also shared a story about a 65-year-old patient in a Shanghai hospital who underwent treatment for 73 days, including 40 days on ECMO support, and suffered from many complications, some of which the nurses had never encountered before.
"When he finally recovered and was discharged in mid-April, he said, 'the nurses reminded me of my mother, because only she would take care of me like that'," recalls Yang.
Despite the hardship that medical workers have had to endure, the epidemic has actually helped some people to reaffirm their dedication to the profession.
Yang says that a male nurse who submitted his resignation letter at the beginning of January gave up the idea of quitting when the epidemic broke out late that month. The nurse, Yu Yuanding, even volunteered to work in the designated COVID-19 hospital in Shanghai.
Furthermore, the 25-year-old was the only nurse who worked for three terms at the hospital. Nurses dispatched to Hubei province were only required to work for 10 days before returning home.
"Because of the great sense of fulfillment gained by alleviating pain and saving lives over the past months, he decided to continue," Yang says.
Most Popular