China Mobile's 5G tech soars to new heights
Share - WeChat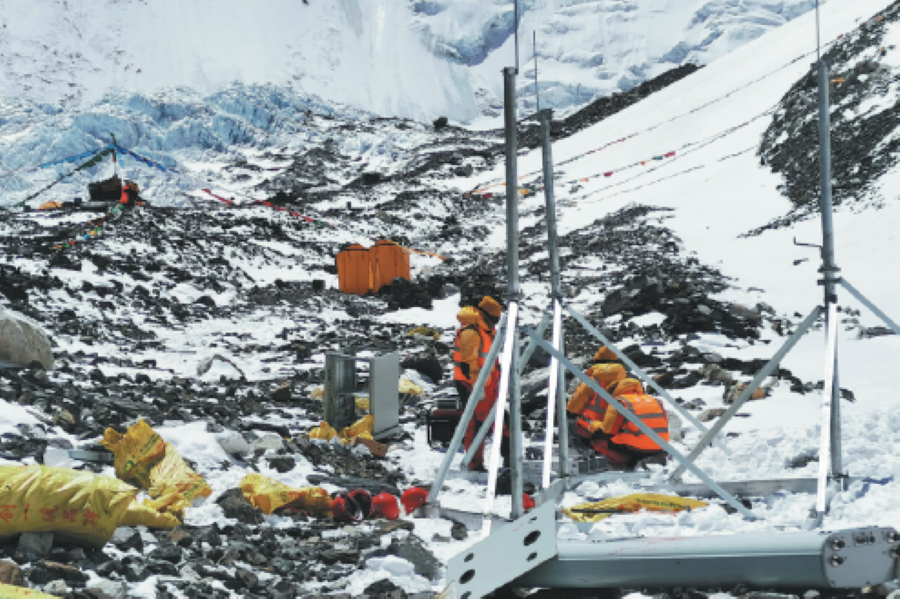 State-owned telecom carrier expands superfast technology to camps on Mount Qomolangma
A line of 46 yaks laden with telecom equipment in mid-April made its way toward the 6,500-meter-high Forward Camp on Mount Qomolangma, known as Mount Everest in the West.
Accompanying the special transport team were more than 40 employees from China Mobile and its partners, who were burdened with heavy optical cables and struggling to inch higher amid bone-chilling -20 C temperatures.
Their mission is to achieve the impossible-building the world's highest 5G base stations and bringing 5G signals to the summit of the world's highest mountain to provide a sound telecom infrastructure for scientific research and environmental monitoring of the peak.
"Do you know how cold -20 C is? Even machines cannot bear such cold. The computers cannot be turned on," said Chen Gang, an employee from China Mobile's Tibet autonomous region branch.
To solve the problem, they found a workable solution."When sleeping in tents, we lay our arms across our computers all night so that they can work next morning," Chen said.
That is only one of the challenges they have to face. At Mount Qomolangma where oxygen is extremely scarce due to high elevations, people need to take deep breaths with every step. As a result, it would take as many as 40 people to carry a three-kilometer-long optical cable which weighs 700 kilograms. And the whole project needs 25 km of such cables.
Li Chongming, an official with the networks department at the Tibet branch of China Mobile, described the project as challenging, tough and risky.
Li, who is also the field chief coordinator of the ongoing 5G network installation project, said such a project required higher levels of skill in technology and construction.
Wang Xiaobo, an employee of the networks department at the branch, said "the job is a challenge both for the mind and body to work at such high altitudes". He added that many of his colleagues suffered problems such as dry skin, insomnia and headaches.
After hard work, the world's highest 5G base station at an altitude of 6,500 meters finally began operations on April 30, with China Mobile and Huawei-a major telecom equipment supplier-taking 5G connectivity to new heights by bringing the network signal to the summit of Mount Qomolangma.
Together with the launch of the gigabit optical fiber network, China Mobile also runs its dual gigabit network for "Roof of the World".
The project once again proves the technological prowess of China in rapidly commercializing the superfast technology and it will help scientific research, environmental monitoring, high-definition live broadcasting and other activities on the world's highest mountain, said Xiang Ligang, director-general of the Information Consumption Alliance, a telecom industry association.
Huawei said in a statement that it has offered its end-to-end solutions in the construction of China Mobile's dual gigabit network, where base stations were built in Mount Everest North Base Camp at the altitude of 5,300 meters, the Transition Camp at 5,800 meters, and the Forward Camp at 6,500 meters.
Tashi Tsering, a Tibetan mountaineering guide, said 5G coverage on Qomolangma is crucial for coordinating emergency rescue services.
"Many climbers come from low altitudes, so altitude sickness is a common problem for most people, and it is worse at altitudes such as 6,500 meters," he said.