Chengdu is virtually back to business
Share - WeChat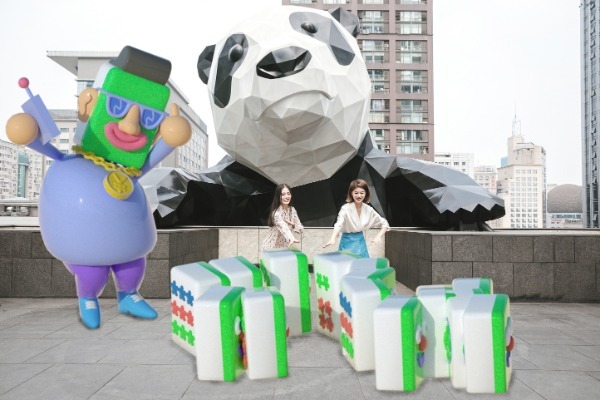 Mobile Augmented Reality-based interaction, between the virtual and real life, is now all the rage in Chengdu, the capital city of Southwest China's Sichuan province. An outdoor AR art exhibition, the one-month long Fun in the AiR, jointly created by Chengdu International Finance Square (Chengdu IFS) and British trend artist Jack Sachs, was officially launched last month.
Fun in the AiR, the first outdoor AR exhibition in China, leverages technology to immerse visitors in six groundbreaking, themed scenes in the Sculpture Garden and other outdoor spaces located at Chengdu IFS, an urban complex in the city's downtown. By scanning QR codes, visitors can enter the fantastic AR world, and enjoy interacting with the exhibition's AR animated characters.
With many businesses seeking ways to offset economic slowdown caused by the COVID-19 outbreak and foster fresh momentum across China, the pandemic, to a certain extent, has pushed shopping malls to look for various solutions to attract more consumers.
Jack Sachs, the artistic partner of this exhibition, is known for creating exaggerated and comical animated characters with simple geometric shapes and bright colors, as well as giving ordinary objects unique characters imbued with optimism and humor.
With this exhibition, he not only perfectly integrates the virtual 3D animated characters with real-life scenery, but also incorporates mahjong and other aspects of Sichuan's culture into modern art, delivering whimsical surprises to the Chengdu exhibition.
The exhibition's six themed scenes are located on the first floor of Chengdu IFS, accessed via the main entrance on Hongxing Road, and in the Sculpture Garden on the seventh floor. The themes include: Mahjong Superman, Panda Is Busy, Kitty Hops, Magic Picnic, Travel Guru and Fitness Space. There is also a hidden scene at the subway station, waiting to be discovered. The artist believes the exhibition is the perfect way to unwind and get re-energized after staying at home for such an extended period because of COVID-19.
Most Popular