UK greatly expands its virus testing program to include care homes
Share - WeChat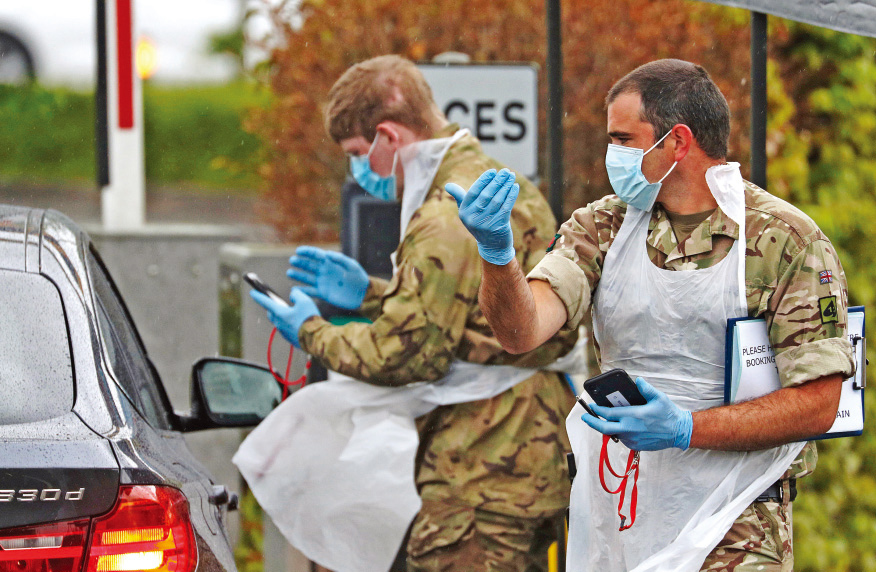 The United Kingdom massively ramped up its novel coronavirus testing program on Wednesday, hours before the end-of-April deadline the government set itself to reach 100,000 tests a day.
The program had already been improved to the extent that 52,000 tests were carried out on Tuesday and capacity raised to more than 70,000.
The list of those eligible, which started with only those in hospital suspected of having COVID-19, now includes care home residents and staff, people aged 65 or older, and anyone who must leave home for work. The latest expansion follows one days ago in which all key workers and their families were included.
John Newton, the professor of public health and epidemiology who runs the government's testing initiative, said on Radio 4's Today program that 25 million people can now learn their COVID-19 status.
He added on LBC radio that the government wants people to request a test if they think they need one.
"This is for people who are unwell with coronavirus symptoms, and their households ... it's not a screen," he said. "If you have symptoms, go on to gov.uk and there's a special link that tells you how to log on and get a test."
The Mail Online said demand was so brisk that supplies of home test kits ran out after 80 minutes on Wednesday morning. People could, however, still book a slot at a drive-in test site.
The government has said widespread testing, and the means to track people who have been in contact with those carrying the disease, must be in place before the UK's lockdown can end.
The government revealed for the first time the full daily death toll during its regular novel coronavirus briefing on Wednesday.
Previously, the daily toll comprised deaths of people in hospital who had tested positive for COVID-19. The Office for National Statistics, a non-ministerial government department, released a second toll several days later that included deaths in care homes and the community.
On Wednesday, the new combined daily total was 765. The total number of UK deaths now stands at more than 26,000.
Foreign Secretary Dominic Raab, who presented the briefing, said "this is a delicate and dangerous moment in this crisis" as he explained that the UK is not yet ready to relax its lockdown.
Raab said "There is light at the end of the tunnel … but we do need to be patient and we do need to be careful".
He said the UK has been having good success in buying personal protective equipment, or PPE, from other nations recently, including 5 million facemasks from China.
But, while the UK's lockdown remains, Spain has announced a four-phase plan to ease one there that started on March 14.
Prime Minister Pedro Sanchez said, starting May 4, businesses that operate by appointment only, such as hairdressers, can reopen.
The nation hopes to return to normal by the end of June.
"We are starting to glimpse an outcome that will be a reward for the huge collective effort made over the past weeks," Reuters quoted him as saying. But Sanchez said Spain will be hit by a recession that will require a strong response from the European Union.
But while the pandemic has caused economic carnage, it had a silver lining for 35,000 HSBC workers who were told in February they were losing their jobs.
The company now says it will not lay off workers now because they will not be able to find new jobs.
France, meanwhile, which will partially lift its lockdown on May 11, said people using public transport and those attending secondary school must wear facemasks.
The nation has been one of Europe's hardest-hit, alongside the UK, Italy, and Spain.