Student seeks to alter public view of blind people in Tibet
Share - WeChat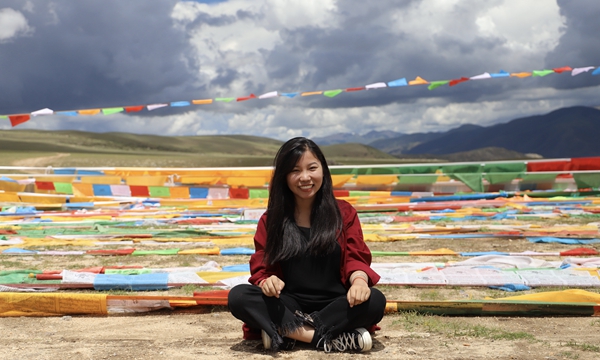 In the documentary Land of Silence and Darkness, German director Werner Herzog portrays the life of disabled people by focusing on a deaf and blind woman. His care for the woman and their communication deeply touched Tsering Choekyi, a 23-year-old girl from Shannan city, Southwest China's Tibet autonomous region.
When the journalism major from Tsinghua University saw a public service advertisement on Tibet Satellite TV, she was attracted by the story of Tsering Dhondup, a blind masseur who dreams of organizing a band with six of his peers and decided to film a documentary about Tsering Dhondup and his colleagues as her graduation project.
"I want to make this documentary to improve the visual representation of the disabled in Tibet and enable them to reveal to the general public a side of their lives rarely seen. On the other hand, I also hope it will encourage more people to pay attention to the disabled, especially when it comes to their employment."
She set about searching for information online about Tsering Dhondup before going directly to his massage shop in Lhasa, to request an opportunity to record their daily life.
"I was very tense and anxious before I met them, since I was worried they would be very sensitive, but to my surprise, they immediately agreed and said they felt happy to help me. I was really moved," Tsering Choekyi tells China Daily.
Due to the coronavirus pandemic, she postponed filming until March 5, but has visited the massage shop nearly every day since. So far, under the simple working title of Tsering Dhondup, she has half of the footage she wants "in the can", and plans to edit the documentary in May.
"I follow a relatively fixed schedule. They live on the third floor and work on the second in a house on Bakuo Street in Lhasa. I usually go to the second floor in the morning and chat with them for a while before shooting. I record how they work, how they practice their massage skills, how they get on with each other and how they play the instruments and sing together."