Talk of reopening as virus toll rises
Share - WeChat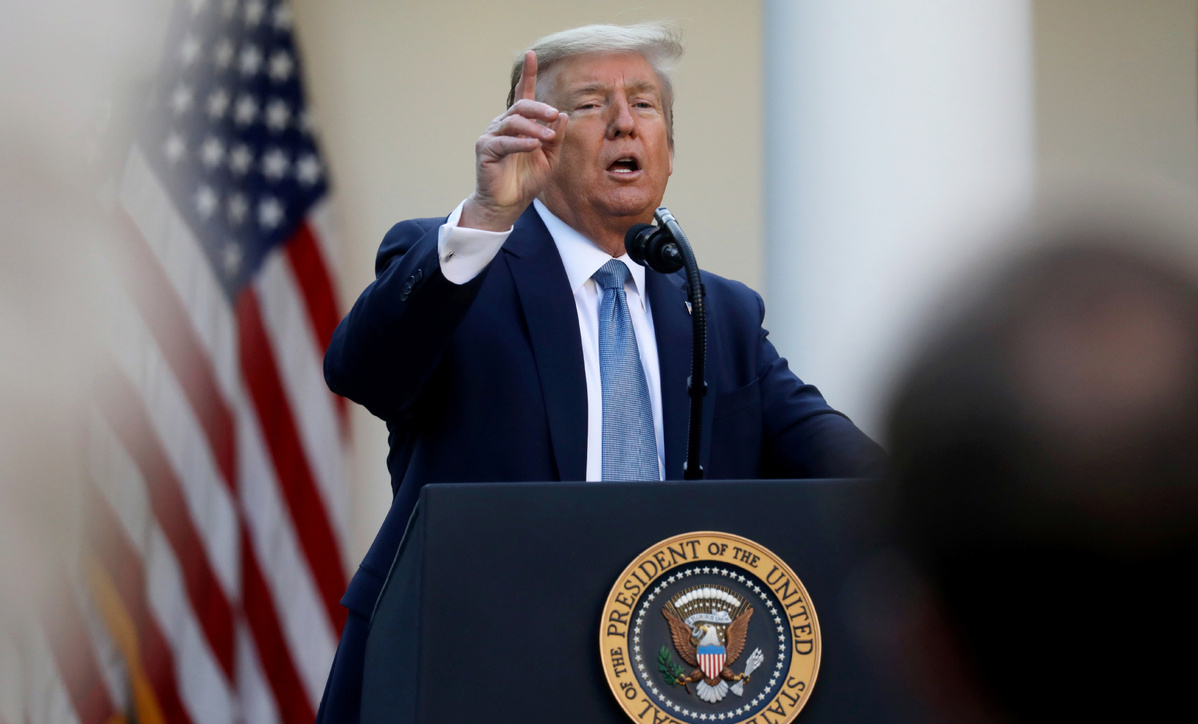 New Yorkers were told to wear face masks on Wednesday, as the US death toll from the COVID-19 pandemic topped 30,000.
As the US mortality numbers — the world's highest from the novel coronavirus outbreak — some of the lesser-affected US states were considering a partial lifting of restrictions on business and social life by May 1, a date promoted by President Donald Trump.
Trump said Wednesday that he would announce "new guidelines" Thursday for reopening the economy.
"The battle continues but the data suggests that the nation has passed the peak on new cases," Trump told his daily White House news briefing.
"There are a number of state — 19, 20 states — that really have had limited impact from it. So I think we will see some states that are — the governors feel that they're ready — we're poised to assist them with that reopening," Robert Redfield, director of the US Centers for Disease Control and Prevention, told ABC's Good Morning America.
While many states are treading lightly about when it will be safe to "reopen", there is a growing anxiety that the process begin as soon as possible, as millions of Americans have lost their jobs, and food-distribution lines around the country are growing.
At the Michigan Capitol in Lansing on Wednesday, thousands of protesters drove by the statehouse to protest Governor Gretchen Whitmer's lockdown orders.
"This arbitrary blanket spread of shutting down businesses, about putting all of these workers out of business, is just a disaster," Meshawn Maddock, a member of the Michigan Conservative Coalition, which organized the protest, told The Associated Press. "It's an economic disaster for Michigan. And people are sick and tired of it."
Whitmer, a Democrat who is considered a potential vice-presidential candidate, later criticized the motorized protest.
"We know that this rally endangered people," the governor said. "This kind of activity will put more people at risk and, sadly, it could prolong the amount of time we have to be in this posture."
The desire to restart the economy grew stronger as retail sales and factory output plunged last month, as stay-at-home orders went into effect in large parts of the country.
New York Governor Andrew Cuomo on Wednesday ordered his state's 19 million residents to wear masks or other face coverings when in any public situation that may not allow them to be at least 6 feet away from others.
Cuomo said 752 people died in New York in the past day — down slightly from the previous day, although hospitalizations declined in a sign that the crisis was easing.
Reuters has identified more than 50 nurses, doctors and medical technicians who have died after being diagnosed with COVID-19 or showing symptoms of it. At least 16 were in New York state.
"The emergency room is like a war zone," said Raj Aya, whose wife Madhvi Aya — a physician's assistant in Brooklyn — was one of the healthcare workers who died in New York.
On Wednesday, the government reported that retail sales dropped by 8.7 percent in March, the biggest decline since tracking began in 1992. Consumer spending accounts for more than two-thirds of US economic activity.
Also, two major US financial companies, Bank of America and Citigroup, posted disappointing earnings Wednesday. Output at US factories fell the most since 1946, as the pandemic disrupted supply chains.
The mix of distressing economic news pushed all three major US stock averages substantially lower on Wednesday.
Reuters contributed to this story.