Livestreaming proves a big bonanza amid outbreak woes
Share - WeChat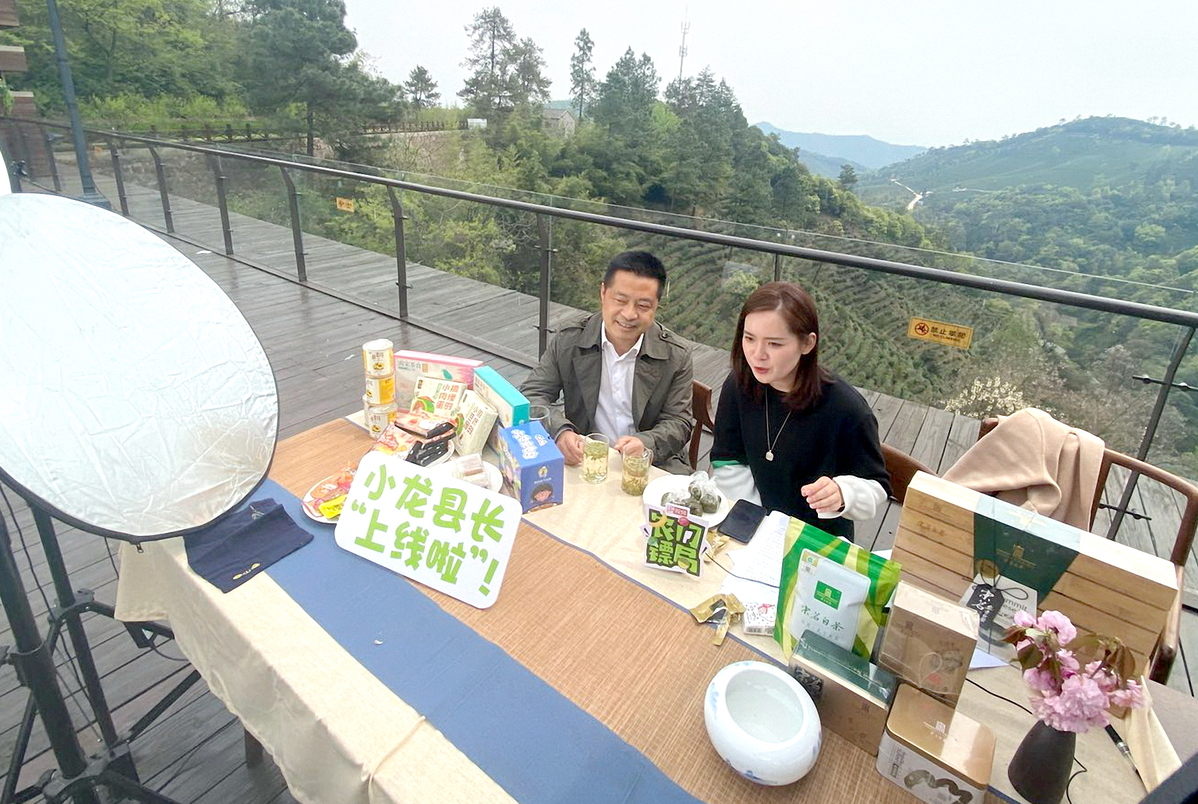 From cross-border e-commerce to rapid door-to-door delivery, China is arguably a pioneer in some of the most innovative digital consumption practices. And as livestreaming continues to drive online shopping in the country, most see it as yet another means of promoting products and facilitating sales.
And as the world grapples with the deadly novel coronavirus pandemic that essentially keeps people indoors, sucks the life out of physical stores and disrupts normal marketing campaigns, livestreaming in China is also helping affected areas revive business and expedite the digital transformation of several sectors and transactions.
Online hosts often have rather humble beginnings, narrating into their handsets while simultaneously streaming via major social media apps a detailed array of products-from snacks, cosmetics and electronic gadgets to bigger-ticket items like designer bags, vehicles and even apartments. There's a psychological component to why everyday folks are coming into favor as product spokespersons. Internet-savvy shoppers increasingly distrust celebrity product endorsements as they are well aware of stars' lucrative brand deals. Ordinary consumers are instead opting for so-called Key Opinion Consumers-everyday people whose market value is based on their relatable and trustworthy nature.
But a more noteworthy phenomenon is the level of engagement from public authorities with social media platforms and influencers in such endeavors. Senior officials from Hubei province, where initial cases of the contagion were first reported, joined a livestreaming session on short video site Douyin where they acted as salespersons introducing local specialties such as the province's iconic noodles. A number of mayors and county chiefs from Guangdong and Jiangxi provinces also boarded the livestreaming express on shopping platform Pinduoduo to promote fruits that failed to get to market due to local traffic restrictions meant to stem the contagion's spread. Shanghai's consumer protection commission joined hands with Li Jiaqi-famed for his lipstick-selling skills-to share tips on spotting bootleg products during a three-hour talk show on Taobao.
Examples of similar strategies abound, and sales have been brisk. As a godsend for business activity amid the sudden coronavirus outbreak, livestreaming has chartered a new course for revitalizing the economy and spurring consumption. Its success is further propelled by the fact that full restoration of economic activity takes time and people in certain areas are still advised to maintain social distancing.
Even during the height of the contagion, online shopping remained a ray of hope in the nation's fast-growing consumer goods sector. Governments at all levels have introduced several measures to stimulate consumption despite the fact that catering to specific consumer needs and holding their attention is no easy feat. Livestreaming, bolstered by real-time conversations, interactive displays and one-stop shopping solutions, stands to circumvent traditional middlemen and democratize the shopping experience. Livestreaming is winning more hearts and minds, and by embracing these live sessions, government officials are managing to turn abstract policy rhetoric into concrete action plans. The approach is further augmented by the social component that lets viewers interact, converse and share ideas and opinions as if they're on the same couch, making government policies more approachable and easily comprehensible.
A government directive co-issued by 23 agencies last month outlined the key cornerstone to rebooting the economy this year-fostering industries that stand at the intersection of technology and consumption. As such, the digitalization of domestic tourist sites is likely to be catapulted to the forefront as well as the promotion of time-honored Chinese brands that are losing allure to emerging, social media-savvy rivals. Livestreaming has been repeatedly recognized as a major vehicle to elevate both the quantity and quality of consumption.
Many concur that livestreaming could have far-reaching impact beyond stimulating sales per se. Its spontaneity and interactivity could serve as a bench mark for guiding future civic services. Propelled in part by changing sentiment, we have begun to see even more streamlined technology-aided government procedures. With the vast deployment of 5G networks this year in China, livestreaming is bound to inject even more vitality into both public and private spheres.
As the Chinese saying goes, "Misfortune may be a blessing in disguise."
Albeit exacting heavy economic and social cost, the coronavirus has ushered in opportunities to help government policies be more efficiently implemented while making the process more transparent and justified. Livestreaming is perhaps one of the latest examples of such opportunities.