Japan's COVID-19 infections top 6,000, Tokyo confirms new daily record
Share - WeChat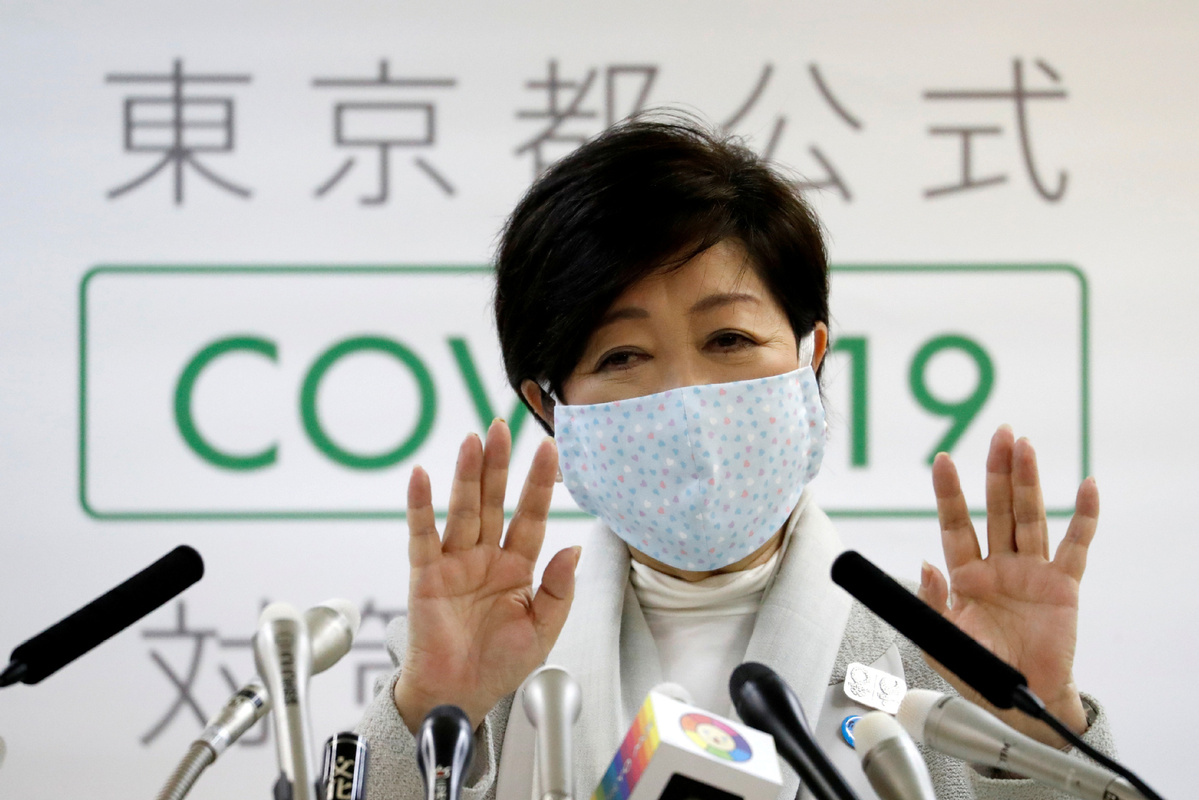 TOKYO - Japan's health ministry and local governments said the number of coronavirus cases in Japan has topped 6,000, with 464 new cases as of 8:30 pm on Friday, bringing the national total to 6,009 and the death toll to 123.
Tokyo recorded a new daily record at 189 new cases, bringing the total number of infections in the capital, the epicenter of the nation's outbreak, to 1,705.
The capital's continued spike in COVID-19 cases comes as Tokyo Gov. Koike Yuriko on Friday outlined which businesses will be subjected to restrictions or asked to shut down completely as part of the capital's measures to curb the spread of the pneumonia-causing virus.
"The situation of virus infections in Tokyo is very urgent," Koike told a press conference. She went on to say that the metropolitan government had given "top priority to protecting the lives of Tokyo residents in compiling the measures."
Koike said that Japanese "izakaya" pubs will be requested to close their doors at 8 pm and that restaurants were asked to stop serving alcohol by 7 pm.
The restrictions will come into effect at midnight Friday, Koike said.
Under the Tokyo metropolitan government's three category plan, some businesses will be required to halt their operations completely, others requested to suspend their activities as dictated by individual circumstances, while some will be allowed to remain open if measures to curb the spread of the virus are taken.
Places where people typically gather in large groups will be required to halt their activities. These include businesses in the first category, such as live music venues, night clubs, internet cafes, pachinko parlors, sports clubs, game centers, cinemas and universities.
Essential services which fall under the third category, like medical institutions, supermarkets, convenience stores, hotels, public transport providers and financial services, among others, will remain open provided they take measures to curb the spread of the virus.
Koike's announcement follows the central government on Tuesday announcing a state of emergency over the coronavirus pandemic covering Tokyo and six other prefectures, including Kanagawa, Saitama, Chiba, Osaka, Hyogo and Fukuoka.
Along with Tokyo, which has seen COVID-19 cases rise exponentially compared to Japan's other prefectures, Osaka Prefecture's rising cases have also caused particular concern to prefectural officials and healthcare authorities.
Osaka has recorded 616 cases according to the latest figures Friday evening, followed by Kanagawa with 419 infections.
Chiba Prefecture has confirmed 387 cases, Hyogo 316 and Aichi, which declared its own state of emergency Friday, independent from the central government, has recorded 302 cases, the latest figures showed.
The health ministry also said there are currently a total of 125 patients considered severely ill and are on ventilators to receive respiratory assistance or have been admitted to intensive care units for medical treatment.
The ministry added that in total, 1,353 people have been discharged from hospitals after their symptoms improved, according to the latest figures released Friday evening.