The impacts of coronavirus in food, agribusiness chains
Share - WeChat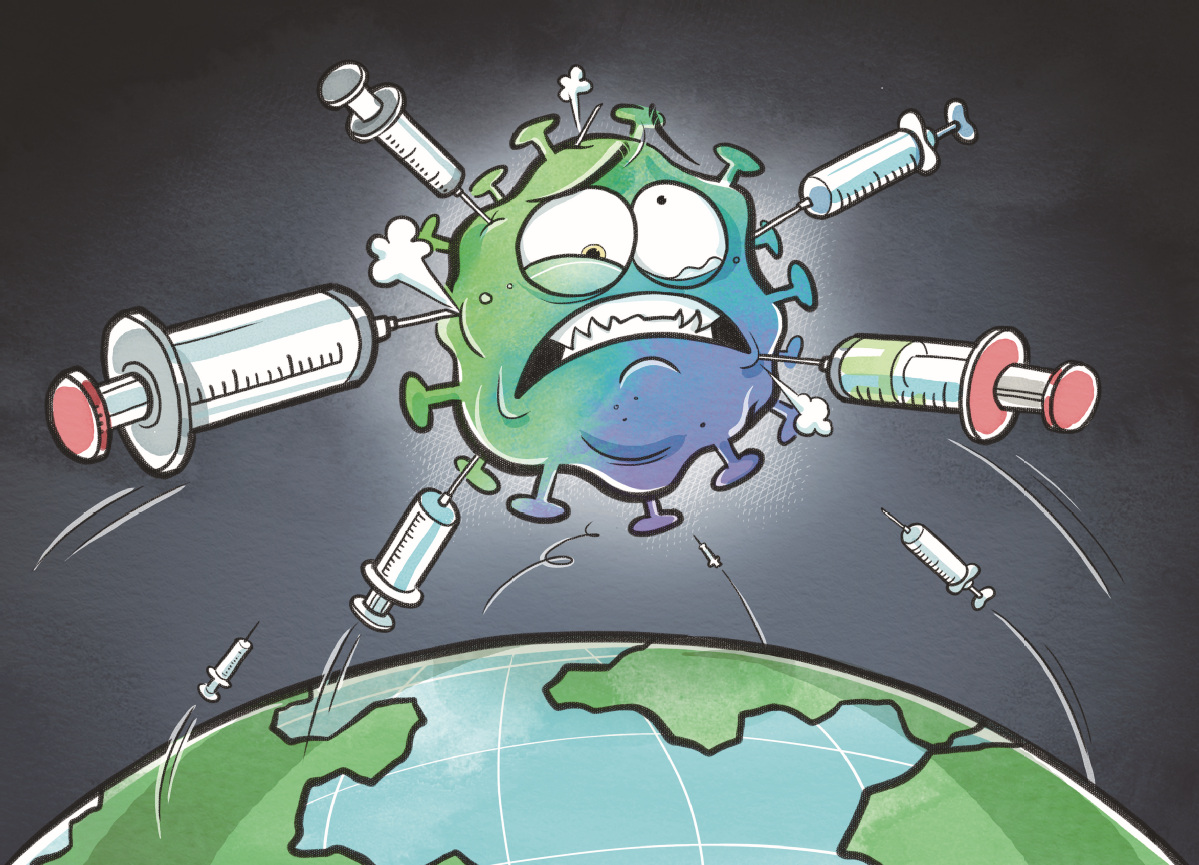 The purpose of this article is to summarize what is going on in the food and agribusiness arena with the huge impact brought by the lockdown policy and the serious global crisis in which we are inserted, in an attempt to read the facts and their possible impacts aiming at contributing to decision-making. I am using the case of Brazil to help address this objective. At the end I raise 10 points of behavioral changes that will impact our lives and deserve further analysis, representing threats and opportunities.
Starting with the international arena, we have had one of the greatest changes in the scenario in decades of analysis. As in a tsunami, the coronavirus crisis has affected the planet with tragic effects such as losses of lives and the paralysis of economic activities with no precedents in the recent history of civilization. The perspectives of global GDP growth have gone through brutal reviews and disastrous results have been announced. In an environmental change that I have never seen in my career, a new norm has come up: We must stop the world and thus, decrease drastically the speed of transmission of the virus, and fight all together to avoid the collapse of the health system and an even greater loss of people in the most vulnerable segments, the elderly and those at greater risk.
Stopping an activity is not so simple, moreover in a world organized in value-integrated chains, with many perishable goods depending on sophisticated and sensitive logistic chains. The impacts are brutal, starting with the services sector, crumbling immediately, followed by the industry and, at last, agriculture, since food is the last thing to be cut by those losing their jobs and income. That is to say, in a bit less than two months an impressive change has taken place. Hard times ahead.
The World Trade Organization (WTO) predicts a catastrophic scenario. Global trading in 2020 shall fall around 5 to 30 percent spreading destruction of value in producers, purchasers and carriers among others. It estimates that global GDP, previously estimated to grow around 3 percent, would fall into 5 percent to 6 percent, that is to say an 8 point difference. It would be an even steeper fall than the one observed in the last global crisis, in 2009. Besides economic damages, the matter of the return of confidence by people and companies may be very slow, as the virus may continue to threaten our lives. The greater the participation of the services sector in the GDP, as mentioned previously in the first paragraph, the greater the fall. According to Bradesco Bank, the economy of the USA shall shrink by 1.5 percent, China's shall grow 3 percent (previously estimated at 6 percent), and Europe's shall decrease by 2.2 percent.
The world kneels at the virus, which brought in many changes in a very short period and shall continue to do so. In general, agribusiness will be one of the least affected, but that is not true for all productive chains and all sectors, as we shall see ahead.
One of the places that was first to reap benefits from the crisis was the supermarket since there was a brutal change in the food sales channel, going from restaurants, fast-food chains and other types of the so-called food service to the supermarket channel. The numbers are impressive. In England, the expenditure in supermarkets has increased by 361 million pounds a week, around 13 pounds per household per week, a growth of 21 percent (Blacktower). English retailers hired thousands of people, due to the increase in demand, offering almost 45 thousand job positions. In the USA, the research company Chicory has observed a growth of 123 percent in online sales in supermarkets, compared to the same period of the previous year. As in Europe and in the USA, Brazil's sales in supermarkets have grown by 20 percent in the weeks of circulation restrictions on average. Last week, according to some retailers, looked like Christmas Eve but the situation is starting to go back to normal. For restaurants and other foodservice providers, though, the scenario is bleak. A real disaster, since delivery strategies were created and enhanced but they don't compensate the loss of sales.
China, who is in a more developed phase of the fight against coronavirus, is recomposing its import activities with a policy that includes the increase of inventory consumed during the months of halt. However, as part of the crisis, China shall suffer in exports with the reduction of global growth and see fewer imports. It will be strong in the purchase of beef and other products in the first two quarters of this year, being a positive factor for exporting countries. Countries producing beef, poultry, swine and fish shall benefit with more exports at better prices, mainly the first two, but they will have as a negative side the increased prices of feed and inputs, mostly in the countries that had exchange rate devaluation, which is the case of Brazil.
Another global point of concern, recently raised in a World Trade Organization (WTO) meeting at the end of March and in a document released by it in conjunction with the FAO/ONU and the World Health Organization, is ensuring that the global food supply chain does not suffer interruptions due to the coronavirus. Russia and Kazakhstan have already made some blocks to the exports of wheat and other products, Vietnam in rice, Thailand with eggs among other cases which started to come up. Some interruptions are also seen in the US meat industry.
This may represent an opportunity to some food producing countries like Brazil, that can at this moment supply a record harvest and consolidate as a trustworthy food supplier to humanity, achieving a sovereign position in the world of a noble food producer. We've seen some countries even speeding up their permissions to access their markets with products from Brazil, opening space for the country to grow its food production and avoid movements of return to food security policies in many countries, after this crisis, helping countries that do not have natural resources for this.
Another trend that may become stronger is the sanitary aspect of food, even more after this sanitary crisis, and food and agribusiness will have to invest strongly in the mechanisms of control, being public or private, to ensure the safety of food to the internal and external markets.
A fact that may represent an opportunity is that governments all over the world, including Brazil, will have to expand public expenditures to contain part of the damages in the economic systems, destruction of jobs and companies, and an important part of these public expenditures will be reverted to food vouchers, aiming at guaranteeing basic support to the survival of families, and this shall translate into an increase in the world consumption of food, or in the worst case scenario, help in neutralizing an eventual decrease.
Brazil's economy was also strongly affected. The Central Bank revised the GDP, that has gone from a growth of 1.48 percent to a decline of 0.48 percent this year, staying at 2.5 percent in 2021. Among measures applied and suggested in Brazil, we may mention: falling interest rates; reinforcement of the Family Support "Bolsa Família" Program; 13th salaries being anticipated; vouchers for informal workers; temporary reductions of salaries in the executive, legislative and judiciary departments being discussed in the three areas of government; and programs for companies to hold their employees. Globally, policies are being designed which include interest rate cuts, liquidity injection, credit lines, tax relief, suppression of regulatory obstacles, expansion of public expenditures, return of trust, resources sent to those who need the most, stimulus to small and medium-sized companies, simplifying of decision structures, unemployment insurance to the companies who have kept jobs and the acceleration of infrastructure projects.
At this uncertain moment for the world, the Brazilian fields bring us encouraging news. Conab Agency has shown in its March Bulletin an estimate of production of 251.9 million tons of grains, growth of 4.1 percent in comparison to the last harvest, almost 9.9 million tons extra. For the cultivated area, a growth of 2.4 percent reaching 64.78 million hectares is expected. The Ministry of Agriculture points out a 2020 gross value of production estimated in 683 billion reis ($133.73 billion), 8.2 percent over the value of 2019. From February to March, the estimate went up practically 9.1 billion reis. So there is food coming.
The coronavirus crisis affected the food and agribusiness chains in different ways. In soybeans and corn, we have very comfortable situations. Benefiting from the exchange rate and these aspects of consumption, prices are remunerative and much of the future production was sold, so they are not a source of concern at this time of the impacts of COVID-19. They might even have a higher demand for feed with the increase of meat exports. Let us also consider that many growers have made anticipated purchases of supplies, therefore a winning strategy in times of a more devalued reis.
Last March Brazil had a historical record shipment of soybeans in a month, with 13.3 million tons. This year Brazil has shipped 21.4 million tons already, 17 percent over the first quarter of 2019. In March alone China originated practically 10 million tons (47 percent more than March 2019). In the quarter, the Chinese purchased 16 million tons, 17 percent more than in the previous year.
Two major factors negatively affected soybean and corn prices. The USDA has released its estimate for the 2020 US harvest with a growth expectation of 8 percent in corn and 10 percent in soybeans. And we have the threat that must be observed in corn and soybeans brought by the closure of many corn ethanol operations in the US, due to the brutal fall in fuel consumption, and the destinations of this corn that would be processed, to the international market, which can bring down prices and change the expectations of planting in the US toward more soybeans.
The influence in cotton was very negative, since it had a decrease in prices due to coronavirus (17 percent in March) and the postponement of purchases of textile products, the halt of many textile industries allied to the smaller price of oil and more competitiveness of synthetic fiber. However, a good part of next harvest has been fixed at better remunerating prices and the exchange rate is working in its favor as well. Nevertheless, some of the consumption will be lost, a bill that is going to be paid later on. The rubber chain is also losing, with lower sales of automobiles, tires and rubber artifacts with the closure of some factories as well as the difficulties with labor. Also the leather industry is suffering.
In sugarcane the disaster is huge. Brazil would have one of the best harvests in the last 10 years, in production and prices, but the arrival of the oil price war and of the coronavirus has strongly changed the scenario. The price of oil has fallen 65 percent in a month; however, it was going up at the time we finished this material. With the isolation, there was a gigantic fall in the consumption of hydrated ethanol, and with the possibility of placing more sugarcane to make sugar, has knocked down its price in almost 30 percent.
Among those who benefit from the coronavirus is the orange juice chain. Prices have gone up in the New York Stock Exchange, practically 24 percent in a bit more than a week and the consumption this month in the largest consumer in the world, the USA, has gone up 10 percent, something we had not seen in the last few years. The orange juice chain needs to maintain consumption now, strengthening the health and "liquid food" appeal of the juice. Other fruits which carry a high content of vitamin C shall benefit, among them limes, in this coronavirus situation. Another sector that had benefited is paper and cellulose, due to the demand of tissues, paper and packaging, and the sector is working with great capacity to supply products used in asepsis.
Coffee is also doing well, as the demand is still growing and Brazil shall produce a good harvest, around 68 million tons, including 50 million of Arabica, a growth of over 15 percent. It is necessary only to observe the change of the channels and temporary closure of coffee shops, restaurants and others, in case the consumption is compensated by higher sales in the retail market. An important reminder is that the service channel works more with premium coffees, which may be more impacted.
For the horticultural products, at one side consumption continues to be strong in the supermarkets and markets, but it has fallen in other types of channels, at open-air fairs and mostly at restaurants. This is one of the sectors that deserves stronger attention, for fairs to be back into work urgently with new standardized safety norms and also to take advantage of this moment to search for delivery solutions and direct connection among producers and users through apps so that the distribution channels work with creative credit mechanisms. However, it also presents difficulties with labor.
Apps are giving great contribution and their use, together with the digital platforms, was practically forced in food and agribusiness. Among the simplifying solutions provided by apps that have come to stay are those that connect truck drivers and the demand for transportation of goods, payment and contract digitalizing, as well as a lot of marketplaces for parts and replacement items with delivery services increasing their sales and digital financial operations. We have also had great gains with the digitalizing of procedures. Such initiatives are happening in horticultural distribution centers and wholesale to decrease the transit of people. Many have turned to more elaborate models of delivery, enabling the centralized parts to deliver directly to the final consumer or small businesses, using the structure of motorcycles from the food delivery companies. It is a huge gain of efficiency that has come to stay.
Another product who deserves attention is milk. Creative solutions are also needed to avoid loss of the product, whose supply chain is extremely perishable and does not count on any breaks. Theoretically the consumption is not supposed to fall, but logistic matters are concerning.
In the flower chain the disaster is real. Once a good part of sales happened through channels that have gone to zero at the moment -- events, weddings, exhibits, masses among others. Proportionally this productive chain will have the greater losses. In this case, credit and stronger support to the retailer market would be necessary, opening more space, making campaigns and dedicating part of what they gained extra with other products to serve the flower sector. Garden centers and other sales points need to go back to work. It's important to make the consumer aware that they need to do their share too, since "flowers are food for the soul", and whoever can should consume more.
One of the positive impacts is the image enhancement of food and agribusiness producers in our society. This happened because of a collective perception of the advantage of having a plentiful supply of food at this moment of crisis, while the world has many cases of shortages of supplies and empty shelves, and also because of the great number of aid happening coming from food and agribusiness companies, collective organizations and others to the less fortunate in the crisis of coronavirus, like the donations of alcohol gel and liquid alcohol from many mills from the sugar cane industry to be used as antiseptics.
It is a fact that Brazilian agribusiness has its activities running normally on the fields. Meanwhile, the operational activities in cooperatives, trading, ports and the world are paying attention and concerned with the maintenance of those in this important food supplier. A very interesting coordination to help solve the problems happened in ministries, retail companies and organizations, food industry companies and organization, logistic companies and others that built up a permanent central of dialogue and information to anticipate any problems in the food chains and act very fast to avoid them. This is a contribution to other countries to follow to ensure supply and build up these intelligence centers.
I want to finish this article on impacts of the coronavirus in food chains by pointing out behavioral changes these days and deserve further analysis to see how they will impact food and agribusiness chains, companies and others in the near future. The fact is that the crisis of coronavirus showed us a different world and can bring, in my opinion: 1) More global solidarity and integration among societies; 2) More sensitivity toward those that lack resources and suffer; 3) More risk calculations, more flexibility and adaptation; 4) More care with what is called "infotoxication", the excess of fake, alarmist, unmet information that only harmed people; 5) Digital benefits came to our lives in an unprecedent way, impacting education, medical services, home offices, apps, deliveries, productivity gains, online meetings and others, rethinking the needs for large offices and overhead costs for companies; 6) Collective actions like cooperatives, associations and other forms of gatherings will gain force; 7) New media and new sources of information accelerated during these times and will stay; 8) A better image of food and agribusiness sectors that were able to source people in times of crises and shortages; 9) More tolerance of aggressive environmental groups towards food and agribusiness production, since society perceived with the lockdown that the pollution is not on farms, but mostly in cities and brought by our lifestyle and; 10) Simplicity shall be the next big thing. We stayed home and perceived that we don't need a lot of things we used to have in our old life. Big changes will come, and we will be better.
Marcos Fava Neves is a professor of the Administration College from the University of Sao Paulo in Ribeirao Preto and of EAESP/FGV in Sao Paulo, and is also a specialist in strategic planning of agribusiness.
The opinions expressed here are those of the writer and do not represent the views of China Daily and China Daily website.
Most Viewed in 24 Hours
China Views