China's success in virus fight shines light of hope to Nepal, world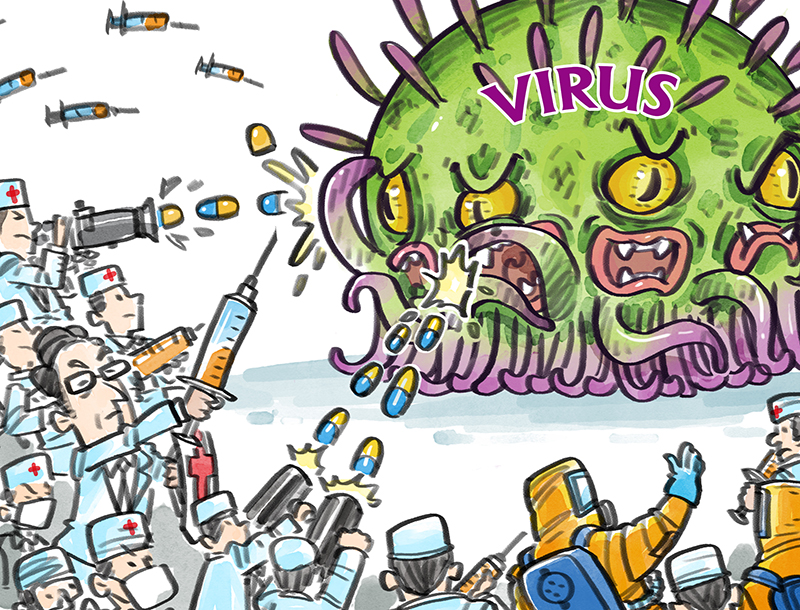 These days we are in lockdown in Nepal, a measure the government took to limit the spread of the coronavirus. As a journalist, last month I was interviewing some Nepalese students in Wuhan. One of the common questions I asked them was, What was the lockdown like? At that time, I never thought that I myself would be experiencing a lockdown after a month inside my own room.
As of March 29, COVID-19 has been diagnosed in five Nepalese and all five cases are imported. One has recovered and no individuals have died yet. But this doesn't mean Nepal is safe from the pandemic.
Millions of Nepalese youths are employed in the Gulf countries and other foreign countries. Those countries themselves are severely affected by the outbreak. And millions of Nepalese students are pursuing their university education abroad, particularly in European countries, the US and Australia. Among the diagnosed five cases, the initial was from Wuhan, one from France and three from Gulf countries. Facts have shown that those who recently came back home from abroad can be a probable source of the virus in Nepal. The border has been sealed for two weeks. But diagnosed cases show that the symptoms of COVID-19 have appeared among those who returned here before border was sealed.
Nepal shares an open border with India. Millions of Nepalese people go to India every year to earn their bread. Almost all of them are from economically deprived parts of society. Particularly in the western part of Nepal, migrating to India at least for a few months every year has been a kind of tradition. As the Indian government declared a lockdown, all the Nepalese there are heading back to their home country. Initially, the government of Nepal planned to do a thorough health check on all those returning. But due to a lack of adequate health infrastructure and medical workers, no such health checks happened. The government planned to put returnees suspected of having the virus in quarantine for two weeks. But with almost no health checks, the plan was a failure.
Those unchecked people are from the remote and marginalized parts of Nepal where basic health service is not easily available. As they have now arrived at their homes, risks loom in these areas. Local people are threatened. If only a single person among tens of thousands is infected by the virus, then the situation will turn into something really tragic.
Nepal has two up-to-date biological labs capable of testing for coronavirus infections -- one in Kathmandu and another recently established in the eastern part of Nepal. Samples for virus testing have to be brought to Kathmandu for processing. This shows the meager condition for public health, particularly in the epidemic outbreak in Nepal.
These are the days when medical workers should be ready all around the clock. But due to the lack of basic emergency health accessories, they seem to lack the encouragement to fight against the coronavirus. There is not sufficient personal protective equipment, surgical masks or gloves available in health centers. Private hospitals reacted reluctantly to deal this pandemic situation. People in Nepal are experiencing the bitterness of a neoliberal system. Profit mongering hospitals are showing their indifference toward the weak public health sector to contain the coronavirus.
We are thankful to the Chinese people, who themselves were in the quagmire of the pandemic two months before, for the essential medical equipment such as PPE, surgical masks, hand gloves and testing kits donated to Nepal in fight against the virus outbreak. The first batch of emergency epidemic prevention materials donated by the Sichuan Provincial government and Sichuan Provincial Investment Group including donated stock from the Jack Ma Foundation and Alibaba Foundation arrived in Kathmandu on March 29. Chinese Ambassador to Nepal Hou Yanqi handed over the donated materials to the Health Minister of Nepal Bhanubhakta Dhakal. Those materials not only quenched the thirst the Nepalese people had regarding emergency goods but also encouraged Nepalese medical workers to stand strong against the virus.
China, a big-hearted neighbor of Nepal, has always stood with us in every sweet and sorrowful time. We haven't forgotten the hands of solidarity China extended to us during the hard days we encountered in the April 2015 earthquake.
Last February, when China was fighting a tough "war with no smoke" to contain the virus outbreak, the government of Nepal donated a small number of face masks as a token of support for the Chinese efforts. The Foreign Minister of Nepal Pradeep Gynwali handed the donated materials to Chinese Ambassador Hou on Feb 7. In return, now as a part of a global effort, Chinese people have been supporting the Nepalese people in these troubling times. This is an example of true friendship and a wise neighborhood.
The government of Nepal has given local governments the authority to manage quarantine housing in their areas. But all local governments are either not capable of making such a space or didn't make them up to standard. Most of local governments have urged the recent returnees from abroad to self-quarantine within their home, which in practice is not easy to set up.
As in almost all big cities and metropolises throughout the world, the lockdown has mostly affected the migrant workers who work to earn their daily bread in Nepal as well. Today, these people have no work and so no earnings. All they could do was to return back home. Had they not returned back home, life in cities would have been more troublesome. Even room rent wouldn't be affordable.
The federal government has extended the lockdown for a second week. Half a month in lockdown won't be easy for those with lower middle earnings and the marginalized working class. By then most kitchens would be empty as their savings go down. The government has assured supplies for basic daily needs. But by the first week of lockdown, there had been shortages or skyrocketing prices for food in markets. The federal government has designated an authority to distribute food to all those in need. But local governments will hardly be able to manage it within a very short span of time.
Amid these challenges the Nepalese people are extensively supporting the government measures because this is not a fight that any government alone can win. Rather it is joint fight everybody should participate in to contain the virus. People are making their own efforts to defeat the pandemic in various ways.
A renowned scientific research institution started making the PPE that is in dire need for the safety of medical workers. Some individuals started producing the safety shields for medical workers to protect their faces. In response to the shortage of surgical masks, many started sewing ordinary cloth face masks. People try to do something fruitful during these leisurely days by engaging in creative activities. Some popular posts on social media have really played a crucial role in providing a respite to daily life amid the lockdown.
The experience Chinese people have accumulated during their days in lockdown, along with that across the whole world, makes sense to Nepalese people these days. The government of Nepal found that doing a lockdown is the only effective way to contain the probable spread of the virus, a method the Chinese government has applied in Wuhan. Transportation services are completely stopped and all public gatherings are prohibited. People are encouraged to wash their hands with soap, put on masks and gloves, keep a social distance, maintain personal hygiene and not come out of their homes except for necessary reasons. These practices, essentially based on the Chinese experience, have helped to control the spread of the virus in Nepal and also across the globe.
Optimistic videos from Wuhan have shined a light of hope among Nepalese people. Medical workers are really encouraged by the devotion the Chinese medical workers showed in Hubei. Those "tonics" have made us determined to defeat the epidemic as the people in Wuhan did.
Hope and love is always there to guide people ahead.
Niraj Lawoju is a journalist based in Kathmandu.
The opinions expressed here are those of the writer and do not represent the views of China Daily and China Daily website.
Most Viewed in 24 Hours
China Views