Cargo trains help maintain China-Europe trade momentum
Share - WeChat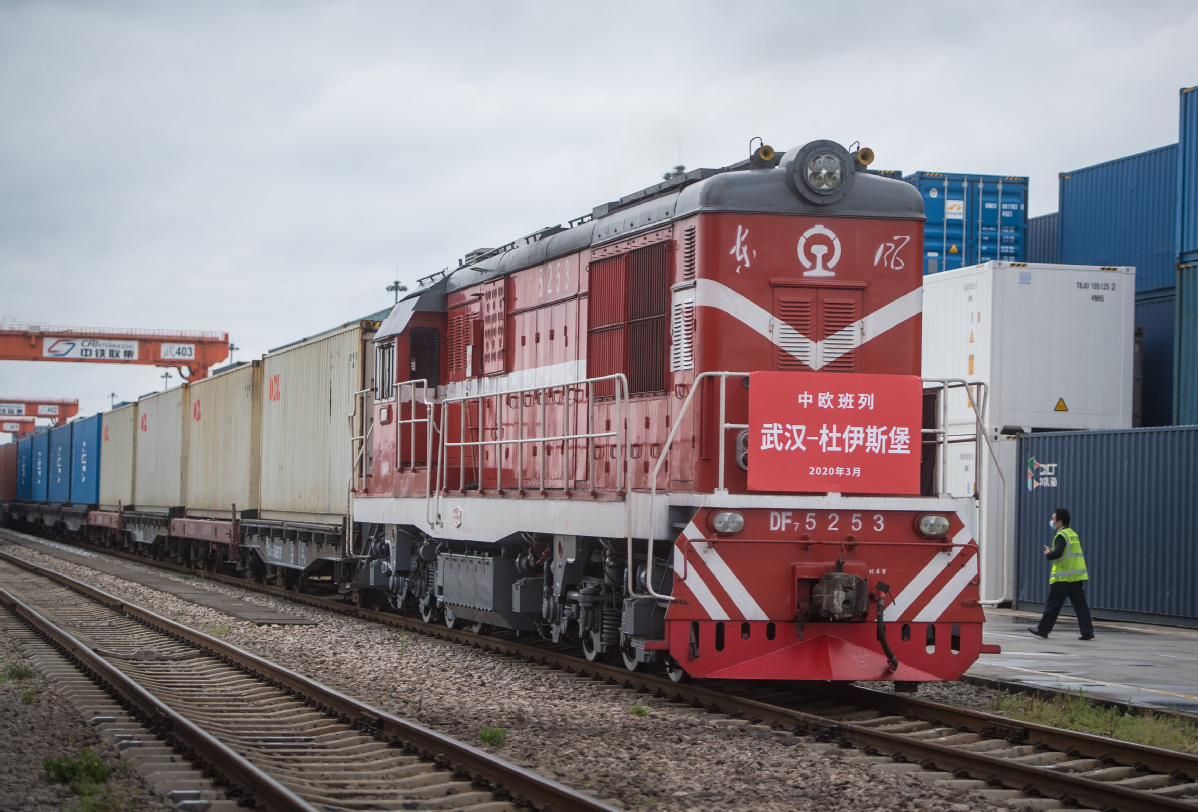 Transcontinental freight train services are becoming increasingly popular with Chinese and European traders as the COVID-19 curbs on shipping and air transport have crimped commercial activities between the two sides, industry experts said on Tuesday.
Sinotrans Ltd, a subsidiary of China Merchants Group, is already operating several freight train services to Europe. It has already organized 54 freight train services between Shenyang in Northeast China's Liaoning province and European cities like Hamburg and Duisburg in Germany, Enns in Austria, and Malaszewicze and Warsaw in Poland so far this year.
Last week, the company launched cargo train services from Changsha in Central China's Hunan province to Moscow. The first train carried epidemic prevention materials, electromechanical equipment, shoes, toys, garment and plastic products to Moscow. The State-owned firm plans to operate the services once a week and may raise the same to twice a week based on market demand. Thanks to the growing demand, its transcontinental freight service frequency has grown by 38 percent on a yearly basis during the first quarter of this year.
Li Jianhong, chairman of China Merchants Group, said epidemic constraints in several countries prompted the company to come out with Plan-B solutions such as raising the operational frequency of transcontinental train services and ocean-rail through services to facilitate domestic exporters' production resumption and exports, as well as ensure the smooth running of the global supply chain.
Due to the novel coronavirus, many container ports in Italy, Spain and Portugal have been temporarily shut down or are facing severe curbs on people and vessel movement, the Beijing-based China Chamber of International Commerce said last week.
The chamber said container availability is dwindling sharply at major European ports like Hamburg, Rotterdam and Antwerp. This is causing shipment problems for exporters from China and Europe, it said.
Apart from service suspensions and flight cuts imposed by European carriers such as British Airways, Lufthansa Group, Air France and KLM during the past two months, China's Civil Aviation Administration has also cut the number of international flights in and out of the country last week to curb contagion via air travel and contain the rising number of imported infections.
Because there is not much room for Chinese companies to lease cargo space in the passenger aircraft of domestic and European airlines, China Post Group Corp has started to use the China-Europe freight trains for its postal services to Europe.
The centrally administrated State-owned enterprise launched a self-organized train service from Yiwu of East China's Zhejiang province to Poland last week. The train will spend 13 days on the way and deliver over 200,000 items including mail, daily necessities and clothing to customers in the United Kingdom, France, Germany and Spain via local delivery after arriving at Warsaw.
Li Qian, deputy general manager of China Post's Yiwu branch, said many manufacturers in Zhejiang will continue to adopt this method to ship their goods to Europe.
"After many countries closed their ports and airports, there have been delays in the distribution of medical and goods supplies. The China-Europe railroad is able to ship a large amount of goods and medical materials within 15 days to both sides. It will offer partner economies confidence to resume production and maintain stable trade with China," said Li.
Sweden-based automaker Volvo Cars shipped 3,377 vehicles to Europe via 27 China-Europe cargo train services from Xi'an, capital of Shaanxi province in Northwest China, in the first quarter of this year.
On the occasion of the 10th anniversary of its takeover by Zhejiang Geely Holding Group, Volvo has decided to further support the development of the Belt and Road Initiative through the China-Europe railroad. This will further optimize the layout of local resources worldwide and expand the global appeal of China's high-end manufacturing industry, said Yuan Xiaolin, president and CEO of Volvo Car Asia-Pacific.
Yuan said the group's three manufacturing bases have already resumed production and its logistics capabilities to Europe have recovered. Volvo currently exports vehicles manufactured in its China plants to over 80 countries and regions.