Defeating virus only possible by working together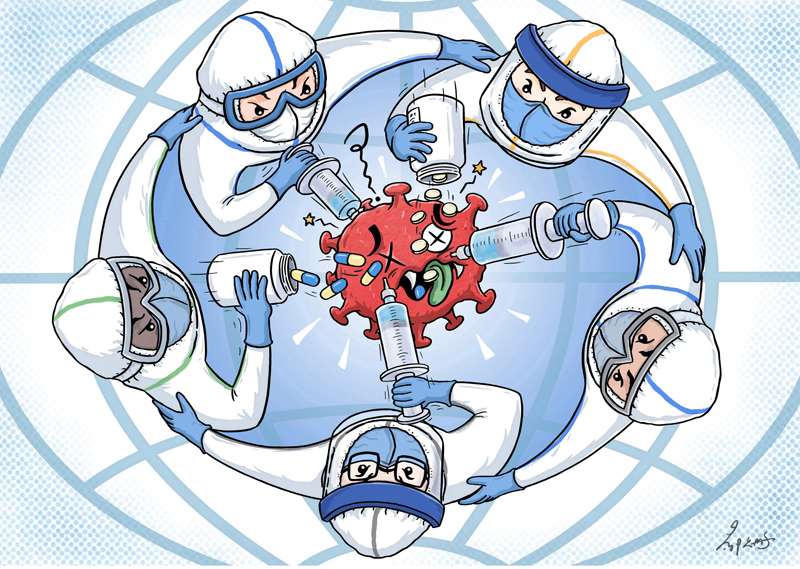 Planet Earth is in the zero hour of a new era.
We are caught in the middle of an invisible, deadly storm. It attacks with disconcerting ease. It grows dramatically and is widespread both inside and outside borders. It spills into the globalized world. No country is immune. No individual will be left untouched by its consequences. And the worst is yet to come, as it expands through countries with broken health systems and where the priority for most people is basic survival.
However, the evildoer seems harmless enough. Its size was estimated at approximately 120 nanometers. It weighs, about 10 femtograms. At first, its name "coronavirus" sounded reminiscent of the Roman Empire. Its official name, COVID-19, makes it sound like a software virus. But history will show that, in addition to an unbearable death toll, it has deactivated the world economy.
So what can be done to tackle this deadly threat?
Currently, each country is undertaking its own response, often after much delay. Who can blame them? In view of an unexpected scourge, none is infallible. This is an unexpected situation. We're all in the dark trying to feel our way to root out the evil. We must focus on how to break the current diabolical spiral. but a second wave threat should not be underestimated. Even if the current pandemic stops, sooner or later, one of its followers will surely come back in force.
Therefore, humbleness and an unyielding resolve are needed. We will learn from past experiences. We must listen to each other, we must gain a better understanding of each other's decisions and we must move from selfishness to full cooperation. Each country is linked to the others and all are critical for success. The "every man for himself" principle must be eradicated; it is the health of all people that must prevail. Only by working together, side by side, we will find lasting suitable solutions. It takes patience and perseverance, but can be truly worth it in the end.
Under the World Health Organization, we must commit ourselves to heal wounds and communicate to all the unity that comes from our common destiny on this planet.
Summoning all our strength, we must start to prepare for a decisive assault. We have to follow the path of head-on confrontation against the virus to make sure it does not happen again. An action plan should be initiated without further delay, and prosecuted with determination and perseverance. The lines of work are known: virology and bacteriology research in order to tailor effective vaccines and hazard prevention, a comprehensive risk assessment for the future and above all, productive and full exchange of information.
The G20 put out the call to stand united against this common threat. That's the right path. Each country should contribute according to its means, toward a shared outcome. As the saying goes, all men are brothers, in the same boat under wind and rain. Together, we will defeat this Earth-made, not man-made, virus.
The author is a member of the Foundation Charles de Gaulle.
The opinions expressed here are those of the writer and do not represent the views of China Daily and China Daily website.
Most Viewed in 24 Hours
China Views