Sea dragons reshape marine economy
Share - WeChat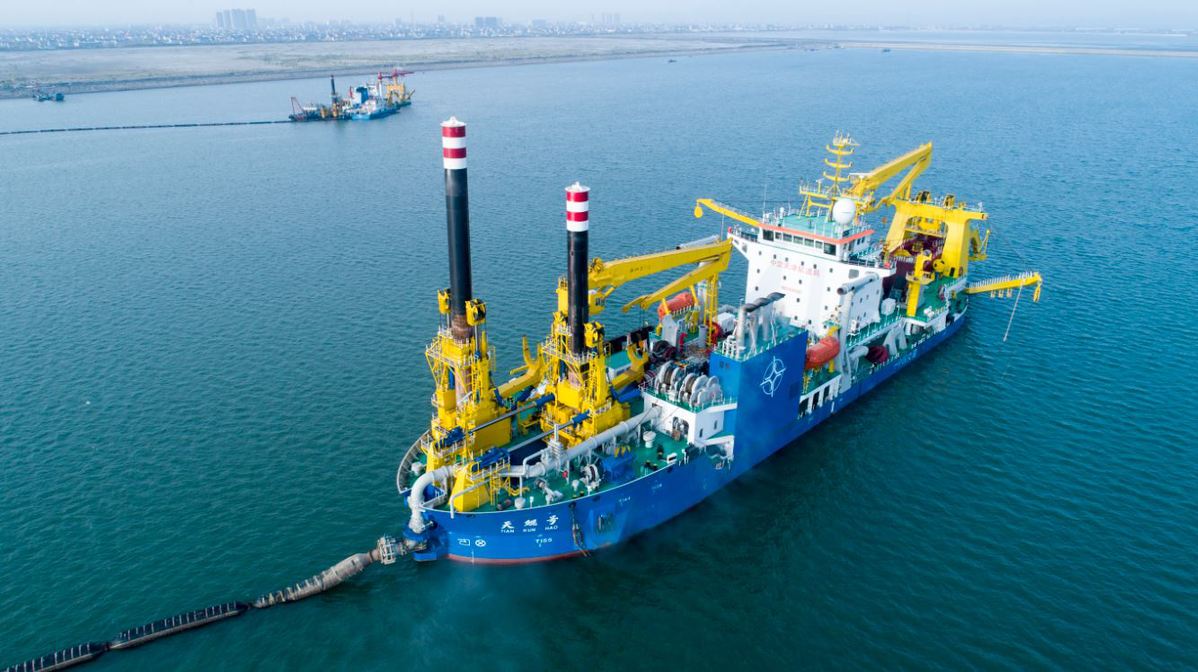 Besides serving epidemic-hit nation, local M&A facilitate building of high-end vessels fit for multi-sector shipping industry across the world
Global cruise lines may be in choppy waters right now due to the COVID-19 pandemic, but mergers and acquisitions (M&A) are keeping the Chinese shipping industry's hopes for a bright future, and a leading role in the world market, buoyant-now that they have created the world's largest shipbuilder by production capacity, with total assets of 790 billion yuan ($112 billion).
Buoyed by these glad tidings, major shipping companies are able to strengthen the nation's epidemic fight even as they seek to enhance their global competitiveness.
For instance, in October last year, China State Shipbuilding Corp and China Shipbuilding Industry Corp merged to form China State Shipbuilding Corporation Ltd or CSSC, which will now set sail to dominate several industry segments relating to military vessels, liquefied natural gas or LNG carriers, luxury cruise liners, icebreakers and offshore engineering equipment among others.
The merged entity is expected to lead China on a path of self-reliance and independent innovation in the development of high-end ships.
CSSC now has 310,000 employees, 147 subsidiaries, including shipyards, R&D facilities, training institutes and manufacturing complexes. It will be the main force in research, design, manufacture, testing and supply of both civil vessels and naval armament like nuclear-powered submarines and aircraft carriers.
But that will all be over the long term. Right now, CSSC, like a massive ocean liner, is performing delicate maneuvers, to adapt itself to the needs of the epidemic-stricken nation.
Like other centrally-administrated State-owned enterprises such as Aviation Industry Corporation of China, CSSC has started making the equipment needed for COVID-19 prevention efforts, apart from helping increase the production of face masks, protective clothing and related industrial materials.
CSSC delivered the first batch of face masks and protective clothing machines to other SOE partners such as Sinopec Group and China National Petroleum Corp, the manufacturers of meltblown nonwoven fabric, an essential raw material for medical masks, earlier this month.
CSSC was among the companies that led work resumption at central SOEs, which helped bring sectors like petroleum, petrochemicals, shipbuilding, transportation, telecommunication and power generation to operational capacity of between 95 percent and 100 percent by March 5. The figures are from the State-owned Assets Supervision and Administration Commission, which is part of the State Council, China's Cabinet.
Under a unified management, the new group, also known as CSSC, will be better able to plan, promote and develop its business for products and services in the global market, said Hu Chi, a researcher at a research institute of the commission.
As separate entities before their merger, the erstwhile CSSC and CSIC had experienced both the boom as well as the struggles of China's civil shipbuilding industry. In 2008-09, the Global Financial Crisis dealt a big blow to the industry, said Hu, adding the strategic restructuring, coming a decade later, is in accordance with the government's measure of optimizing quality industrial resources and cutting backward production capacities.
Apart from constructing conventional ships such as bulk vessels, container ships and oil tankers, both CSSC and CSIC had begun to deploy financial resources and manpower to the development of products like mega-container vessels, LNG carriers, floating hospitals, semi-submerged ships, and ocean farms. They were capable of building dual-fuel ships and gas-fueled ships with the latest wind-power technologies.
Dong Liwan, a professor of shipbuilding at Shanghai Maritime University, noted that after their merger, members of the new conglomerate will be able to join forces to handle pressure and compete for new orders, as well as inject momentum into the sector and reduce unnecessary competition among domestic shipbuilders.
"The industry has become more intelligent, digitalized and environmentally friendly," Hu said, stressing it will take time for the two giant shipbuilders to operate as one firm after merger. They must accelerate the pace of internal integration and cooperation to achieve optimal governance.
CSSC and CSIC were set up in 1999 as a result of the breakup of the former China State Shipbuilding Corp. They were headquartered in Beijing. CSSC's major assets are in southern China while those run by CSIC are mainly in northern parts.
"The world's fast development of 'marine economy' has facilitated their merger. The meaning of the term marine economy has widened in recent years to include industries including shipping, equipment manufacturing, fishing, aquaculture, oil and gas," said Feng Liguo, a research fellow at China Minsheng Bank's research center.
Agreed Tan Naifen, deputy secretary-general of the Beijing-based China Association of the National Shipbuilding Industry. "Marine economy now includes sectors such as marine chemistry, biomedicine, ocean power, seawater use, marine tourism, ocean engineering and construction."
The new-age marine economy has created new opportunities for shipyards. More so for Chinese shipyards because of the tangible development brought about by the Belt and Road Initiative, Feng said.
Tan said a large variety of vessels now serve these sectors. Conventional vessels like bulk ships and ore carriers are no longer the kings of the marine economy transport system. Only complex, high value-added vessels are able to reach buyers in new segments via international collaboration and R&D.