Chinese Americans collect gear for US hospitals
Share - WeChat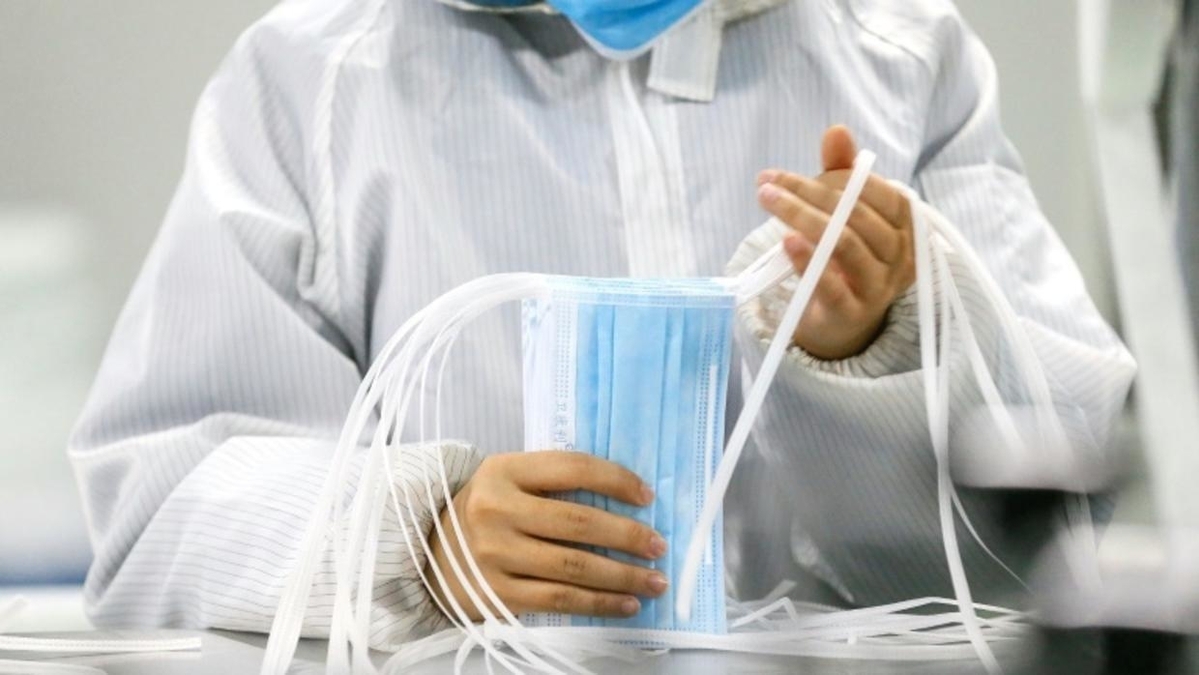 From small towns in the Midwest to big cities on the coasts, Chinese Americans are rallying against the spread of the coronavirus by distributing medical equipment to front-line doctors and nurses nationwide.
As of Wednesday, around 60,000 Americans have tested positive for the virus, and at least 800 have died from COVID-19. With patient numbers soaring, hospitals across America are experiencing staffing strains and a shortage of ventilators and personal protective equipment (PPEs).
Beaumont Health, Michigan's largest healthcare system, is "almost at capacity" at its eight hospitals, said Governor Gretchen Whitmer on Tuesday. There are about 1,800 coronavirus patients in Michigan, and Beaumont is treating some 450 confirmed cases in addition to another 185 patients whose test results are pending.
"However, across our system, we are facing limitations and nearing capacity with our staffing, personal protective equipment and mechanical ventilators," said Carolyn Wilson, Beaumont's chief operating officer.
In response to the urgency, a group of Chinese Americans in Michigan on Sunday donated to Beaumont the first batch of 200 surgical masks, 79 N95 masks and 330 disposable gloves with hand sanitizer.
In Dallas, Texas, the Chinese American Epidemic Relief Initiative took four days to raise over $80,000 from the local community and sent PPEs to eight local hospitals Tuesday.
Fred Chen, one of the organizers, said that through quick thinking and action, they were able to aid front-line medical professionals.
In New Jersey, the West Windsor Department of Public Safety, which includes the town's police, fire and rescue operations, said Saturday that it had received "our share of critical supplies like N95 respirators, hand sanitizer, rubber gloves, and wipes" from local Chinese Americans.
"These donations are an amazing demonstration of selflessness, generosity, and community spirit. Once again, we are reminded how lucky we are to live in and share this amazing community," posted the West Windsor Volunteer Fire Company #1 on its Facebook page.
Mark Zhang, co-founder and chief technology officer of IGG, a Hong Kong-listed mobile games company with offices in the Bay Area, said his company had donated more than 15,000 N95 masks to 16 local hospitals in Northern California, which has consumed 70 percent of the company's phase 1 charity pool of $100,000. "We won't set a limit on how much more we will spend, as long as there is a need," he said, adding that IGG management has approved another $100,000 for future use.
Leveraging IGG's offices in Asia, Europe and the Americas, the company quickly solicited medical supplies worldwide to have them shipped to the US. "I myself since March 16 have transformed into a delivery guy to help distribute PPEs to hospitals," Zhang said.
Susan Flavin, a registered nurse at the Good Samaritan Hospital in San Jose, California, which treats acute coronavirus patients, was overwhelmed when she received the masks.
"As much as I hate this crisis we are going through, I love how it bonds people together and we all help each other out," she said. "Humanity is, at its heart, kind and compassionate."
When Vivian Shao, a Silicon Valley resident, saw that several messages seeking assistance from local hospitals went viral on social media, she sprung into action, orchestrating donations among Chinese Americans and conducting a search for PPEs that she purchased around the world.
She and her volunteer team have sent surgical masks, N95 masks, gowns and other PPEs to nine local hospitals, including Kaiser, the Palo Alto Medical Foundation, Sequoia Hospital and Valley Medical Center.
"To combat a ferocious battle on such an unprecedented scale, we have to unite as one," said Shao. "Regardless of backgrounds and skin colors, we are fighting against a common enemy called the coronavirus."