Malaysian King, Queen under quarantine after staff test positive for COVID-19
Share - WeChat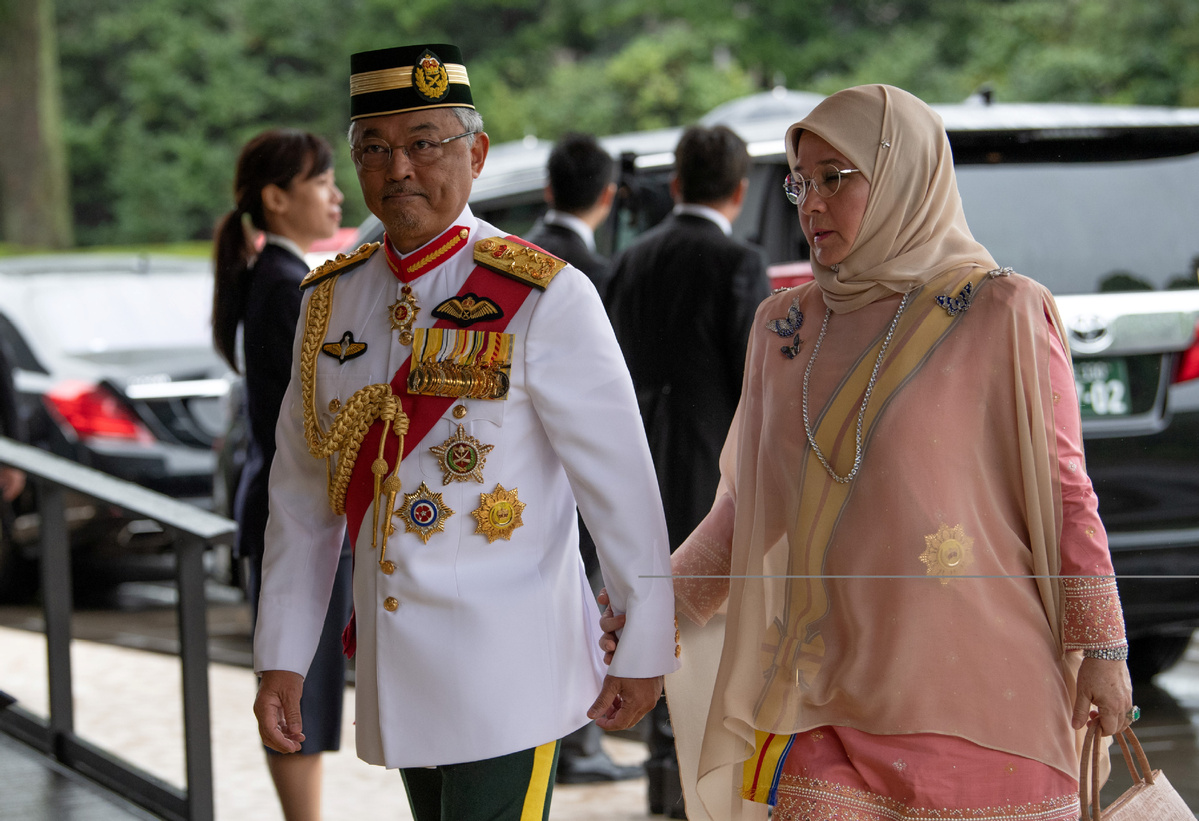 KUALA LUMPUR - Malaysian King Sultan Abdullah Sultan Ahmad Shah and his wife Azizah Aminah Maimunah Iskandariah will undergo a 14-day quarantine after several palace employees were infected with COVID-19, the national palace said Thursday.
Abdullah and Azizah had themselves tested negative for the virus, Comptroller of the Royal Household Ahmad Fadil Shamsuddin said in a statement.
Fadil said Abdullah was advised against holding the weekly pre-cabinet meetings with Prime Minister Muhyiddin Yassin until the COVID-19 crisis ends.
"While approving of the government's extension of the movement control order to April 14, he (the king) also expressed hope that all Malaysians will be firm in facing this difficult time and continue their support and cooperation to healthcare workers and security personnel," he said.
Malaysia is implementing a "movement control order" including closing shops and schools as well as imposing travel bans till April 14. It called for residents to stay at home in an effort to contain the COVID-19 outbreak.
Earlier, former Malaysian Prime Minister Mahathir Mohamad said via social media that he had been observing a 14-day quarantine after contact with a member of parliament who was later tested positive for the disease. Local media reports that the 94-year-old former prime minister had been cleared by health authorities after testing negative.
Total confirmed cases exceeding 2,000
A total of 23 people have died of the COVID-19 in Malaysia as of Thursday with 235 newly confirmed cases in its largest one-day increase so far, bringing the total number to 2,031, said the Health Ministry.
Health Ministry Director-General Noor Hisham Abdullah told a press briefing that among the new cases, at least 60 were traced to a large-scale religious event held near the capital of Kuala Lumpur from late February to early March. The number of cases in the country has spiked following the event.
Out of the total cases, 215 have been cured and discharged from hospitals, while 45 are currently being held in intensive care and 32 of those are in need of assisted breathing.
Noor Hisham said 80 public healthcare workers, including 39 from one single hospital had been tested positive, but these were from exposure outside of their work and reminded the public to comply with the conditions imposed by authorities.