Chinese companies make donation to EU delegation
Share - WeChat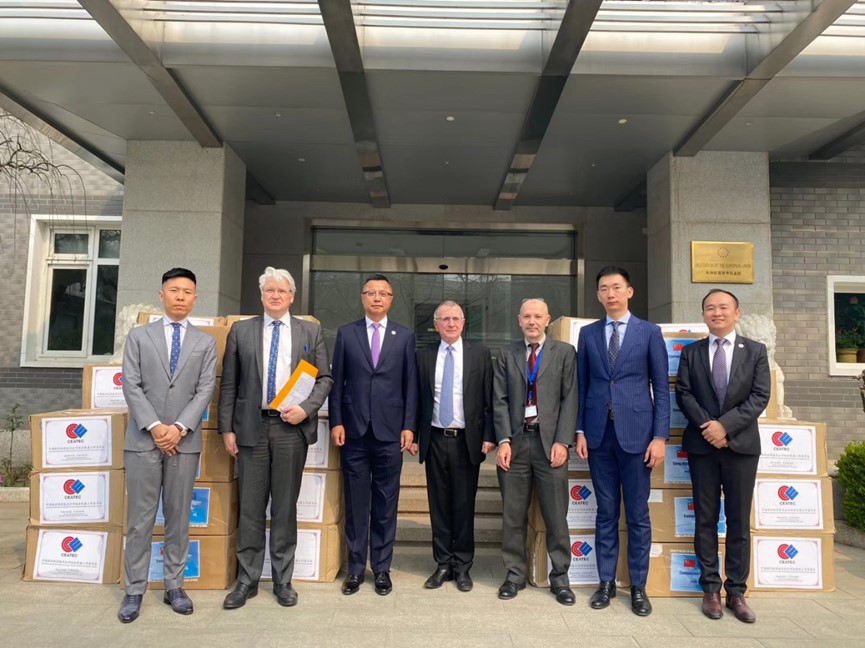 Two Chinese companies donated medical supplies worth 1 million yuan ($140,728) to the European Union delegation to China on Wednesday, as the novel coronavirus outbreak has hit Europe hard.
The European Union Working Committee of the China-Europe Association for Technical and Economic Cooperation has organized two of its member companies to donate goods of equal money value, the first batch of this campaign, according to the association.
Guangzhou Kangling Medical Supplies Limited Company, a subsidiary of Yinjia Financial, donated 200,000 disposable surgical masks. And Jiangsu Medomics Medical Technology Co Ltd gave away 10,000 antibody test kits.
Nicolas Chapuis, the EU delegation's ambassador to China, expressed gratitude for the donation. "The donation will be distributed to EU delegations in Asia as well as to EU member states in urgent need of medical equipment to counter the pandemic," he said in a letter of appreciation to the association. "The EU and China have shown the way in joining hands and supporting each other. Our solidarity is a clear demonstration of friendship and cooperation."
Chapuis said while meeting with Pan Feng, vice-chairman of the association and president of the committee, that many countries in Europe lack basic medical supplies at the moment, and the donation of the association is timely. He said the fact China is sending medical supplies and medical experts to the worst-hit areas when the threat of COVID-19 looms over Europe embodies China's responsibility as a large nation.
Chapuis added COVID-19 has dealt a heavy blow to the world economy and has threatened to rupture its high connectivity. Only China has managed to break free from the quagmire so far, and therefore it will play a pivotal role for world economic recovery in the future.
Pan said the association will work with European friends to share practices on pandemic prevention and control and promote joint research. He said the association will follow the situation in Europe and continue to organize its member companies to donate more supplies.