Shares swell on US stimulus deal
Share - WeChat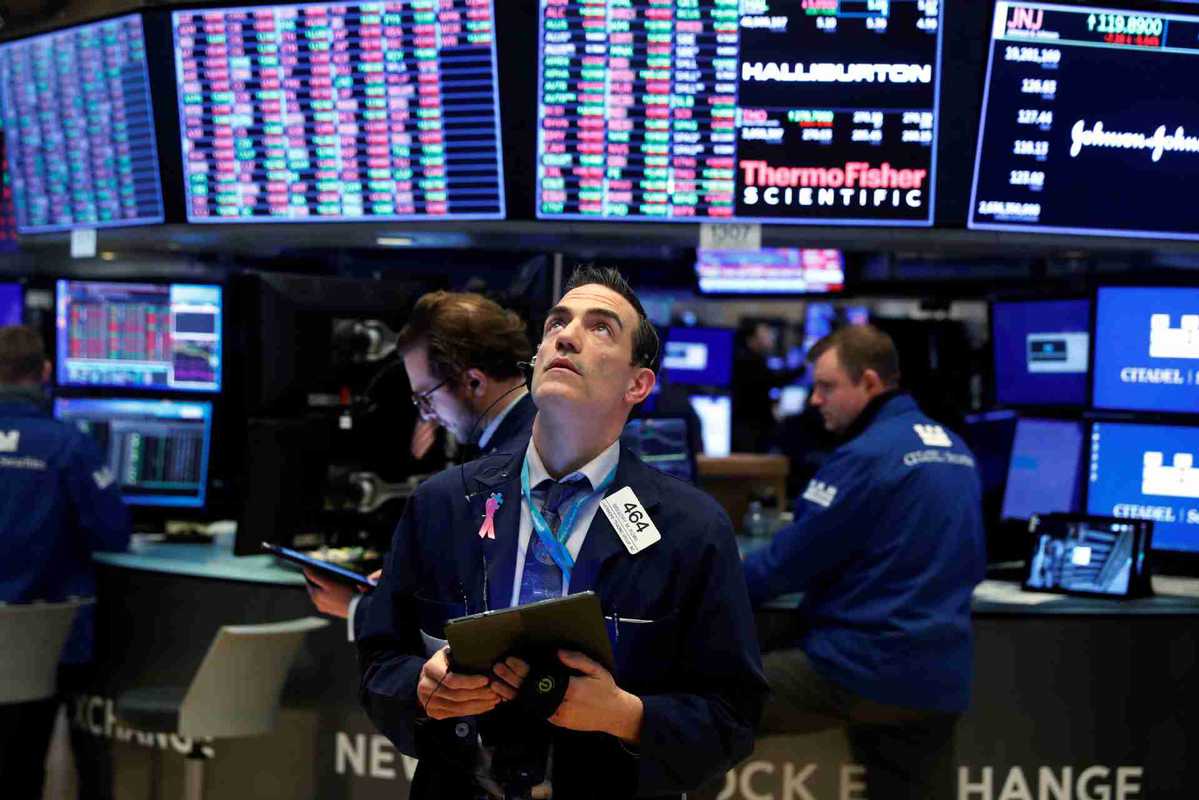 Key China indexes up more than 2%; markets draw hope from governments
Financial markets across the world, particularly those in Asia and Europe, gained confidence on Wednesday as investors renewed faith that stronger government interventions may help soften economic blows from the novel coronavirus outbreak.
US media reported on Wednesday (China time) that the White House and the Senate-it is the upper house of the Congress, the country's bicameral parliament-agreed a preliminary plan for an almost $2 trillion fiscal stimulus package, the biggest congressional bailout in US history, including aggressive government spending, loans and aid for small businesses and deferrals of taxes, to bolster economy amid the epidemic.
News of the preliminary deal, which came after much political bickering, drove the key US S&P 500 index up 9.38 percent for the intraday high on Tuesday (local time). The Nasdaq rose 8.12 percent. It marked the Wall Street's best day in almost a decade.
It was a recovery of sorts for US stocks after drops on Monday despite the Federal Reserve's announcement it will buy corporate debt and unlimited amounts of government debt.
Ratings agency Moody's calculated that losses in the US stock market are more than $10 trillion, depending on the day and hour, down about one-third from the peak in stock values just a few weeks ago.
Asian stocks took the cue and rallied on Wednesday as markets interpreted that the package will save some large indebted companies and ease financial stress in the global markets.
China's CSI 300 rose 2.7 percent and the benchmark Shanghai Composite Index added 2.17 percent.
According to a Morgan Stanley research report, policy reactions are being broadened and strengthened, initially on the monetary front, but now with an increasing scope for programs to address dislocation in financial markets, including in the US and Europe.
Fiscal stimulus is also being scaled up to help provide a bridge to a recovery later this year and support employment and mitigate corporate default risks to the extent possible.
Jonathan Garner, Morgan Stanley's equity strategist, said China's A shares and offshore indices will continuously outperform the rest of emerging markets in the current context, partly because of better clarity on COVID-19 containment and the subsequent economic recovery trajectory compared with the rest of the world.
Ongoing targeted macro-stabilization measures and further availability of both fiscal and monetary tools in China will also help boost investor confidence, Garner said.
On Wednesday, China's Ministry of Finance disclosed a part of Finance Minister Liu Kun's speech made at a video conference of G20 finance ministers and central bank governors held two days back.
"The epidemic's impact on China's economy is periodical and controllable," Liu told the conference. "China's proactive fiscal policy will be more active, which will support the expansion of domestic demand."
Liu said the world's second-largest economy is able to maintain stable growth momentum, and is willing to strengthen cooperation with other countries to jointly maintain global economic and financial stability.