Grey rhino, not a black swan
Share - WeChat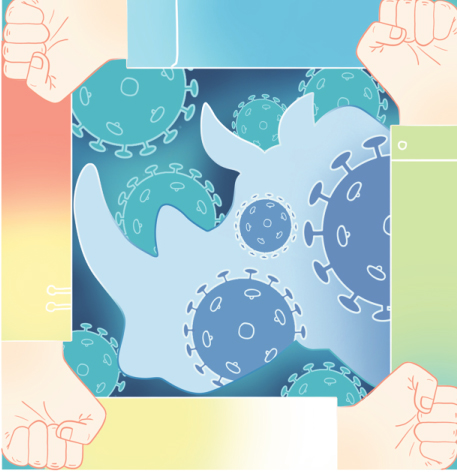 Policy responses to the pandemic have been inadequate in terms of effectiveness because of the lack of coordination at the global level
The year 2020 is destined to be remembered as a year of global shocks and turbulence. The novel coronavirus has spread rapidly causing crises and suffering worldwide. With supply chains disrupted and demand falling, the global economic outlook has shifted to "more dire scenarios" as the International Monetary Fund recently warned. While it's difficult to estimate the exact size and duration of the pandemic's economic impact, the effects will likely be nasty and painful.
Amid profound uncertainties, asset prices have tumbled around the world. Volatility and fears have surged across financial markets in spite of the US Federal Reserve's extraordinary measures cutting interest rates to zero and injecting massive liquidity. As stock markets have crashed one after another, it has been rather déjà vu, recalling the global financial crisis in 2008 or the "Black Monday" market turmoil in 1987. This time, policymakers globally are having to confront the quadruple crises of public health, economic recession, financial instability and diplomatic tensions under the shadow of political blame games.
The novel coronavirus pandemic is now widely seen as the "black swan" of 2020. Popularized by financial scholar Nassim Taleb, "black swans" refer to highly improbable and rare events with severe consequences. They are unpredictable beforehand, but often seem explainable after the fact. Although no one could have predicted the coronavirus outbreak, the risks seem obvious in hindsight now that the virus wreaked havoc. But interpreting the current pandemic in terms of a "black swan" can be misleading as well as enlightening.
First, the world is not entirely in uncharted territory in dealing with public health crises such as that engendered by the novel coronavirus. The severe acute respiratory syndrome (SARS) epidemic of 2002-03 and the Middle East respiratory syndrome (MERS) outbreak in 2012 were all caused by the same virus family. In 2016, the World Health Organization had already identified the SARS-related coronavirus as a likely cause of a future epidemic.
Second, while the outbreak in China may be more of a "black swan" event that caught policymakers by surprise, the risks of its later spread around the world are hardly unpredictable given the highly interconnected nature of our global networks. China has taken forceful measures including extensive lockdown, production suspension and quarantines to contain the virus spread, which in effect bought time and signaled warnings for other countries to get more prepared for the crisis.
Moreover, while the spread of the virus has served as a key trigger, the ongoing financial and economic turbulence reflects the culmination of structural risks and fragilities that have accumulated for a long time. Many sophisticated observers have argued well before the current turmoil that the global financial markets and economy were in rather vulnerable circumstances and it was no time for complacency. However, most investors and businesses remained overly optimistic. Unconcerned about the underlying risks, they continued to buy and hold assets at inflated prices with borrowed money, betting that asset prices would continue to rise. Now that the markets have crashed, many will inevitably get sucked into the downward spirals of illiquidity and even insolvency.
Therefore, the scale, depth and severity of the current global crises are not so much the doing of a "black swan" as the results of bureaucratic inertia, policy unresponsiveness and market complacency. Using the term invented by policy scholar Michele Wucker, what we are really dealing with are "grey rhinos", defined as threats that are dangerous, probable and obvious, but nonetheless considered as being remote and thus neglected. They are not random shocks that catch us entirely off guard, but clear dangers that hurt us after a series of rather visible warnings. The sooner we confront them, the lower the cost will be.
Unfortunately, the typical trap is that people and organizations fall prey to denial and neglect. Only when the dangers are close enough and costly enough will they be shocked out of their complacency and step up to the challenges. It is clear that too many policymakers and investors around the world have underestimated the scope and speed of the coronavirus spread.
Inertia and unresponsiveness are the common enemy for effective governance around the world. The worst policy responses to crises are well encapsulated by the British political satire Yes, Minister, in which Sir Humphrey, a senior civil servant, explained his four-stage strategy for crisis management: In stage one, say nothing will happen; stage two, it may happen, but policymakers should do nothing; stage three, maybe policymakers should do something, but there is nothing they can do; and stage four, maybe there was something that policymakers could have done, but it's too late now.
Governments should not shirk their responsibilities to protect citizens. To do so, governments around the world need to strengthen their capacity and agility so they can respond quickly to unexpected situations. Policymaking has to be built on scientific knowledge, professional expertise and international cooperation. Muddling along and playing political blame games will not help.
The policy responses to the current crises have varied substantially, but in general they have been inadequate in terms of effectiveness and coordination at the global level. To prevent the ongoing crises from snowballing into a full-blown socioeconomic disaster, policymakers must seek pragmatic and genuinely cooperative solutions. It's time to put aside ideological disputes, divisive politics and finger-pointing. Let's focus on dealing with the "grey rhinos" that are trampling us.
The author is an assistant professor at the Centre for China Studies and Lau Chor Tak Institute of Global Economics and Finance at the Chinese University of Hong Kong. The author contributed this article to China Watch, a think tank powered by China Daily. The views do not necessarily reflect those of China Daily.
Most Viewed in 24 Hours
China Views