SOEs see order recovery after shipment slowdown
Share - WeChat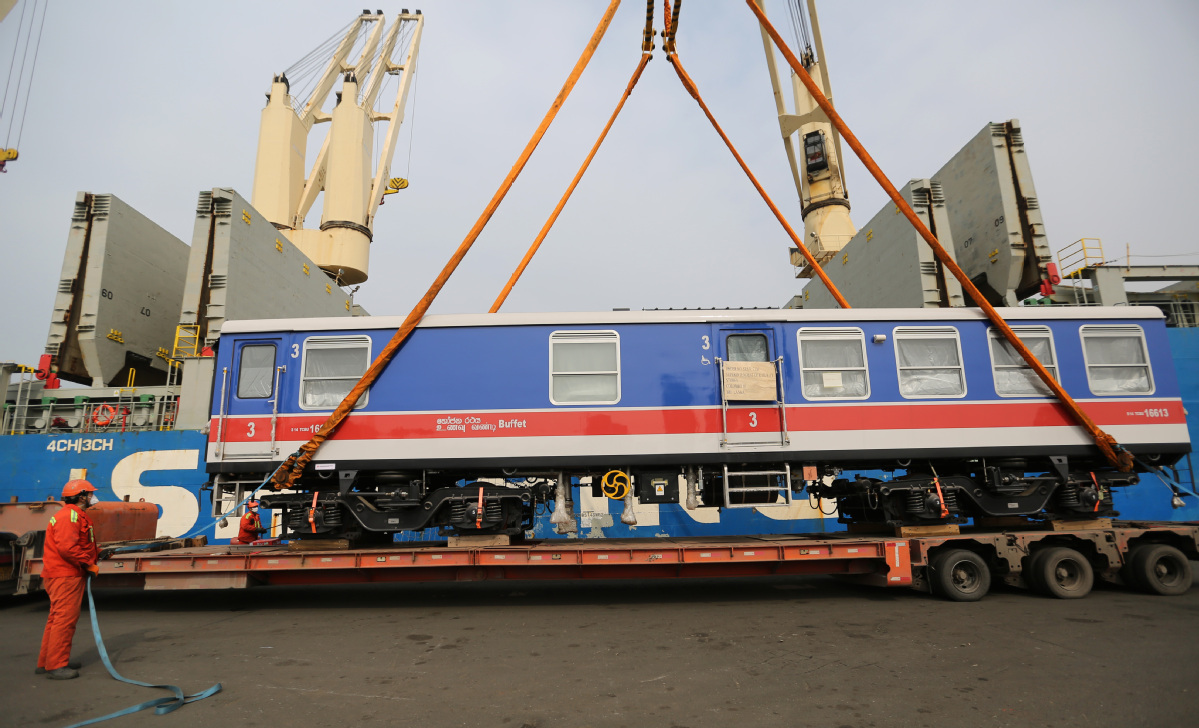 With cargo trains shipped to Australia, tunnel-boring equipment delivered to Turkey and vehicles sent to Russia, Saudi Arabia and Chile, China's State-owned enterprises have been racing to ensure their exports and supply chains remain robust following recent novel coronavirus-related stoppages.
Eager to restore its bottom-line strength, China Railway Rolling Stock Corp, the country's largest train manufacturer by sales revenue, has prioritized exports and overseas operations and tightened national rail transport safety controls amid the epidemic.
Zhou Qinghe, chairman of CRRC Zhuzhou Locomotive Co, a CRRC unit based in Hunan province, said the company has already accelerated its production pace to fulfill more than 20 overseas orders, including supplying metro trains to Mexico, electric rail carriages to the Czech Republic and diesel electric trains to the Philippines.
China International Marine Containers (Group) announced last month that its subsidiary Shenzhen CIMC-TianDa Airport Support sealed a 70 million yuan ($10 million) deal to supply 18 aircraft boarding bridges and related equipment to Clark International Airport in the Philippines.
The Guangdong province-based firm in South China will supply the bridges and related equipment to Clark, marking the largest airport equipment order ever in the Southeast Asian country for the company's products.
The airport, which serves as a major aviation infrastructure component of the Clark Special Economic Zone, is currently under renovation and is expected to enter service in the second half of 2020. This is not the first cooperation between CIMC-TianDa and the Philippines. The Chinese manufacturer has been providing equipment to Manila Ninoy Aquino International Airport and Mactan-Cebu International Airport.
Shanghai Zhenhua Port Machinery Co, the world's largest port machinery manufacturer by sales revenue and a subsidiary of China Communications Construction Co, recently delivered two intelligent straddle carriers to clients in Stockholm, Sweden, marking the first time for a Chinese company to export goods of this kind to an overseas market.
Under the contract term signed in 2019, ZPMC will deliver another six intelligent straddle carriers to Stockholm. The products can be operated in both unmanned and manual mode, with diesel and battery hybrid power, said Hu Zhongwang, head of the intelligent straddle carrier project at ZPMC.
To mitigate financial losses caused by the outbreak, Peng Huagang, secretary-general of the State-owned Assets Supervision and Administration Commission of the State Council, noted that for some new infrastructure and manufacturing projects, many centrally-administrated SOEs have shifted some work back to plants in China to ensure activity can properly continue after the coronavirus outbreak.
Central SOEs, especially manufacturers and infrastructure project contractors such as China National Building Material Group Co and Metallurgical Corporation of China, have encouraged local employees and third-party resources in overseas markets to better allocate resources and continue projects in an orderly way.
Cooperation projects related to the Belt and Road Initiative are generally running smoothly with no major delays amid the outbreak, said Chu Shijia, director-general of the Ministry of Commerce's comprehensive affairs department.
Such projects are closely monitored, and a string of measures have been taken to minimize the epidemic's impact, Chu said, adding that strict epidemic case checks and reporting are required among staff working overseas to prevent the contagion's spread.
China has promised financial support to prop up high-quality projects related to the BRI and companies hit by the pandemic, according to a guideline jointly released by the Ministry of Commerce and China Development Bank earlier this month.
The policy bank will introduce a string of financial incentives including low-cost financing, special loans, loan repayment extensions as well as credit support to help eligible BRI projects and companies overcome difficulties, said the document.