Stocks plunge despite Fed's latest moves
Share - WeChat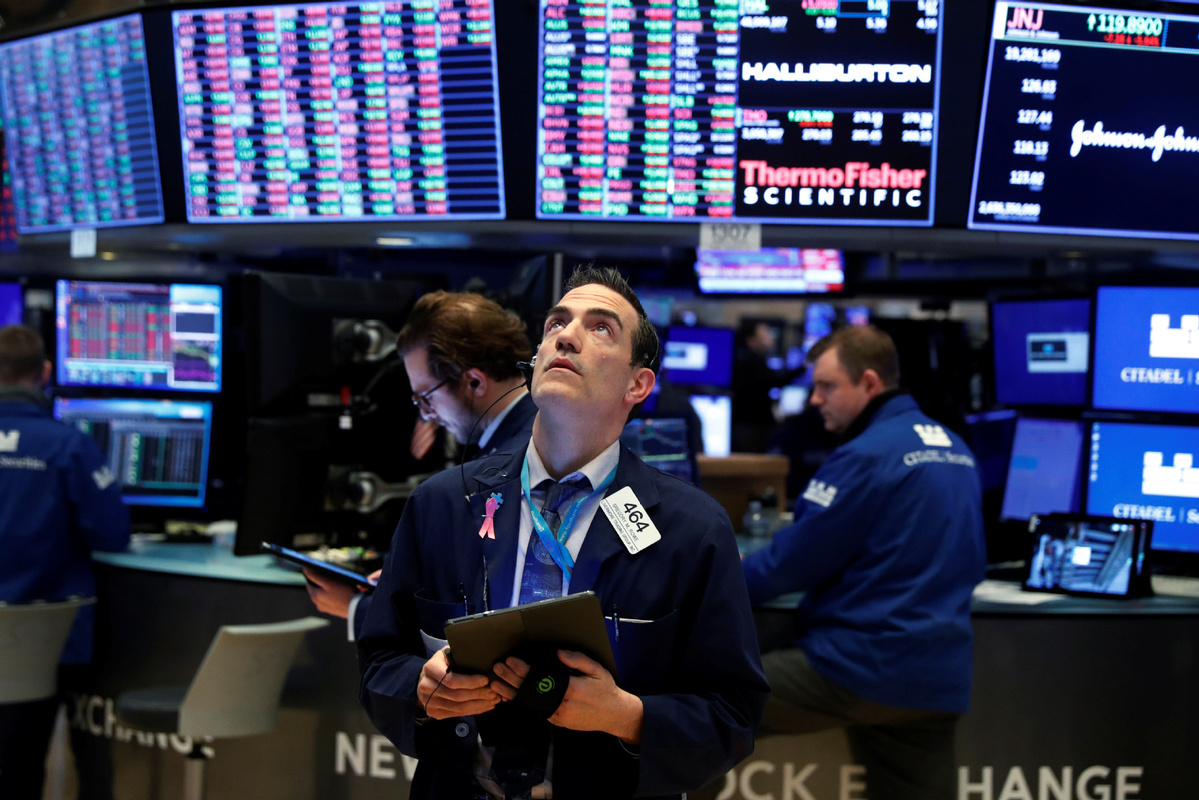 US stocks fell Monday despite the Federal Reserve's expansion of programs intended to stabilize financial markets and keep credit flowing amid the growing coronavirus pandemic.
In a separate action, the Treasury Department said it would take "all necessary steps" to support the sagging economy.
The Dow fell about 1,000 points in early trading, but regained most of the loss on the Fed's announcement to buy more bonds and mortgage-back securities as well as the expectation Congress would agree on a stimulus package valued at about $1.6 trillion.
But Congress not yet approving a package sent the blue chip index down in another volatile day of trading.
The Dow Jones Industrial Average closed down 582.05 points, or 3.04 percent and closed at 18,591.93. The S&P lost 67.52 points, or 2.93 percent. The Nasdaq Composite fell 18.84 points, or 0.27 percent and closed at 6,860.67.
Airline, hotel, restaurant and oil stocks have been caught in the market's downdraft.
However, Boeing's shares rose 11.17 percent and outperformed the market on Monday after Goldman Sachs told its clients the company had sufficient cash to ride out the coronavirus downturn and air travel would rebound. Boeing's stock it down about 70 percent this year.
On Monday, a day after a worker at the Boeing plant in Everett, Washington reportedly died from COVID-19, the company said it will suspend operations at Puget Sound-area locations for 14 days, starting Wednesday.
"While great uncertainty remains, it has become clear that our economy will face severe disruptions," the Federal Reserve said Monday in a statement.
"Aggressive efforts must be taken across the public and private sectors to limit the losses to jobs and incomes and promote a swift recovery once the disruptions abate."
In a statement, Treasury Secretary Steven Mnuchin said:
"We are committed to providing relief for American workers and businesses, particularly small and medium size businesses and critical industries that are most impacted by the coronavirus. We will take all necessary steps to support them and protect the US economy."
David Kostin, chief US stock analyst at New York investment bank Goldman Sachs, said the speed of the recovery will be determined by three factors: How quickly the coronavirus is contained, whether businesses have access to enough money in the next three to six months and whether the government's stimulus package and stabilize growth forecasts.
"If short-term shutdowns lead to business defaults, closures and permanent layoffs, the damage to corporate earnings growth could persist well after the virus is contained," he said in a research note.
The Federal Reserve is prohibited by law from buying private-sector assets or long-term municipal debt. But it can invoke "unusual and exigent" circumstances and lend against such assets with approval of the Treasury secretary. To that end, the Treasury Department has set aside $20 billion for loans on commercial debt and high-quality municipal debt.
James Bullard, president of the Federal Reserve Bank in St. Louis, said he believes the US unemployment rate could hit 30 percent as companies shut down due to the coronavirus pandemic. Prior to the downturn, unemployment was 3.5 percent and close to a record low.
He told Bloomberg News that the annualized gross domestic product – the value of all goods and services produced in a year – could fall 50 percent. Lost income could total $2.5 trillion.
Goldman Sachs foresees a less severe downturn. It believes the US economy could contract as much as 33 percent in the second quarter.
On Monday, the Fed announced an open-ended commitment to buy assets under its quantitative easing program, including unlimited purchases of Treasury bonds and mortgage-backed securities as well as new programs to purchase corporate and municipal debt.
The programs are intended to make sure households and businesses have access to credit to avoid defaults and widespread layoffs in the short-term and to assure money is available for an economic rebound.
The market embraced the announcements and stock futures rebounded, but stocks still fell on the opening and continued to slide.
One analyst called the Federal Reserve's action quantitative easing "infinity".
"Fed policy is shifting into a higher gear to try to help support the economy which looks like it is in free fall at the moment," Chris Rupkey, chief financial economist at MUFG Union Bank, said in a research note.
"The central bank is shifting from not being just the lender of last resort, but is now the buyer of last resort. Don't ask how much they will buy. This is truly QE infinity."
On March 15, the Federal Reserve slashed interest rates by one point to zero - 0.25 percent to lower the cost of consumer credit and business expansion. Consumer spending represents about 70 percent of the US economy.
The Dow has fallen about 37 percent from its all-time high of 29,551.42.
In October 1929, the Dow fell about 22 percent, touching off a worldwide depression that lasted about 10 years. Unemployment soared to 25 percent from 3 percent and wages for those who had jobs fell. The US economy recovered only as the nation rearmed to fight World War II.
Politicians panicked and adopted Smoot-Hawley tariffs in 1930 to protect US industry and jobs. But the measure strangled the economy and world trade plunged by about two-thirds.
Economists believe they have learned from the mistakes that led to the Depression. However, as evidenced by Monday's stock market performance, investors fear the economy will stall as millions isolate themselves at home to avoid contact with those who may be infected.