Go on the attack against COVID-19, says WHO chief
Share - WeChat Attempts to blame China 'not helping effort'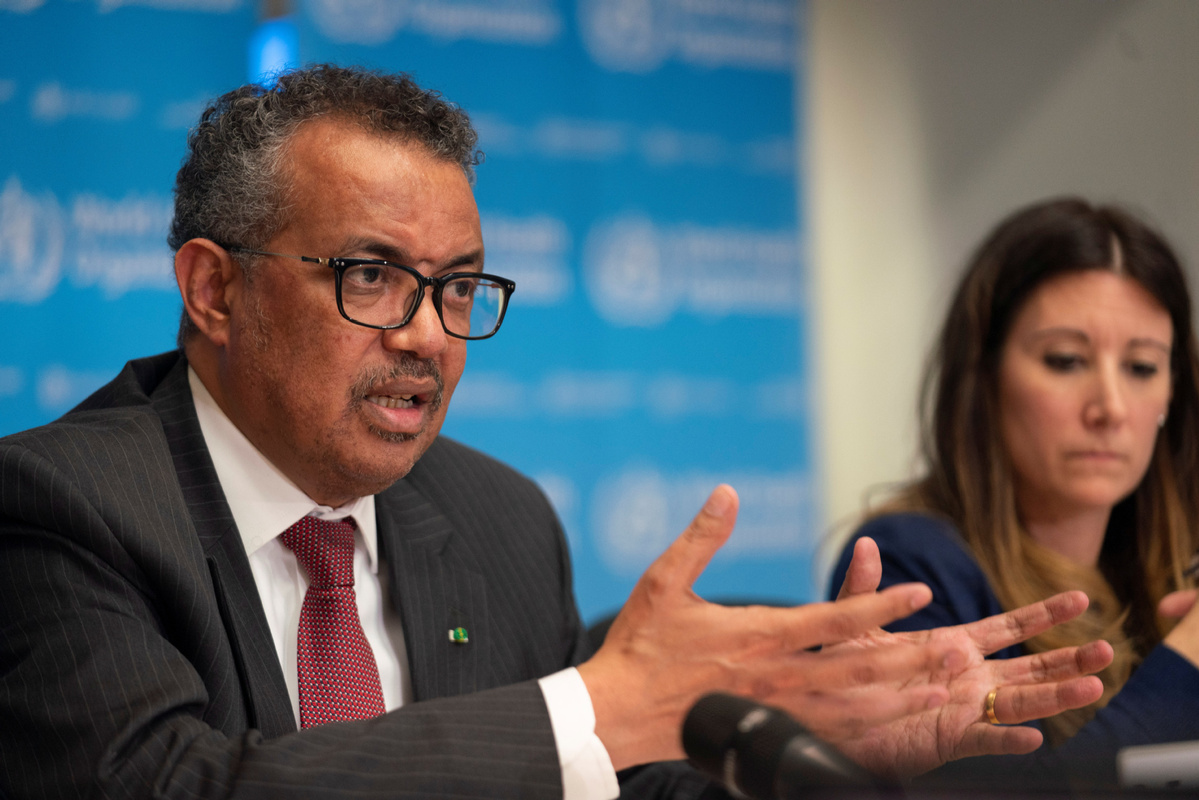 The head of the World Health Organization has said it is "heartbreaking" to see more than 300,000 cases of COVID-19 reported worldwide, and urged countries to take not just defensive but also offensive measures to try and defeat the virus.
The latest milestone reached comes after it took 67 days to reach the first 100,000 cases, 11 more days to reach 200,000 and just four more days for 300,000 cases, according to WHO.
"That's heartbreaking. The pandemic is accelerating," WHO Director-General Tedros Adhanom Ghebreyesus told a news conference in Geneva on Monday.
He said people should neither be "prisoners to statistics" nor "helpless bystanders".
"We can change the trajectory of the COVID-19 pandemic," he said.
Tedros believes that what matters most is what people do. "You can't win a football game only by defending. You have to attack as well," he said, with Gianni Infantino, president of world soccer's governing body FIFA in attendance at the news conference.
FIFA has announced it will contribute $10 million to the WHO COVID-19 Solidarity Response Fund to help the world fight the pandemic.
Tedros noted that asking people to stay home and observe other physical distancing measures are important to slow down the spread of the novel coronavirus and buy time. But, he said, those are just defensive measures.
"To win, we need to attack the coronavirus with aggressive and targeted tactics – testing every suspected COVID-19 case, isolating and caring for every confirmed case, and tracing and quarantining every close contact," he said.
He voiced his deep concern about the shortage of personal protective equipment for health workers, saying that "solving this problem requires political coordination at the global level".
Tedros will address heads of the state from G20 countries at a teleconference later this week.
"I will be asking them to work together to increase production, avoid export bans and ensure equity of distribution on the basis of need," he said.
G20 finance ministers held a teleconference on Monday, and there will be a full teleconference of the group's leaders later this week.
Lately, United States officials have been pointing the finger of blame at China, with US President Donald Trump calling the virus "Chinese Virus" and Secretary of State Mike Pompeo criticizing China's handling of the outbreak.
Michael Ryan, executive director of the WHO's Health Emergencies Program, called this a "distraction right now.
"I think we need to focus on what we need to do now. There is no blame in this," he added.
The Daily Beast reported on Saturday that the White House has been pushing US officials to criticize China for novel coronavirus "cover-up".
The report, citing two US government officials and a government cable, said the White House cable lays out guidelines for how US officials should answer questions on, or speak about, the virus and the White House response in relation to China.
Trump has taken a lot of criticism at home for how he downplayed the serious threat posed by COVID-19 for much of January and February.
"We need to fight this thing together. I want to reserve any comments for later regarding blame," Ryan said.
Last week, in a media conference, Ryan warned against using stigmatization regarding COVID-19, saying that the influenza pandemic in 2009 originated in North America but the world had not called it "North America flu".
On Monday, European Union foreign policy chief, Josep Borrell, also said that it is not a time to blame each other, such as by using the word "Chinese virus".
"This is a time to strengthen multilateralism in order to join efforts to face together the threat to the whole humankind," he told a news conference after a meeting of EU foreign ministers. He added that the only way to prevent the wide spread of the disease is a strong commitment to work together.