US COVID-19 cases soar as nearly 2,000 new cases reported in one day
Share - WeChat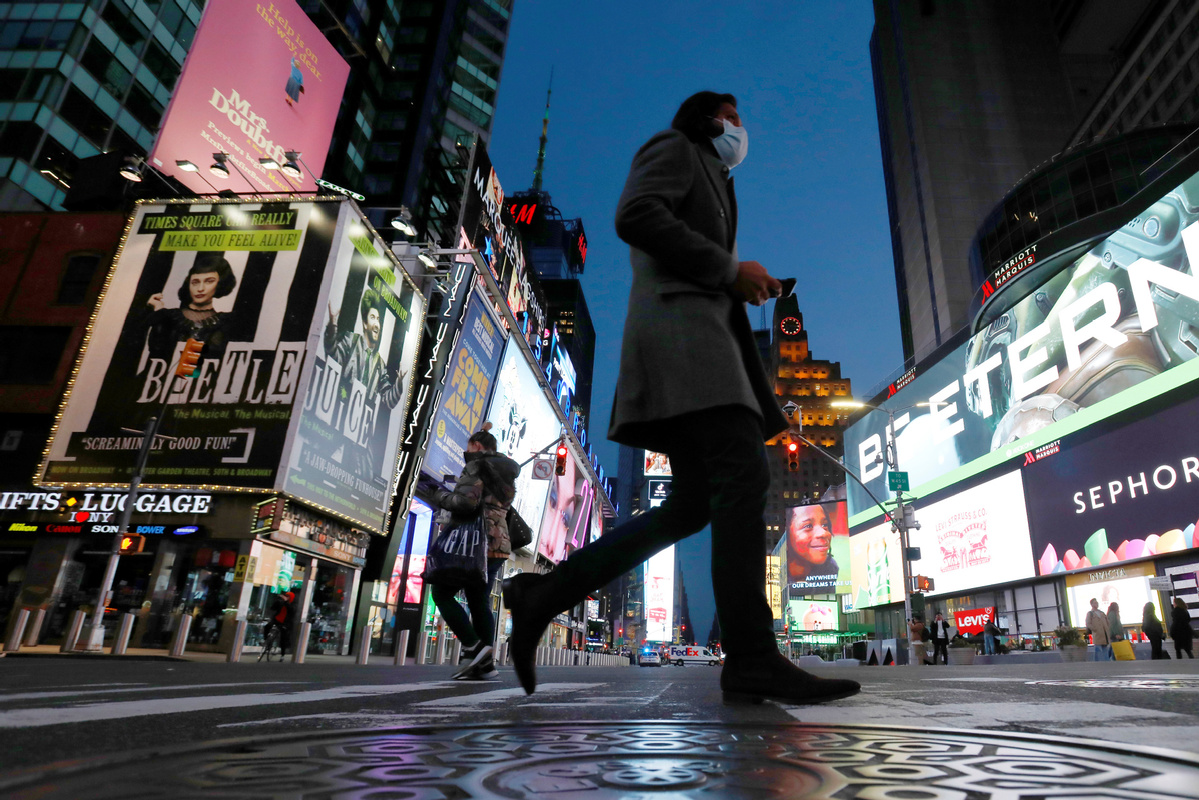 NEW YORK - Nearly 2,000 new COVID-19 cases were reported in the United States on Wednesday, bringing the national total to 9,379 as of midnight Wednesday, according to the Center for Systems Science and Engineering (CSSE) at Johns Hopkins University.
A total of 150 fatalities have been tallied, 68 of which occurred in Washington state, according to the center.
President Donald Trump tweeted Wednesday that the United States will temporarily close its border with Canada to "non-essential traffic," and the decision was made by mutual consent.
Trade between the two countries will not be affected by the border closure, he said in a morning tweet.
At a later White House briefing, Trump said he had spoken with Canadian Prime Minister Justin Trudeau, saying "we want to isolate from the standpoint, we don't want people coming into contact."
"It was something we thought would be good for both countries," he added.
The U.S. government announced several travel restrictions as COVID-19 is spreading rapidly across North America and Europe.
The travel ban that Washington imposed on 26 European nations has been effective since midnight on March 13. On Saturday, the White House added Britain and Ireland to the list.
Mario Diaz-Balart, a Republican House representative has become the first US congressman to contract COVID-19.
His office said in a statement Wednesday that the congressman has been in self-quarantine in his Washington D.C. apartment since Friday and developed symptoms including fever and headache on Saturday evening.
"I want everyone to know that I am feeling much better," Diaz-Balart said on Twitter.
A Politico report said the Florida lawmaker began to develop symptoms just hours after he left the House floor for a vote on a coronavirus response bill during the early Saturday session.
In the state of New York, Governor Andrew Cuomo announced Wednesday that the Navy hospital ship USNS Comfort will be deployed to New York harbor and is expected to arrive in April.
The 1,000-bed hospital ship, which had been sent to various disaster zones including post-Hurricane Katrina, has 12 fully-equipped operating rooms and will significantly increase New York's hospital surge capacity, he noted.
"The deployment of the USNS Comfort to New York is an extraordinary but necessary step to help ensure our state has the capacity to handle an influx of patients with COVID-19 and continue our efforts to contain the virus," said Cuomo.
The Governor also announced he would issue an executive order directing non-essential businesses to implement work-from-home policies effective Friday.
Essential service industries, such as shipping, media, grocery and food production, pharmacies, healthcare providers, utilities, banks, are exempted from the order, he said.
"We are fighting a war against this pandemic and we know that two of the most effective ways to stop it is by reducing density and increasing our hospital capacity so our healthcare system is not overwhelmed," said the governor.
"My number one priority is protecting the public health so that a wave of new cases doesn't crash our hospital system, and we will continue taking any action necessary to achieve that goal," he added.
New York has more COVID-19 cases than other states in the country and Washington D.C., with 3,083 cases and 20 deaths as of midnight Wednesday.