Jewelry designer inspired by Wuhan's iconic landmarks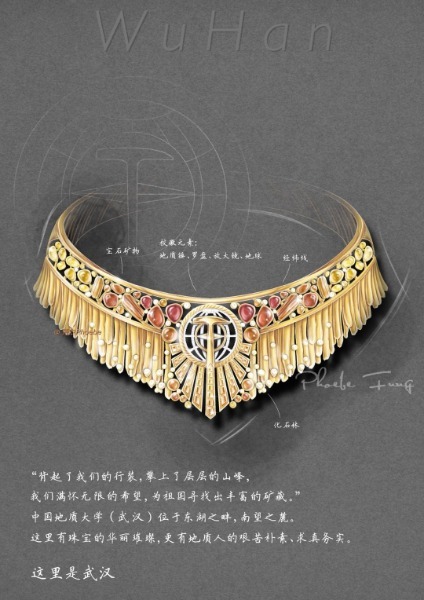 Each of the drawings took Fang about four hours to finish, and she says she didn't expect all of the attention they are getting online, but she is happy that, as a result, some companies have contacted her, hoping to turn her designs into reality.
Fang saw a silver lining in the current, challenging situation.
"It allowed me to reflect and look at the city I'm living in thoroughly and with more depth," she says. "Together, we opened a space for compassion and a space to love, when bad things happened to the city."
The inspiration for her designs came from her daily life in Wuhan during the past eight years. She has finished 15 drawings in this series, and is now working on a new set that was inspired by youth culture in the city.
For one piece among her current series, Fang was inspired by Hubei Provincial Museum, which was established in 1953 as one of the eight major museums in China and is located near her home. She incorporates the design of its architecture, such as the gray blue ceiling tiles on the roof of the museum, into her jewelry drawings. The depiction of the famous Sword of Goujian, a bronze sword excavated from a tomb in Hubei's Jingzhou, with a history of more than 2,000 years, provides the centerpiece of her drawing.