'Grazie Cina!' China, Italy jointly fighting COVID-19
Share - WeChat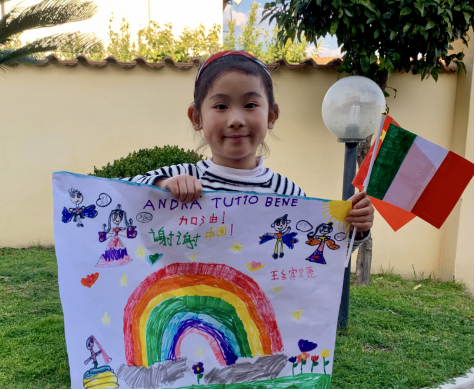 A Chinese proverb says a true friend is known on the day of adversity (患难见真情). When the COVID-19 outbreak occurred in China, many countries, including Italy, provided medical assistance for the country's efforts to contain the spread of the novel coronavirus. Today, as China has succeeded in this battle, it has not forgotten those friends who are now in need of support.
Last week, when Italian Foreign Minister Luigi Di Maio requested assistance in medical equipment and supplies, Chinese Foreign Minister Wang Yi agreed to support Italy immediately. Despite the fact that China's current demand for medical supplies still remains high, the choice to assist a friend in urgent need of help in a challenging time must be applauded.
Right after, a charter flight from Shanghai carrying a nine-member Chinese aid team, along with over two million face masks as well as 10,000 lung ventilators, 50,000 test kits and 20,000 protective suits, reached Fiumicino Airport in Rome. The Chinese medical staff will play a crucial role in providing Italian colleagues with first-hand knowledge and expertise, which were gained at the front lines in Wuhan.
Italy faces an unprecedented national challenge, with a record number of 27,980 confirmed COVID-19 cases and 2,158 deaths as of March 16. China was the first country to support Italy in practical terms. Maurizio Massari, the Italian permanent representative to the European Union, praised these actions, adding Italy was not helped by the European Union and "only China responded bilaterally".
In an appreciation message sent from Italian President Sergio Mattarella to President Xi Jinping, the Italian president expressed Italy's gratitude to China for its solidarity and for its immediate aid, both in terms of medical expertise as well as urgently needed medical supplies and equipment.
Italian netizens also sent messages of gratitude on the official Facebook account of the Chinese Embassy in Italy. "Grazie Cina" (Thank you China) was the most common message posted by Italian netizens. Emy wrote the two countries are far apart geographically but really close in the fight against COVID-19. Another Internet user, Leo, expressed gratitude for the generosity shown to Italy by China and went on to say Italians will never forget this vital support.
China will not forget the help received from the international community and the country is ready, within its ability, to help those countries seeking help from China, Chinese Ambassador to Italy Li Junhua said in a letter titled "The virus knows no border: we're ready to help Italy, let's win this war together" and published by the Italian leading newspaper La Stampa. Moreover, Li also affirmed China is ready to promote global health governance, as well as sharing its experiences in terms of prevention and containment with other countries.
Yesterday during a telephone conversation between President Xi Jinping and Italian Prime Minister Giuseppe Conte, Xi reiterated his confidence in Italy's fight against COVID-19 and vowed to continue offering medical supplies to Italy. Sino-Italian cooperation in jointly fighting this common enemy sends a strong message to the international community. Through joint efforts in combating COVID-19, Italy and China will further enhance their mutual support and foster win-win cooperation in all fields in this important year, which marks the 50th anniversary of the establishment of diplomatic ties between the two countries.
Grazie Cina! 谢谢中国!
Alex Chan is a doctoral researcher in diplomacy at Peking University. He holds degrees in China studies from Peking University and international relations from the London School of Economics.
The opinions expressed here are those of the writer and do not represent the views of China Daily and China Daily website.
Most Viewed in 24 Hours
China Views