Chinese testing kit exports soar as COVID-19 spreads
Share - WeChat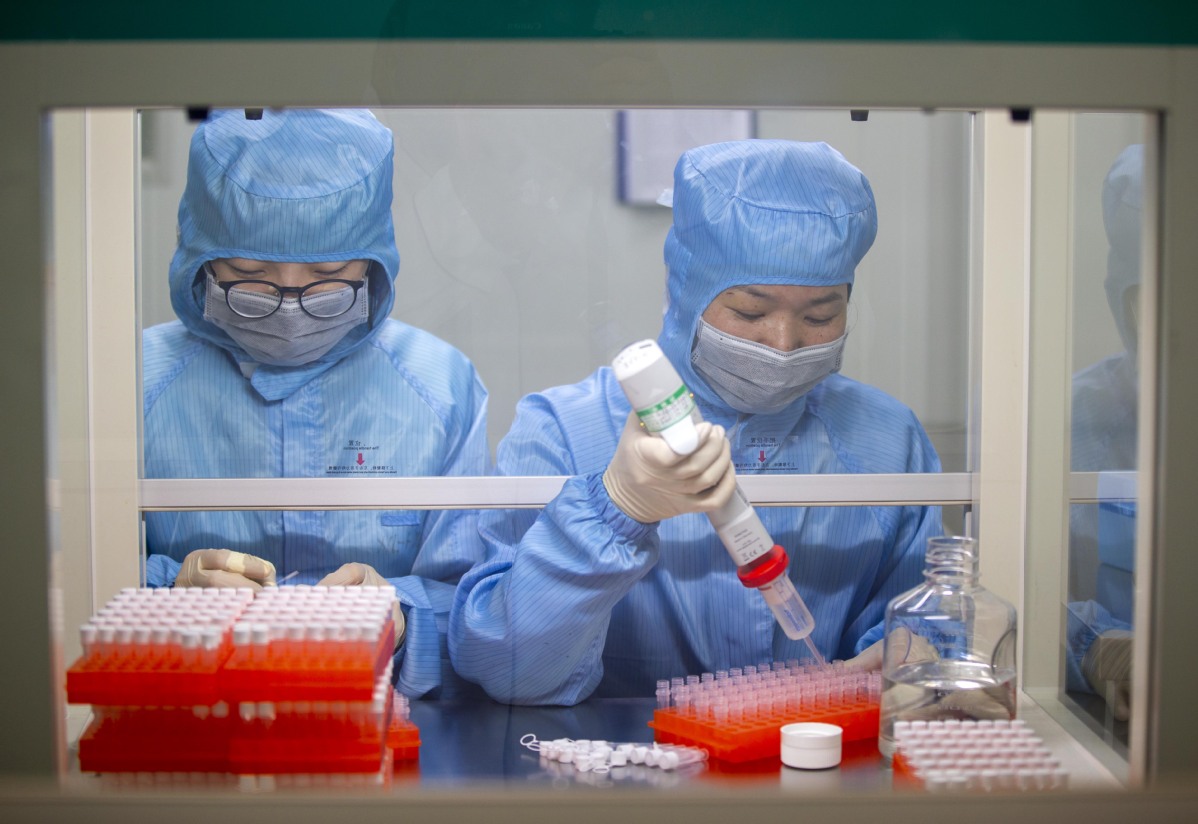 Chinese firms are ramping up efforts to export and donate novel coronavirus testing kits to meet increasing overseas demand, amid the surge of COVID-19 cases outside China.
Among the more than 10 companies China has approved for the launch of COVID-19 detection products, about half have received CE (French for European Conformity) marking for product sales within countries and regions recognizing the designation.
Shi Lichen, founder of medical consultancy Beijing Dingchen Consultancy, said Chinese companies are well prepared to produce testing kits for overseas markets, thanks to their leading manufacturing capabilities.
Chinese genetic giant BGI Group's Real-Time Fluorescent RT-PCR kits for detecting SARS-CoV-2, which is also known as 2019-nCoV, have become commercially available in markets recognizing CE marking since Feb 26, following approval from China's National Medical Products Administration in late January.
The RT-PCR kit can produce results in three hours as soon as samples are delivered to the lab, and overseas orders for the kits have been increasing, the Shenzhen-based company said, adding shipments are already heading to 51 countries and regions including Japan, Brunei, Peru, and Thailand, either for donation or sales.
The company also hopes to provide its Huo-Yan laboratory solution to users outside China. An emergency test lab using the RT-PCR kit for rapid detection and diagnosis of the disease was put into use in Wuhan, Hubei province, in early February, followed by newly built or upgraded ones in 12 cities across China, such as in Shenzhen in Guangdong province Tianjin, Beijing, and Shanghai.
The Wuhan lab was designed to process 10,000 samples daily at first, but later upgraded its capability to 20,000 samples daily.
"The virus knows no borders, and all countries should join together to curb its spread," said Zhu Yanmei, BGI Group's executive director, executive vice-president and chief human resources officer.
"We hope to make full use of BGI Group's technological expertise to provide solutions for meeting the demand from countries and regions facing COVID-19 challenges and lacking sufficient and efficient testing capabilities."
Guangzhou Wondfo Biotech Co Ltd, a POCT (point-of-care testing) leader in China, announced on March 6 that its three newly developed SARS-CoV-2 antibody tests had received CE marking.
The Wondfo SARS-CoV-2 Antibody Test based on lateral flow method, approved by the NMPA on Feb 22 as the country's first POCT test for the SARS-CoV-2, can detect both IgM and IgG antibodies in human serum, plasma and whole blood samples within 15 minutes, effectively accelerating the on-site screening for suspected patients.
Additionally, the test requires no special equipment to conduct, and can be stored and transported at room temperature, according to Wang Jihua, president of the company headquartered in Guangzhou.
The other two antibody test products, Finecare SARS-CoV-2 Antibody Test and Finecare SARS-CoV-2 IgM Test, which use fluorescence immunochromatographic assay, are yet to be approved by the NMPA, but are even faster-they can detect either IgM antibody or both IgM and IgG antibodies within 10 minutes.
The company said it will try its best to help prevent and control the spread of COVID-19 both at home and abroad with its quality POCT tests and services.
With more than 20 domestic and overseas subsidiaries, the company has four research and development centers in Tokyo, Guangzhou, Shenzhen and San Diego, the United States. It said it has provided products and solutions for clients in 140 countries and regions.