Streaming delights byte by bite
Share - WeChat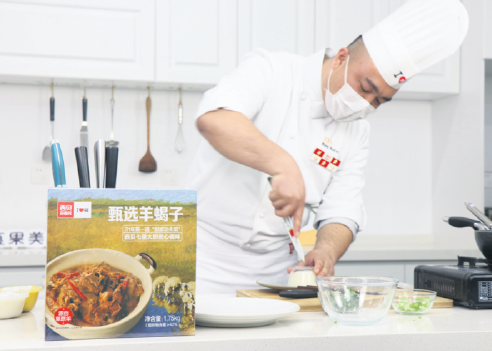 Wang Ruofei, a chef at the Xibei restaurant chain, demonstrates on a livestreaming show on the app Douguo. CHINA DAILY
Ye Yili, head chef of Meizhou Dongpo restaurant chain's Fanhai branch in Beijing, now spends his days preparing food for online viewers rather than for dine-in customers.
"First, let's fry the pickled agaric before adding shredded pork. Then, mix the sauce with the ingredients," he says in a video on how to make sliced pork with garlic sauce on the livestreaming service of major e-commerce platform Taobao.
Only a fifth of Meizhou Dongpo's income has come from walk-in diners since the COVID-19 outbreak.
The rest comes from takeaway orders or selling raw ingredients and semifinished products.
In addition to making food for delivery orders, Ye has started livestreaming cooking shows.
His first livestream showed how to make yuanxiao, sweet dumplings that are traditionally eaten during Lantern Festival.
Sales of Meizhou's homemade luncheon meat, one of the main ingredients featured in Ye's livestream about Chongqing-style boiled blood curd, have increased 22-fold over last year.
"Usually, I only need five minutes to cook boiled blood curd because all the ingredients are already prepared. But in the livestream, I took 30 minutes to demonstrate how to prepare each ingredient separately and how to make the seasoning," Ye says.
A host stands next to Ye, interacting with viewers and relaying their questions to the chef. Ye isn't used to looking at the camera and mostly focuses on the food.
"The livestream room's confines are limiting so that I can only use a narrow range of cooking implements," he says.
"I could show more if we streamed from my kitchen in the restaurant."
Ye is one of Meizhou Dongpo's 3,000 chefs.
That suggests great potential for more livestreams to promote the brand's products to reduce losses incurred during the epidemic in China.
Most Popular