Foreigners adapt to new way of life
Share - WeChat Editor's note: In this new series, we share stories and experiences showing how expats are dealing with the novel coronavirus pneumonia outbreak.
Why leave? It's home.
Although an expatriate couple and their son live in neighboring buildings at a university in Baoding, Hebei province, now it's not easy for them to visit each other. The occupants of the buildings are largely sealed off because of the novel coronavirus outbreak.
"People not living in our building are not allowed to drop in, and we are restricted from going out," said Milla, a teacher of Russian at Hebei University in Baoding.
"When we want to meet, we can go to the area between the two buildings," Milla said.
Milla's 19-year-old son Nikita is an undergraduate student, while her Egyptian husband Mohamed is a PhD student at the same university.
Nikita lives in a dormitory with other overseas students, and Mohamed lives with Milla in the neighboring apartment building for teachers.
"We don't have time for boredom," she said.
In their small apartment, Milla prepares teaching materials for some online courses and for this semester of regular classes, while Mohamed works on his doctoral dissertation.
"I'm racking my brains for it," he said. "I need to write a thesis with 100,000 Chinese characters. So this period of time is totally occupied."
However, that's not the case for Nikita.
Walking on campus
"Can you come out? Let's do some walking." That's Nikita's constant plea. He always asks his mother to come out as he can't hang out with friends during the virus outbreak.
"Thanks to our large campus, we have a lot of space to walk around," Milla said. They meet outside their buildings, wearing face masks.
The trio quickly settled in to their new way of life during the epidemic, but their families in Egypt and Russia wanted them to return home.
"Why don't you come back home?" Mohamed recalled his mother saying in a phone call before the Lunar New Year in January, just after the outbreak started.
"Most of the news she could get from overseas was negative," he said. "They only reported how many people in China were infected and dead from the virus, which caused my mother to panic.
"Actually, we are perfectly safe in Baoding, with protective measures taken by the local government and the university, which also helps us buy daily necessities."
"The university is providing drinking water, vegetables and fruit every day, so we don't actually need to go off campus," Milla said.
Mohamed told his mother that going back to Egypt would be more dangerous than staying put, because it would mean they would have to take taxis, trains and planes, all of which come with risks of cross-infection.
She was relieved. A similar story unfolded with Milla's mother.
Overcoming difficulties
"We believe China is strong," Milla said. "The country has been here for more than 5,000 years. I'm sure Chinese people will overcome this difficulty. We'll pass through the trouble together."
Another foreigner who was unwilling to leave China is Adri from Budapest, Hungary. She lives nearby Hebei Normal University in Shijiazhuang. She rented an apartment near the school with her boyfriend, who is also from Hungary.
Adri, 27, is in a master's degree program in Chinese international education and has lived in the city since 2012. She wants to teach Chinese after graduation.
When the outbreak came, the Hungarian embassy in China offered to help if the situation worsened and asked if she wanted to return to Hungary, she said.
"I wouldn't go because I have three close relatives here already. I couldn't leave them," she said.
The "relatives" she mentioned are her boyfriend and two cats.
"Life here is normal, except that my residential community restricts the time we can spend outside for the sake of our health," Adri said. She can go out for two hours a day to purchase daily necessities.
In addition, she must report her temperature and health condition to her school regularly via WeChat. "The teachers want to make sure I'm OK," she said.
"The first thing I want to do after the virus is gone is to have a good long run," she said. "I believe that will be soon."
Yu Dongwei contributed to this story.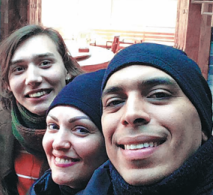 Today's Top News
Editor's picks
Most Viewed