Disney archives animate history
Share - WeChat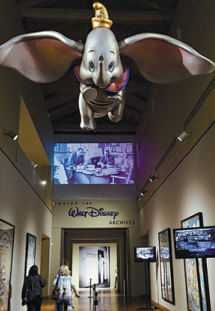 People walk into an exhibition of the Walt Disney Archives at the Bowers Museum in Santa Ana, the United States. LI YING/XINHUA
LOS ANGELES-A grand exhibition of the Walt Disney Archives was launched at the Bowers Museum in Santa Ana, California, on Saturday in celebration of 50 years of the company's history.
The exhibition, named Inside the Walt Disney Archives: 50 Years of Preserving the Magic, features 465 items, ranging from important memos to books to surveying tools used to plan the first Disneyland in Anaheim, California.
It also displays 218 original props and nine pieces of vintage merchandise, including early hand-sewn Mickey and Minnie Mouse dolls.
The show will run through the end of August.
"The exhibit is an exciting opportunity for Disney fans of all ages to view some of the special treasures housed at the Walt Disney Archives, as well as to discover what the archives is and what it does within the Walt Disney Company," says Michael Varge, vice-president of corporate communications.
The exhibition also includes maquettes (production models) from the movies Frozen and Peter Pan, as well as superhero costumes, and sketches for Fantasia and ghouls from the Haunted Mansion attraction.
Varge says the archives is Disney's historical repository, from correspondences to script notes, from oral histories to personal effects, which has served as a vital resource pool for historians and filmmakers for decades.
Peter Keller, president and CEO of the Bowers Museum, says the museum expects to bring to the public traditional art treasures, many of which have never been on display before.
The museum has maintained close exchanges with its Chinese partners, including museums in the Chinese cities of Nanjing, Xi'an and Kunming.
Most Popular