Europe steps up efforts to check spread
Share - WeChat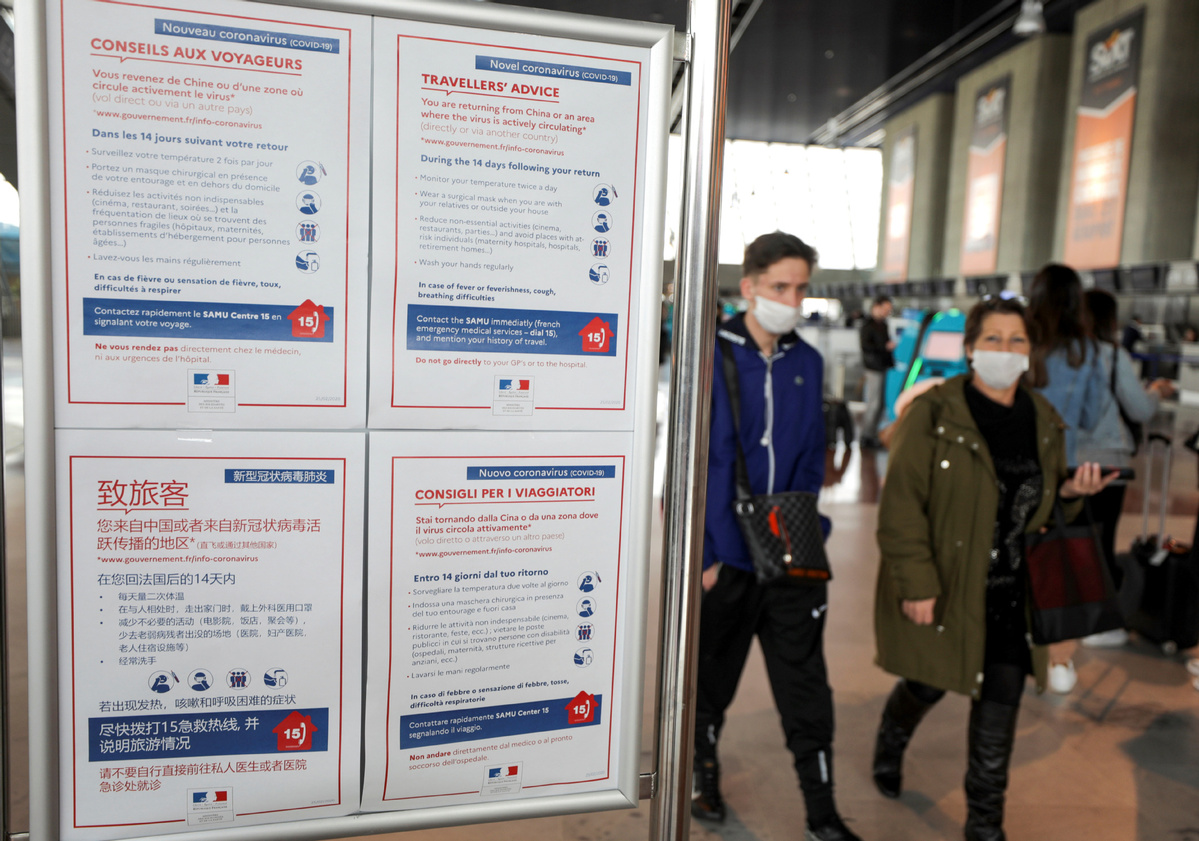 France bans large gatherings, and UK imposes quarantine measures
PARIS-European countries has beefed up measures to curb the rapid spread of the novel coronavirus, as France banned gatherings of more than 1,000 people and the Portuguese President was quarantined at home.
The virus continues to spread, affecting more than 30 countries in Europe, with nearly 10,000 people hit by the outbreak.
Albania reported its first infection on Monday, the country's health ministry said.
Italy, the epicenter of the outbreak in Europe, confirmed 7,375 cases and 366 deaths as of Sunday.
France has banned gatherings of more than 1,000 people in an effort to slow the spread of the virus, Oliver Veran, the health minister said on Sunday. But he added that officials would issue a list of events considered "useful to national life" that would be allowed to continue-such as demonstrations.
With more than 1,100 recorded cases and 19 deaths on Sunday, France is the second-worst affected European country after its neighbor Italy. Two more French MPs tested positive for the virus as of Sunday, taking the number of infected lawmakers to four.
Earlier, the French government had banned gatherings of more than 5,000 people in confined venues-a measure that had been set to continue until April 15. But Veran did not specify the terms of the latest, stricter ban.
"We are still in the 'second stage', meaning that our priority is to do everything to slow the spread of the virus in our national territory," Veran said on Sunday.
But France was preparing to switch to its third level of alert, which would include school closures and public transport suspensions in an attempt to mitigate the consequences of the outbreak-measures that President Emmanuel Macron has said are now "unavoidable".
Britain said on Monday anyone returning from areas in the northern Italy that have been placed under a lockdown to prevent the spread of coronavirus must self-isolate for 14 days, regardless of whether they show any symptoms of illness.
As of Sunday, Britain had confirmed 278 cases of the virus and three deaths.
Prime Minister Boris Johnson was to chair a meeting of the government's emergency committee on Monday to discuss possible measures to try to prevent the virus spreading.
"We are well prepared and will continue to make decisions to protect the public based on the latest scientific advice," Johnson said.
The British government also said on Monday it had set up a team to establish the extent and impact of false or manipulated information aimed at misleading people "either for the purposes of causing harm, or for political, personal or financial gain".
President in quarantine
In Portugal, President Marcelo Rebelo de Sousa will be quarantined at his private residence for two weeks, according to a statement published on the website of the Presidency on Sunday.
The president received a group of students from a school in northern Portugal last Tuesday. But one of the students was confirmed on Saturday night to have been infected, the statement said.
Portugal had confirmed 30 cases of infections as of Sunday.
Due to the rapid spread of the virus in Germany, Federal Health Minister Jens Spahn recommended that events with more than 1,000 participants be canceled for the time being, the German Press Agency reported on Sunday.
Germany on Monday reported 1,112 cases, up from 902 on Sunday, the Robert Koch Institute said. The largest number of cases, 484, were in the western region of North Rhine-Westphalia, Germany's most populous state.
Xinhua and agencies contributed to this story.