Experts confident on trade despite drop in exports
By ZHONG NAN and JING SHUIYU in Beijing and HU MEIDONG in Fuzhou | China Daily | Updated: 2020-03-09 03:17




Share - WeChat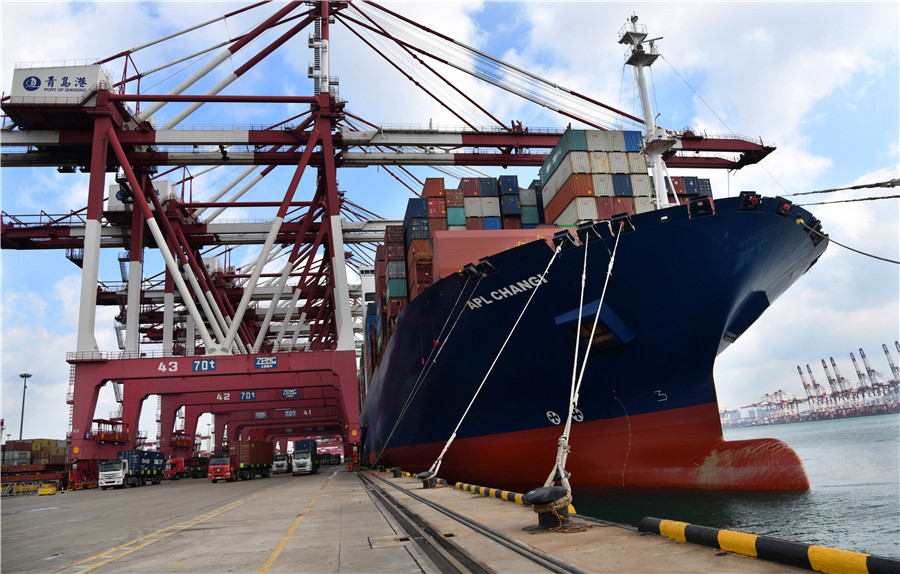 China is capable of mitigating the impact on its foreign trade caused by the novel coronavirus epidemic and will maintain its trade growth momentum this year, experts and business leaders said on Sunday.
They made the remarks after the General Administration of Customs announced on Saturday that the nation's foreign trade volume totaled 4.12 trillion yuan ($592 billion) in the first two months of this year, falling 9.6 percent year-on-year, mainly affected by the epidemic and the extended Spring Festival holiday.
In the meantime, China's exports dropped by 15.9 percent to 2.04 trillion yuan and imports declined by 2.4 percent to 2.08 trillion yuan.
The GAC said that although the virus reduced exports and imports in the short term, China's foreign trade remains highly resilient. Chinese firms have strong adaptability and market development capabilities that help them deal with the new situation, it said.
The nation's major exporting provinces, including Jiangsu, Zhe­jiang, Guangdong and Fujian, have not been severely affected by the epidemic, said Wei Jianguo, vice-chairman of the China Center for International Economic Exchanges.
Over 90 percent of major industrial companies in Jiangsu, Shandong, Fujian, Liaoning, Guangdong, Jiangxi and Hunan provinces had resumed production, and the ratio exceeded 95 percent in five provinces, including Zhejiang and Guangdong, according to data published on Wednesday by the Ministry of Industry and Information Technology.
With more domestic and global manufacturers restarting production and operations across China, Wei predicted that China's exports would rebound in the second quarter after sliding in the first, while imports will register double-digit year-on-year growth for the whole of this year.
Although the epidemic spread has weakened significantly, Bai Ming, a senior research fellow at the Chinese Academy of International Trade and Economic Cooperation, noted that domestic exporters must prepare for the changing situation resulting from the epidemic.
Export-oriented firms in China must prioritize winning orders from their regular foreign clients, and have access to sufficient production materials to deliver products to overseas markets on time.
"At the national level, the government needs to intensify information exchange with the country's long-term trading partners and maintain China's vital position in global industrial chain," he said, adding the country must pay close attention to the epidemic situation in its trading partners and the epidemic's impact on the global supply chain and economy.
China North Industries Group Corp, a centrally administrated State-owned enterprise, announced that's its subsidiary China Changan Auto Group Corp shipped 7,143 vehicles to its clients in Russia, Saudi Arabia and Chile in January.
The company is now producing 6,200 automobiles for its foreign clients after receiving the orders in February, and it has already delivered over 1,800 of these.
Zhou Zhiping, CCAG's president, said all the vehicles were shipped from Chongqing to Shanghai Port. The company has enhanced contact with domestic and foreign suppliers to coordinate the delivery time of various components to ensure normal operation and timely delivery.
In addition to Chinese businesses, multinationals such as Honeywell International Inc, Siemens AG and Volvo Cars have all shipped products manufactured from their facilities in China to other global markets after the resumption of production.
Danfoss Group, one of Denmark's largest industrial groups by sales revenue, exported 350 metric tons of goods via cargo aircraft service, 140 TEU (twenty-foot equivalent units) and 24 containers of products through maritime transportation and freight train services from its plants in China between Feb 10 and March 5, with its total exports valued at 250 million yuan.
"We will continue to rely on the flexible business environment cultivated by the Belt and Road Initiative to export our products to other global locations from the group's factories in Shanghai, Tianjin, Jiangsu and Liaoning," said Xu Yang, president of Danfoss China.
Eager to put its foreign trade on a firmer footing, China has also rolled out policies to stabilize foreign trade. The country will continue to lower the tariffs of consumer goods, specific advanced equipment, key components and raw materials. It will also further cut trade costs based on the Trade Facilitation Agreement outlined by the World Trade Organization, the Ministry of Commerce said.